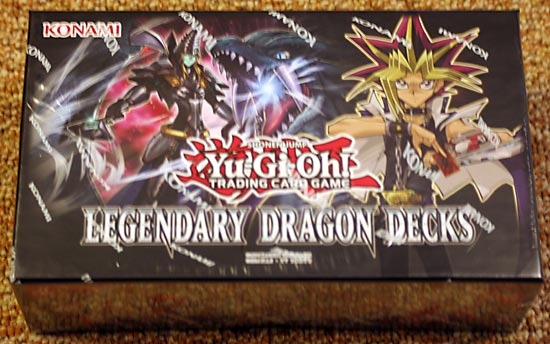 The Yu-Gi-Oh! Trading Card Game (TCG) Legendary Dragon Decks set will officially launch October 5th, 2017.  We were lucky enough to get our hands on one early, so we figured we would do a simple box opening to give you an idea of what you'll find inside.
First off, the box is sealed in Konami-branded shrink wrap. The front of the box features Yami Yugi, and artwork from "Dark Magician The Dragon Knight".  The back of the box features similar artwork along with teasers to the three decks within the box.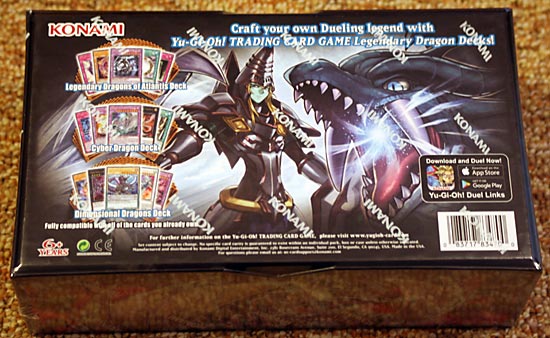 The sides of the box features dragon artwork from dragon cards you'll find inside.  The box itself is 5″x9, and is a nice quality collector box that you could use for any type of storage if you decide to break up the decks inside.

The lid itself can be fully removed like a board-game box.  Inside you'll find the 3 sealed decks inside a removable plastic tray.  The decks are well protected in the trays and will not have moved during shipping, so they shouldn't have any damage.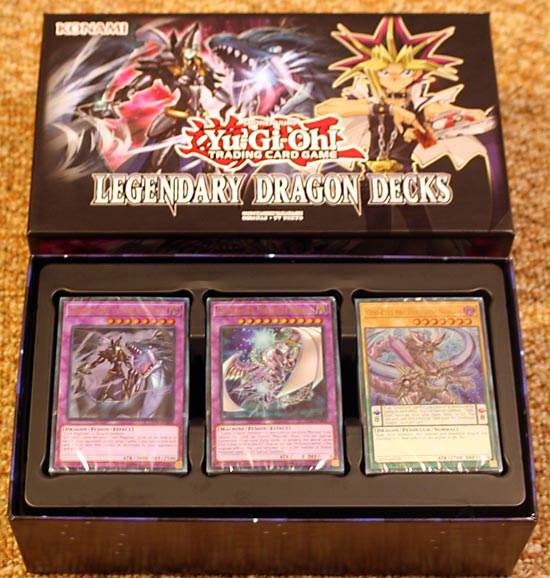 I might as well quote the "Product Teaser" here to tell you what each deck is: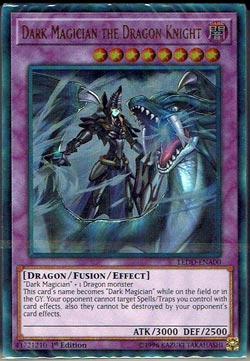 Legendary Dragons of Atlantis!
The powers of the Legendary Dragons of Atlantis – Timaeus, Critias, and Hermos – were sealed into Spell Cards, used by Yugi, Kaiba, and Joey to fight against Dartz and The Seal of Orichalcos! The Eye of Timaeus, The Fang of Critias, and The Claw of Hermos are well-loved by Duelists everywhere for their ability to Fusion Summon a wide variety of unique monsters using only one material! All 3 Spells and all of their Fusions are included in this Deck inspired by Yugi's final Duel against Dartz, as is a brand-new Fusion Monster born of The Eye of Timaeus and Yugi's famed Dark Magician! (51 cards in total)
Here is a look at the 5 holos in this deck: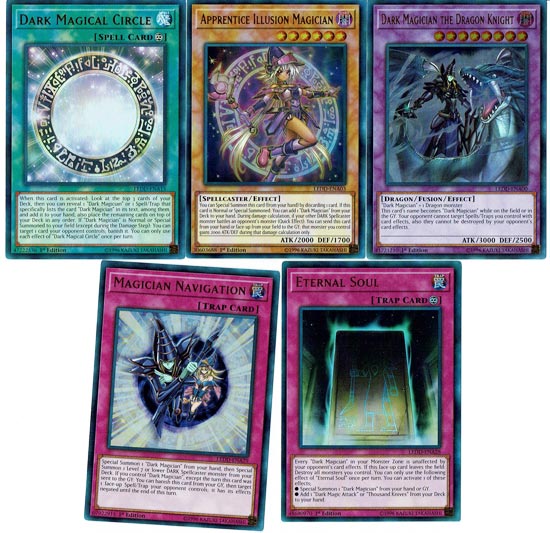 ---
Cyber Dragons!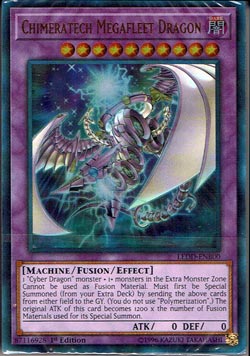 Many Duelists consider Cyber Dragon to be the most influential monster ever created, so it's only natural that it's earned the title of "legendary"! Cyber Dragon originally debuted in 2005's Cybernetic Revolution along with 2 Fusion Monster forms Summoned by combining multiple Cyber Dragons together. Eleven years later in Breakers of Shadow, Cyber Dragon Infinity shocked the Dueling world with its incredible power and became a household name. This Deck is packed with the best that Cyber Dragon and its many Fusion and Xyz Monster forms have to offer along with a brand-new Fusion Monster! (51 cards in total)
Here is a look at the 5 holos in this deck: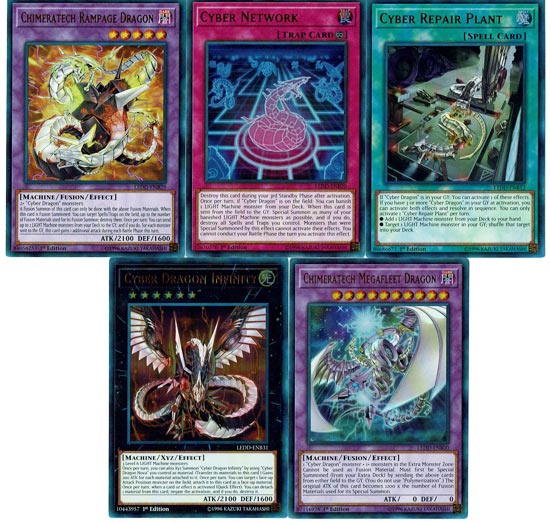 ---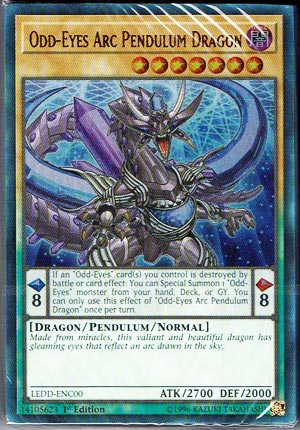 Dimensional Dragons!
Yu-Gi-Oh! ARC-V's Odd-Eyes Pendulum Dragon sparked a series of Dragons that covered the entire spectrum of Extra Deck monster types, and threw in a Ritual Monster for good measure. Adaptability is the defining feature of the "Odd-Eyes" strategy, starting from Odd-Eyes Pendulum Dragon's dual nature as a way to search other Pendulum Monsters from your Deck and a way to end Duels in a flash with its double-damage ability. This Deck fills the final gap in the "Odd-Eyes" arsenal with a brand new "Odd-Eyes" Pendulum Monster! (50 cards in total)
Here is a look at the 5 holos in this deck: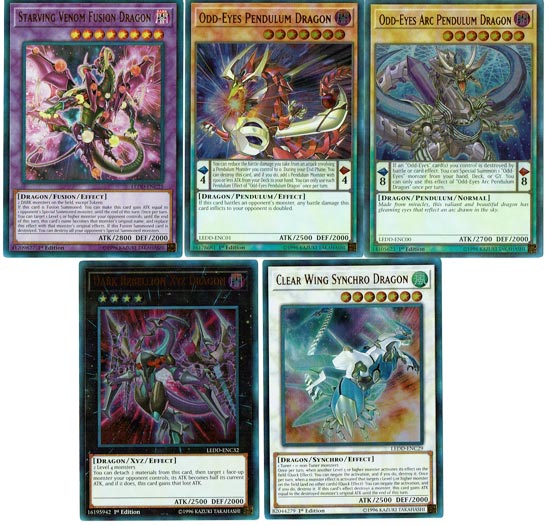 Each Yu-Gi-Oh! TCG Legendary Dragon Decks set contains a total of 153 cards:
Two 40-card Decks with 11-card Extra Decks
One 41-card Deck with a 10-card Extra Deck. This Deck includes variant art of Odd-Eyes Pendulum Dragon, Dark Rebellion Xyz Dragon, Clear Wing Synchro Dragon, and Starving Venom Fusion Dragon
Each Deck has 5 foil cards
Final Thoughts
This Collector's Set retails for $29.99.  You get 3 complete theme decks for basically $10 each, and the box is cool.
Legendary Dragons of Atlantis! – Apprentice Illusion Magician was retailing for over $30 before this release, and is a good card for certain decks.  So those chasing her should definitely consider picking up 1-3 of these.  Other nice value cards include: Dark Magic Inheritance, Dark Magic Circle, Magician Navigation, Eternal Soul, Dark Magician Girl the Dragon Knight,  The Eye of Timaeus, Dark Renewal, and Dark Magician the Dragon Knight.
Cyber Dragons! – Not as much value here, but you do get Chimeratech Megafleet Dragon, Cyber Dragon Infinity, and 3 Cyber Repair Plants.  You also get Storming Mirror Force, Quaking Mirror Force and Drowning Mirror Force.
Dimensional Dragons! – There are a few nice value cards included here: 2 Odd-Eyes Phantom Dragons, 2 Odd-Eyes Persona Dragons, a Clear Wing Synchro Dragon (Alternate Art), 2 Duelist Alliance!
So overall, we think this set is an Phenomenal Value for the cards you get inside.  We think the cards inside are easily worth 6-7 times that right now.  Sure, existing card values will go down, but still!
Also, this is a note to parents of kids that are just starting out in Yu-Gi-Oh!  If you are looking for a Yu-Gi-Oh Holiday Gift / Christmas Gift … you cannot go wrong with this purchase!  Kids Love Dragons!!!
Now, hurry and get yourself at least one set before they're gone.  I'm pretty sure these are going to be in hot demand this holiday season!