What are Graded Pokemon Cards?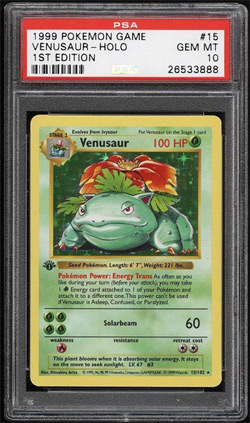 Pojo Note: This article was updated April 2021 – A graded Pokémon Card is a card that has been sent to a Professional Grading Company and graded for its condition. The Grading Company has a team of Professional Graders that grade Pokemon Cards, Sports Cards and other Collectible Cards. The Cards are graded on a scale from 1 to 10.
The Basic Grading Scale:
10: Gem Mint – Pristine
9: Mint
8: Near Mint-Mint
7: Near Mint
6: Excellent- Near Mint
5: Excellent
4: Very Good – Excellent
3: Very Good
2: Good
1: Poor
Half point grades are possible. For example, a 1.5 would be fair.
After the cards have been graded by the Professional Grading Company; the cards are given unique certification identification numbers; entered into a database; and carefully sealed in custom tamper-evident holders. Many people call these encapsulations "slabs".
Why Have Pokémon Cards Graded?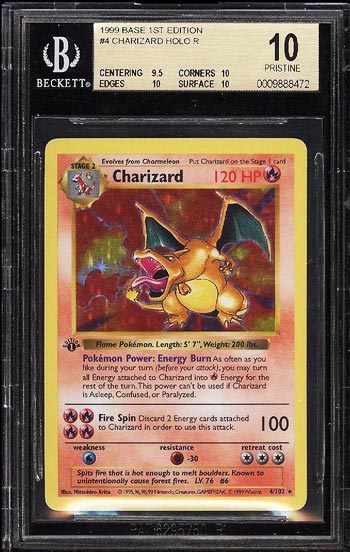 First: Graded Cards can sell for a lot more than ungraded cards!  If you want to buy a mint, First Edition Charizard on eBay, you have two choices. You can either buy an ungraded card, and trust the seller when he says the card is "mint". Or you can buy a graded, sealed card and know the card is truly mint. Some buyers will take a chance on ungraded cards, while others will pay more to get exactly what they want.
A Pristine "10" Charizard sold for $311,800 USD in March 2021!
Graded cards in mint condition always sell for more than ungraded cards! 
Second: The Encapsulation itself is actually very nice and it protects the card very well. There are several ways to protect your cards at home, but none are foolproof. Encapsulation is one of the better ways to protect your most valuable cards.
What are the Card Grading Services?
The three big players out there for you to use: They are PSA (Professional Sports Authenticator) and BGS (Beckett Grading Service) and Certified Guaranty Company (CGC).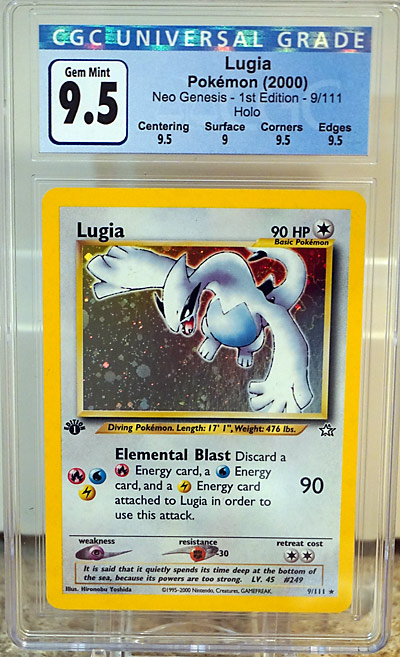 CGC is the new kid on the block as far as grading Pokemon cards. But their company has been around for over 20 years.  CGC was mostly known as a Comic Book Grading Company, and just started grading cards in the summer of 2020. They use their famous blue label for grading comics and cards.  I have used CGC's services for over 10 years for grading comics, and I recently started using them for Pokemon and Magic: the Gathering cards.  They have the fastest turnaround times right now, and are also the least expensive to use.  They are considered very strict graders by many collectors.  They also offer subgrades on their cards.  Here is a link if you want to test the waters with CGC.  I have been happy with CGC, and find them very reliable.  CGC's bulk submissions require a 50 card minimum, and are $9 per card.  Their turnaround time (as I write this) is currently 90 working days.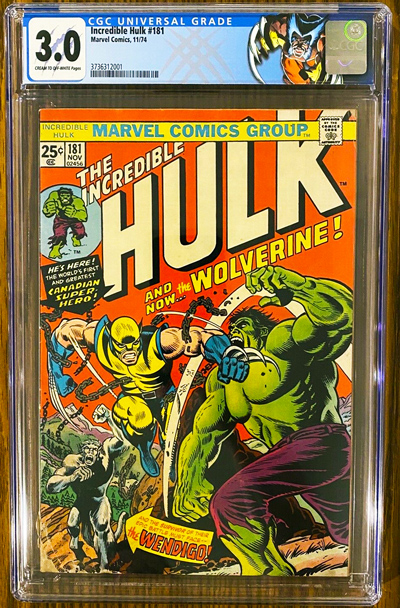 PSA is currently the leader in the industry as far as Pokemon card grading goes.  PSA was founded in 1998.  PSA uses red labels for graded cards.  They are very reliable with your cards and grades.  But, they have gotten really slow with bulk submittals, and their returns times.  With the popularity in Pokemon collecting in 2020, PSA got absolutely slammed with cards to grade, and they have not caught up.  The most cost effective way to get cards graded is using their bulk service, but turnaround times to get your graded cards back is currently about 8 -12 months!  Ouch!  That might be too long of a wait for some collectors.  I still use PSA, even with their long waits, at least on some older commons that I don't mind not seeing for a year.  As I write this – PSA has stopped accepting cards to grade.  They are too backlogged.  Check again in the summer of 2021.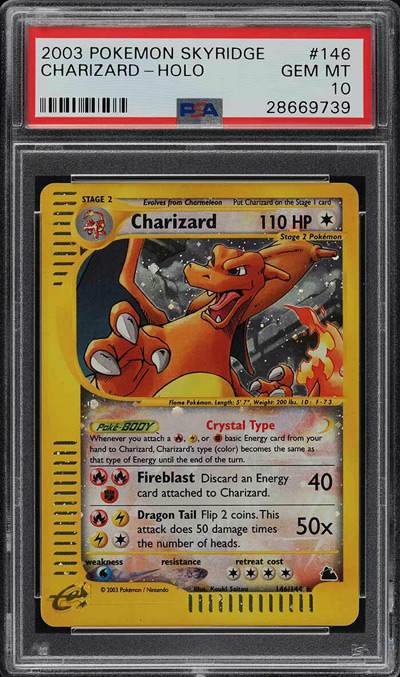 BGS is another popular 3rd option.  Beckett started off as a card collecting price guide, and then started grading cards in 2001.  A BGS 10 is the gold standard to many collectors.  A BGS 9.5 is usually considered equivalent to a PSA 10.  Beckett is more popular with MTG card collectors, but they are still a good for Pokemon Cards too.  They have fallen behind recently with turnaround times too.  Their bulk submissions are taking over 9 months to get back right now!.  Beckett's bulk price is $20/card for 50 cards, and $35/card with subgrades.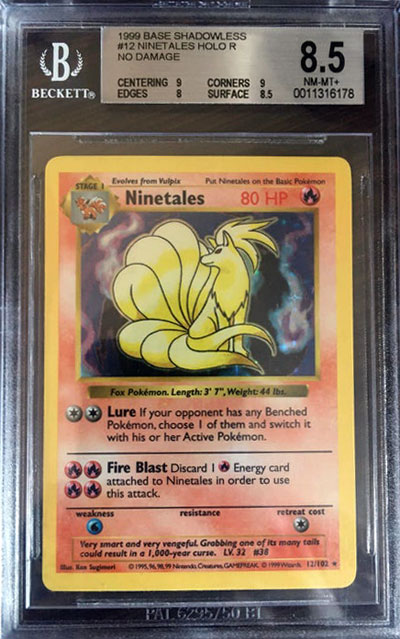 All 3 services are great and trustworthy.  You really can't go wrong with any of them.  I personally use both CGC and PSA for Pokemon cards.  But I would trust all 3 with my cards.  PSA grades currently seem to have the highest realized value right now when selling.  CGC is the new kid on the block, with the cheapest price and fastest turnaround times.  BGS and CGC both offer subgrades on their cards, which is awesome for very valuable cards!  You can see examples of subgrades on this page.  I wish PSA offered subgrades like CGC and BGS.  
How Much Does It really cost to have a Pokémon Card Graded?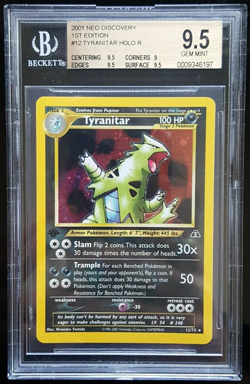 You'll see prices ranging from $9 to $500 to get a single Pokémon Card Graded. Prices do go down if you send cards in bulk though. And if you plan to get a lot of cards graded there are reduced rates and/or monthly specials for members. On average plan on about $15-30/card once you pay for shipping both ways (and insurance)
There's also another catch you should be aware of. You have to declare the value of the cards for insurance and authentication.  The bulk rate just applies to less valuable Pokemon cards.  If you have a 1st Edition Charizard that you think is worth $25,000, the grading on that one card will cost you more.  That's because the grading companies need to get more insurance for your card in case something happens to it under their care.  This is usually well documented at each grading company's site. 
Should You Get Your Pokémon Cards Graded?
This is a tough question to answer. Usually it does not make sense to have a card graded unless it is very old, valuable, and in Near Mint Condition or better. Newer cards fit in here too if they are rare, desirable, or "chase" cards. A chase card is usually a bonus insert that might is not part of the set.
We would say if your card is very collectable card, and worth over $100 you might want to consider getting it graded. And we would usually only send cards out if you think they will receive a score of 8, 9 or a 10.  If it's super rare and valuable, a 7 would be a good score too! Caveat: Any Base Set Charizard, Blastoise or Venusaur is worth grading, no matter what condition they are in.  A PSA 2, non-first edition Charizard sold for $850 in November 2020!  
Check out our Pokemon Price Guide to check current values on cards. 
Check the Completed Sales section on eBay and find the prices that cards have actually sold for, not what they are listed at. First-Edition, Base Set Holographic Pokémon Cards sell at great prices. As do "chase" cards from many of the sets.
Prepare to be disappointed with your grades!
It is really difficult to get cards graded 9's or 10's. Especially on older cards. Cards need to be centered perfectly. The have to be cut perfectly. They can't have dings to the corners, or white edges, or surface scratches. There can be no roughness on the face or edges.  Look closely at the holofoil artwork for Any Scratches.  Turn the card over, and look for any whiteness around the blue edges.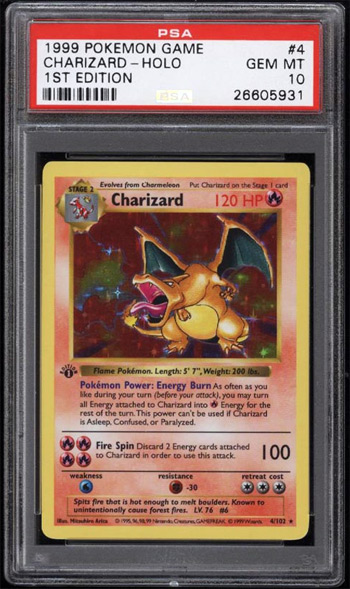 Many older cards you might think are perfect seem to come back as 7's or 8's. 10's basically have to be protected from the get-go … taken directly from a booster pack and highly protected immediately. Most people weren't doing that 20 years ago. I've sent in about 30 cards myself and maybe got two to three cards rated 10. And these were all cards that went right from boosters to binders (or hard plastic encapsulation top loaders).
You should understand that 7's and 8's and 9's are still really good scores though!  Those are Near Mint or better! Whether its comic books, coins or Pokemon Cards … the higher the score, the better the selling price.
For reference here are actual average sales prices on 1st Edition Base Set Charizards on eBay – March 2021
PSA 10 – $311,800 – Mar 2021
BGS 9 – $64,000 – Feb 2021
PSA 8 – $25,000 – Mar 2021
PSA 7 – $15,000 – Mar 2021
BGS 6 – $14,500 – Feb 2021
PSA 5 – $9,000 – Mar 2021
PSA 2 – $4,000 – Mar2021
Click here to see our Pokemon Price Guide to see current prices.  
Good Luck out there!
Pojo!