Yu-Gi-Oh Dark Duel Stories - for Game Boy Color

Yu-Gi-Oh THE ETERNAL DUELIST SOUL
(Game Boy Advance)



Baneful's Take (Eternal Duelist Soul)

This game was released in October 2002 (NA).

First, the promos. Graceful Dice (quick play spell) raises the ATK of all your monsters by 100-600, depending on the dice roll. Skull Dice (trap card) decreases the ATK of your opponent's monsters by 100-600, depending on the dice roll. Both are too dependent on luck and were inferior to better more focused cards like Rush Recklessly and then Shrink. Now, it's Forbidden Lance.

Exchange was an interesting concept, but was a -1 most of the time unless you only had a floater in your hand. Cripples Exodia but that's it. All three promos get 1.5/5.

Onto the game. You duel opponents in a linear fashion. The updates in the card pool to provide a meaningful role for spell and traps really enhanced the game. Apart from that, the visual upgrade was huge. I'm not talking about pretty graphics or fidelity. I'm talking about an interface that doesn't actually burn your eyes or require a taxing amount of mental abstraction. It's finally easy to play for hours and be immersed in the game. And, most importantly, this game held you to the rules.

This game didn't re-invent the wheel but it did provide a dueling experience, that, at its time was unrivaled and something that was actually entertaining. 7/10 (for its time)

- Baneful (2014) , banefulscol


umn@gmail.com

-----------


From Konami: The most accurate,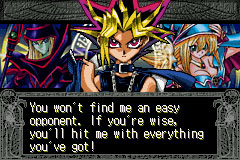 advanced version of Duel Monsters arrives! The ultimate duel simulator based on the hit Trading Card Game and Television series! Duel against dozens of opponents from the TV show or challenge your friends. Import cards from the Official TCG to boost your deck. Complete your card collection and create the ultimate deck to enter the World Championship Tournament!
Over 800 cards full of new monsters, magic and traps!
Collect over 12 kinds of Booster packs and find those rare cards!
Yugi, Kaiba, Joey and all your favorites from the TV show!
3 Limited Edition Official Game Cards Inside!
---