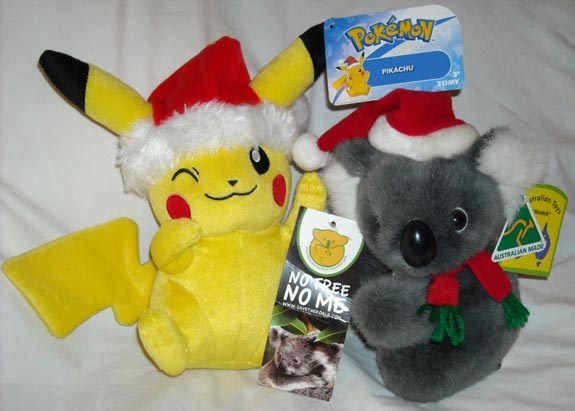 Happy Ho-Ho-Holiday Shopping!
Hi, Pojo,
I don't know about the Great Pumpkin, but I do know the Santa Pika exists; I've managed to capture a shot of the elusive holiday elf off the shelf, pictured here with a little buddy from Down Under! Tomy holiday plush has started to pop up at retail, I found Santa Pikachu at a local GameStop; their online app allows you to check stock and reserve merchandise, the Santa Pikachu had a listing when I looked Friday morning. I called ahead before driving and had a nice clerk reserve my item.
The adorable "Pippy" Santa Koala plush is available via The Australian Koala Foundation www.savethekoala.com; The AKF has a nice selection of holiday themed merchandise in their online Gift Shop and purchases help koala conservation. This year I got another hoodie, a wooden koala holiday ornament and a white koala plush (because a rare white—but not albino—koala was recently born at the Australia Zoo this year!); you can check out these and other great Australian theme gifts at The AKF website—Go Team Komala! Buneary and Bunnelby trainers can check out www.rabbit.org for Houserabbit goodies and care information. Bunnies and koalas aren't your thing? Think about shopping your local AZA Species Survival Plan zoo—you can find great plush of your favorite animals that inspired your Pokémon or adopt (adoptions are also available from organizations like The Australian Koala Foundation, World Wildlife Federation, etc.). Let's make this a great holiday for Pokémon by shopping where it will help wildlife, too!
PIKA! <insert Komala yawn>
Loretta