Pojo's NeoPets Trading Card Game Tips, Strategies & Rants:
Want to contribute a Tip? A Combo? A Tournament Report? ... .
Put your tip, gripe, or idea, or whatever in an email with your own email address included in the letter so other Neopet fans can contact you and discuss your topics. Put your topic in the Subject Header of the email. Remember, no swearing or bashing people. Otherwise, the door is wide open. Join In! Have Fun!
November 2004
July 2004
February 2004
January 2004
December 2003
November 2003
October 2003

Ads & Polls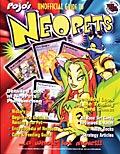 Pick Up Pojo's Unofficial Guide to Neopets for under $10 at Amazon.com