Welcome to Pojo's Anime Site
Thursday, April 3, 2008 Agentsmith9 wrote an anime article for Pojo Readers today titled: The Otaku Connection.
Thursday, January 10, 2008 Wow, we haven't had a Top 10 List sent to use in ages, but Shnordelphlaps sent us new Top 10 Anime list today.
Monday, April 9, 2007 Nathaniel Kader sends us a Top 10 Anime list today.
Friday, March 13, 2007 Wrath sends us his Top 10 Anime list today.
Thursday, November 23, 2006 In addition to wishing you all a Happy Thanksgiving, we would also like to post a Top 10 Anime list sent in by Mina Wolfe.
Sunday, November 12, 2006 ccccc ccccc gives us his all time Top 10 Anime list.
Monday, October 23, 2006 Big Daddy wrote up his Top 10 Anime list. So did Snake.
Tuesday, August 29, 2006 Brad Griffin wrote up his Top 10 Anime list. So did Ashley Cox.
Wednesday, August 23, 2006 We got another Top 10 Anime list. This one is from Vini Silveira.
Monday, July 31, 2006 We just received a Press Release about the Anime happenings at Gen Con Indy in August. We posted it in Today's News.
Here
is the 1st look trailer at Samuel L. Jackson in AFRO SAMURAI!
Sunday, April 30, 2006 Brian sent in his Top 10 Anime list. What will the Number 1 anime series be? FMA? Akira? Gundam? Find out!
Friday, April 28, 2006 Rodney wrote up his Top 10 Anime list.
Sunday, April 9, 2006 Jack sent in his Top 10 Anime list.
Thursday, March 30, 2006 Adult Swim Upfront, a large presentation in New York, occurred today. AS announced many of their new shows for the year, including Eureka 7 and Bleach. The full announcement is here. Thanks to Jmanunknown for pointing this out.
I had never heard of Eureka 7 until very recently. Check out its English website here: http://eurekaseven.bandai-ent.com/
Monday, March 27, 2006 Skye Constantini wrote up his Top 10 Anime list.
Wednesday, March 22, 2006 Irukanji sent in his Top 10 Anime list.
Monday, February 13, 2006 We received a detailed Press Release from Funimation regarding New DVD's, New Trailers, Contests and News on lots of anime, including: DBZ; Case Closed; Desert Punk; Samurai 7 & much more. Check it out.
Wednesday, December 7, 2005 We received a detailed Press Release from Funimation regarding New DVD's, New Trailers, and News on lots of anime, including: Fruit Basket, TMNT, DBZ, Case Closed, Burst Angel, Burst Lyoko, Samuraii 7, Baki, Winx, and more. Check it out.
Wednesday, October 26, 2005 We received a detailed Press Release from Funimation regarding New DVD's, New Trailers, and News on a new Funimation Channel. Check it out.
Monday, October 3, 2005 We just received a Press Release from GenCon regarding "Anime Avenue" at the GenCon in L.A. happening this fall.
09.14.05 Anime Thrives in Videogames - After decades on the fringes of American culture, anime -- that uniquely Japanese form of animation -- is everywhere. Source: CNN
09.13.05 HeinzDrummer sent us his Top 10 Anime List.

09.01.05 There's a press release running around entitled: Geneon Partners With MusicLand for First Ever National Mall Tour With FanFavorite Yoko Ishida. "This is the first time that anime has truly crossed over to become an entertainment event in mainstream retail locations." Full Story.

Source: ActiveAnime

08.31.05 Alvin sent us his Top 10 Anime list.

08.30.05 Toonami and Adult Swim have new Schedule changes. Because it's too long to post here, we made a separate page for it.

08.22.05 Henskie 02 sent us a bunch of Case Closed character bios.

08.21.05 We tossed up some FullMetal Alchemist Character Bios earlier today. (Material written by Kenshin Eternal.)

08.03.05 "Anime-zing: The World of Japanese Animation," will open Saturday, August 13, 2005, at the Lake County Discovery Museum at Lakewood Forest Preserve near Wauconda. This exciting new exhibit explores the world of Japanese animation, known as anime. For more info visit: www.lakecountydiscoverymuseum.org or call the exhibit hotline at 847-968-3393.
07.21.05 We got a huge Press Release from Funimation with news and Trailers of new releases including DBZ, Spiral Gate, Yu Yu Hakusho, Case Closed, FullMetal Alchemist and a whole lot more. We posted it in our News Section today.
Anime fans are no longer the only ones using BitTorrents to download and distribute series. Now ADV Films is using torrents for distribute of promo trailers!

Source: Slashdot

07.20.05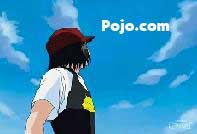 Woah, is that Orohime looking at Pojo? Or is Squirrel doing just a tad too much image editing? Find out in today's summary of The Right Arm of the Giant.

Also we're starting up an FMA section. Coin Flip already wrote an introduction, but we could use more content! I know there's a lot of FMA and Bleach fans on the board who are capable of writing. ;)

07.17.05 Starting next October, on Sundays, Adult Swim programming will start an hour earlier at 10 pm! (Has been confirmed by an AS rep at San Diego Comic-Con.)

Source: ToonZone

07.08.05 Our DVD Release Dates section has been updated with release dates for July and August.

(Originally posted on Anime News Network) Jmanunknown pointed out here that Adult Swim has acquired the rights to show Evangelion at a later date.

Also in recent news, Ace of Spades pointed us to July's Anime Expo, which announced that FLCL will be re-released:

"Synch-Point is also planning to release a 'FLCL Ultimate Edition Boxed Set' in the relatively near future. The boxed set will include all three DVDs, re-mastered and re-authored, with new extras."

07.04.05 Happy Fourth of July everyone! To celebrate our independence, we have three new Top 10 Anime lists, plus another big update of release dates coming tomorrow.

06.30.05 Barnaby Coppen sends us his Top 10 Anime of all time list just for fun. Agree? Disagree? Let us know.
06.23.05 Are you FullMetal Alchemist's Biggest Fan? Thanks to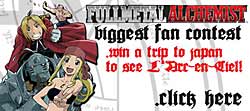 Funimation, you could Win a trip to Japan to see L'Arc~en~Ciel. Enter Here

We've got another episode summary of Bleach coming your way! Episode 11 -- Quincy Archer Hates You. Even if you don't watch Bleach, be sure to check out the coolest screen shot ever! Brought to you by Hikaru no Michiru.
06.21.05 Effective this Saturday, Adult Swim is bumping Trigun off of the Saturday lineup. Futurama is added, and everything is bumped around. View the new schedule on our TV Schedule page.

06.10.05 Here's some Big News updates from Funimation on latest anime releases & Contests:

Exclusive Online Trailer for Dragon Ball Z Movie – Bio Broly - Check it out on www.dragonballz.com

Also, Check out the New Trailers section!

You can now view all the trailers we have. All of the trailers for all of our properties can now be viewed here: www.funimation.com/f_index.cfm?page=trailers

You can find older trailers, as well as the newest ones for upcoming releases. Be sure to stop by often to see what's new.

New Websites!
CONTESTS

Full Metal Alchemist

Baki the Grappler

Ultimate Anime Trip Sweepstakes - Grand Prize - One lucky winner will snag a trip for two for five days, four nights to the Los Angeles area to attend the 2005 Anime Expo, which will include passes, room, tickets to the Burst Angel World Premiere, a Burst Angel box set and sweet-tasting food.

TRAILERS
05.30.05 We have another Top 10's Anime List in from LPJordy. He gives his Best and Worst.
05.09.05 We posted a couple more Top 10's Anime Lists from Readers today.
05.06.05 Funimation has created a new Baki the Grappler site if you want to check it out.
05.03.05 New Anime Trailers from Funimation:
- Burst Angel v.1 - Death's Angel - Available May 10th - Trailer
- Gunslinger Girl v.1 - Ragazzine Piccole, Armi Grandi: Little Girls, Big Guns - Available May 17th - Trailer

- FMA v.3 The Equivalent Exchange - Available May 31st - Trailer

- Lupin the 3rd: Island of Assassins - NOW AVAILABLE - Trailer

04.27.05 Nicholas Simotes sends us his Favorite Top 10 Anime list. Send us yours and we'll post it with the others.
04.04.05 ChrisRLUMD10 sends us his very Top 10 Anime of all time list. What's yours? Let's hear from you.
04.01.05 Chris Taylor sends us his Top 10 Anime of all time list.
03.16.05 We had a few more readers that wanted to put their 2 cents in out Top 10's. Stacie Rowland, Kevin Carty and Mark Waddell all bring us their personal top 10 anime lists.
03.04.05 New Anime Trailers from Funimation:
02.21.05 thing XD sent us his Top 10 Anime List. Feel free to contribute yours.
02.03.05 Here's some news from Funimation! You could win some Free Anime DVD's in one of their give-aways ... so you should definitely check that out.


Enter Here
Burst Angel – Teaser Trailer:
Lupin the 3rd- Dead or Alive
Lupin the 3rd – Greatest Escapes Teaser
There are some contest on our Yu Yu Hakusho & DBZ Sites you might want to check out too!
01.25.05
Got three updates today!
Our resident manga review guru,
Shiro the Commander
, sent in a review of
Hellsing Volume 3
.
DemandRed5151
sent in a DVD Review of
Kino's Journey Volume 1
.
Finally, sairasu89 sent in a
Top Ten Anime list.
01.23.05 Bad News for Case Closed fans: "The decision not to pick up more Case Closed episodes was based on ratings - but we have 50 episodes, and we'll continue to air them from time to time."
01.21.05 Well, the one day I decide not to check the AS message boards, THEY POST SOMETHING! >_> (I was doing a huuuge history project.) So while this is slightly old news, I have compiled a list of the important stuff. Read about it here if you haven't already.
01.17.05 Hikaru no Michiru send in a summary of the next Bleach Episode: Heroes Can Save You.
01.16.05 Quick news update from Jmanunknown, G4 has recently acquired Magical Shopping Arcade Abenobashi from ADV and will start airing the series February 7th on their Anime Unleashed block. Thanks for the info!
01.14.05 You can watch an episode of D.I.C.E., a new series premiering on Toonami a week from Saturday. Thanks to ANN for the link!
Shiro the Commander sent in his Top Ten List and a Manga Review of Great Teacher Onizuka.
01.13.05 Hikaru no Michiru sent in an episode summary of the ongoing saga in Bleach: A Fighting Boy.
Also got two more Top 10 Anime Lists posted here.
More stuff to come over the weekend!
01.10.05 Login problems prevented me from accessing the site after Monday, and I am just logging in now. You guys sent me a handful of stuff and I'm working on a few things myself. Should be posted by tonight. Sorry for the downtime!
01.06.05 Here's some Anime News and Trailers from Funimation:

Lupin the 3rd
Dead or Alive
Available February 22nd

Small Trailer Medium Trailer Larger Trailer

Case Closed 4.4
Broken Dreams
Available Jan 11th

It's double trouble on Kiji Island as an unsinkable ghost ship patrols the dark waters surrounding the peaceful island. While some deem this a terrible omen, other more industrious citizens cash in on the opportunity to make a fast buck, both in tourism and securing the rumored 1 billion in gold believed still on board! What's more, Richard faces a murder rap and it's up to Conan to clear his good name. But when the two prime suspects are themselves murdered, Conan is left clueless. As the death toll rises, could the curse of those poor souls lost on the doomed vessel be true?

Small Trailer Medium Trailer Large Trailer

Spiral v.2
Disarming Fate
Available Jan 11th

As Ayumu and Hiyono continue to investigate the murder of Mr. Imazato, an impending danger lurks. Hiyono becomes the target of the Blade Children's latest ploy, who issues Ayumu his greatest challenge yet—a chance to settle things once and for all! But, a poisonous puzzle must be solved before Ayumu can claim victory. Could Hiyono deal the Blade Children a devastating trump card?

Large Trailer Medium Trailer Small Trailer

Tenchi Muyo! GXP v.8
Past, Present, and Future
Now Available

I'm so cursed! It wasn't too long ago that I was a simple Earthling teenager struggling through a typical teenaged life at home with my friends and family. Then one day I'm almost squished by a runaway spaceship! Before I knew it I woke up on another space ship on the way to the Galaxy Police Academy. Now I'm facing a painful death as Tarant Shank, the galaxy's most feared pirate, and the entire Galaxy Army have me surrounded! I guess my old friend Kai was right…I never will make it to graduation day!

Small Trailer Medium Trailer Large Trailer

1.03.05 Happy New Year Everyone! We're starting the new year off with lots of updates!
Ace of Spades sent in lots of info for Witch Hunter Robin, an excellent series about an organization that tracks down witches. He sent us an intro, glossary, character guide and episode list.
Hikaru no Michiru wrote up another Bleach Episode Summary, this time of Episode 8, Memories in the Rain. It's got screen shots, differences between the Anime and the Manga AND and well written summary. What more could you want?
DarkMage1 sent us his Top Ten Anime. Be sure to send yours in too, if you haven't already done so. I'm sure I've regurgitated my email address enough.