Websites
New Case Closed Website
http://www.caseclosed.com/index2_cc.cfm?page=welcome_cc
NEW Dragon Ball Z: Movie 12 – Fusion Reborn Website!!
http://www.dragonballz.com/index.cfm?page=home_movie
DesertPunk.tv
Look for the complete Official Desert Punk website, www.desertpunk.tv to be live on 2/14…Happy Valentine's Day! If you don't know about Desert Punk, or haven't seen it yet, it's an absolute riot.
FUNiGirls.com
Also, the FUNiGirls re-designed splash page is live – www.funigirls.com
*** Look for the complete website in a couple weeks! ***
News
FUNimation Films
As you may have noticed in this month's Anime Insider, FUNimation is starting an "Anime + Big screen + Nationwide = Kick Butt" Project. Stay tuned for an official announcement coming very soon. www.funimationfilms.com
Samurai 7 Coming to the IFC!
FUNimation Entertainment and Rainbow Media sign Broadcast Deal for Akira Kurosawa's Samurai 7

IFC and Voom HD Networks to air Samurai 7 anime series beginning in March 2006

Rainbow Media has acquired broadcast rights to Akira Kurosawa's Samurai 7 from FUNimation Entertainment. This is a great opportunity for anime fans and fans of Akira Kurosawa's classic Seven Samurai. The Independent Film Channel and Voom HD Networks will present the U.S. television premiere of Akira Kurosawa's Samurai 7 beginning in March 2006.

Shot in high definition with stunning production values from GONZO Digimation, Samurai 7 revisits Kurosawa's epic tale of a small village in feudal Japan that's persecuted by robbers who return every harvest to seize the village's crops. Faced with starvation, the villagers set out on a mission to find and recruit some samurai (master swordsman who adhere to the strict code of honor and loyalty, bushido) to defend them. With no pay to offer except rice, and knowing full well that only down-on-their-luck samurai would even consider accepting such a deal, the villagers can only hope that their saviors will appear before the rice is ready for harvest.

The cable TV premiere of Samurai 7 will air on IFC on Sunday, April 1, 2006 @ 10:30 pm ET / 7:30 pm PT. The half-hour series will air in conjunction with IFC's popular film strand, "Samurai Saturdays," a weekly presentation of classic, Asian martial-arts-themed movies.

Animania HD will have the U.S. HD premiere on Wednesday, March 1, 2006 at 9:00 pm ET/6:00 pm PT as part of the channel's new "Animayhem" block.
Desert Punk - COMING THIS MONTH!!!
Desert Punk streets Feb. 24, 2006 and the website will be available Feb. 14th. Until then, here are some Desert Style goodies for you to check out. We've got avatars, desktops and e-cards. Also, the message boards for DP are now live, check them out as well.

Desktop Wallpapers
http://www.funimation.com/f_index.cfm?page=wallpapers&property=dp

E-Cards
http://www.funimation.com/f_index.cfm?page=ecards

Avatars
http://www.funimation.com/f_index.cfm?page=avatars&property=dp

Some of the stuff you'll be able to check out on the site eventually will be character profiles, descriptions of Desert Punk's many gadgets and weapons, DVD release information, episode summaries, desktop wallpapers, avatars, an interactive soundboard, trailers and video clips. Don't forget to bookmark the site and check it out on Friday.

Get the job done. Collect the money. Repeat.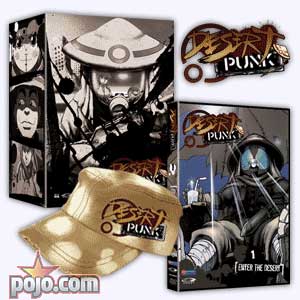 Release Information:
v.01 - Enter the Desert & Starter Set
Preorder Date - 01.24.06
Release Date - 02.24.06
Runtime - 100 min
Rating: TV MA
Episodes 1-4

Starter Set includes collectible box, v.01 - Enter the Desert, and Desert Punk cap.
Story Synopsis:
The Great Kanto desert is a place of extremes. The blasted remains of an ancient civilization destroyed by their own evil deeds. A few surviving descendants still inhabit this stark landscape... and they haven't learned a bloody thing!

Meet Kanta Mizuno. He's not your typical hero and his methods are not always honorable, but he's the closest thing to a good guy the desert's got. Self proclaimed as the "Desert Punk," he's out to make a name for himself as the best handyman for hire. No job is too tough, no opponent too nefarious - Once Desert Punk's on the job, it's as good as done!

That is, until he runs into Junko, the siren of the sands. Double-crossed by these double-D's, Desert Punk finds himself with a job he couldn't complete and a debt he can't repay.

DVD Extras:
- Desert Parody
- Original Japanese Extras
- Life in the Desert
- Main Character Cast Auditions
- As Seen on TV
- Textless Songs

I've also gone ahead and posted the trailer for volume 01 - Enter the Desert on the FUNimation Trailers page found here: http://www1.funimation.com/f_index.cfm?page=trailers&sub=list&trailerprop=dp

--

You can now Pre-Order Desert Punk at the Zstore. Check it out.

Starter Set - http://www.zstore.com/Detail.bok?no=3159
Vol. 01 Only - http://www.zstore.com/Detail.bok?no=3158
Contests:
Heman and the Masters of the Universe
Trailers:
Samurai 7 v.4 – The Battle for Kanna – NOW AVAILABLE
http://media.funimation.com/trailers/samurai7/sam7_v4_cs_Medium.asx
Dragon Ball GT v.6-10 Boxset 2 – AVAILABLE 2/14
http://media.funimation.com/trailers/DBGT/DBGT_box6_10_an_Medium.asx
Burst Angel v.6 – Guardian Angel – AVAILABLE 2/21
http://media.funimation.com/trailers/burstangel/BA_v6_cs_Medium.asx
Case Closed s.1 v.1 – AVAILABLE 2/21
http://media.funimation.com/trailers/case_closed/CC_s1v1_cs_Medium.asx
Galaxy Railways v.5 – AVAILABLE 2/28
http://media.funimation.com/trailers/galaxyrailways/GRWY_v5_cs_Medium.asx
Desert Punk v.1 – AVAILABLE 2/28
http://media.funimation.com/trailers/desertpunk/DesertPunk_v1_cs_Medium.asx