Main
- Main Page
- Message Board
- Links
- Site FAQ
- Staff Info

- Feature Articles & Columns
- DVD Release Dates
- DVD Reviews
- Manga Reviews
- Blood Types

Specific Anime Info
- .hack
- Big O
- Bleach
- Case Closed
- Cowboy Bebop
- Fullmetal Alcehmist
- Ghost in the Shell
- Hellsing
- Inuyasha
- Trigun
- Witch Hunter Robin

By Fans
- Fan Art
- Fan Fiction
- Top 10 Anime

Merchandise
Merchandise
Books
DVD
Games
Manga
Other
TCG
Toys
Video

Magic
Yu-Gi-Oh!
DBZ
Pokemon
Yu Yu Hakusho
NeoPets
HeroClix
Harry Potter
Anime
Vs. System
Pirates

Pojo's Anime News


Anime Presence at Gen Con So Cal
Expands With "Anime Avenue"

ANAHEIM, CA. (September 27, 2005) With interest in the art of Japanese animation reaching new heights, Gen Con is responding with a bigger and more prominent Anime component. Kicking off at this years Gen Con So Cal show, fanıs of anime will get to see and experience expanded Anime content delivering what Anime fanıs want‹more things Anime.

The Anime Avenue at Gen Con So Cal is growing into a full-line anime convention. Attendees of the show can look forward to more Anime with events such as a masquerade, anime music videos, celebrity appearances, karaoke, live panels and hundreds of vendors dedicated to the art of Anime.

"We are very excited to be ramping up the Anime presence at Gen Con So Cal," said Peter D. Adkison, CEO of Gen Con "Gen Conıs electronic gaming initiative is synergistic with the Anime initiatives. Experience has shown that fans of Anime are equally interested in electronic gaming and vice versa."

Gen Con has enlisted the help of Derek Guder in coordinating the Anime programming for Gen Con So Cal. An expert in the field of Asian pop culture, Guder is the Director of Programming for Anime Boston and publisher and senior editor of Eastern Standard, a magazine focused on Asian pop culture. He and his staff took Anime Bostonıs total attendance from 1000 attendees to 8000 in only two years.

Expanding the Anime programming at Gen Con will allow more gamers the opportunity to enjoy a more complete Anime experience. Anime enthusiasts will enjoy the additional events and displays while enjoying the many gaming activities and programs that Gen Con So Cal is known for. To facilitate the additional programming, Gen Con is dedicating a total of 6 rooms, five more than last year, to Anime entertainment, panels, and art.

Gen Con So Cal will be open to the public Thursday, November 17 through Sunday, November 20 with gaming events offered 24 hours a day. On Thursday, the gaming events will take place across the street at the Marriot. The exhibit Hall and other convention activities will begin on Friday, November 18 at the Anaheim Convention Center, a 933,000 square foot state of the art facility in Anaheim, CA just steps from Disneyland.

Attendees must purchase a badge to gain entrance to the show. Badge pre-registration runs through October 24, 2005, noon PST at www.gencon.com.
On-site badge registration starts at 5pm on Wednesday, November 16. A three-day badge is $45 with pre-registration, or $50 on site. A one-day badge is $20 with pre-registration, or $23 on site. Children 8 and under are free with an accompanying adult. For more information and to register, call
(800) 529-EXPO or visit www.gencon.com.

Gen Con, LLC produces the largest consumer fantasy, sci-fi and adventure game convention in North America. Its operations include Gen Con Indy, Gen Con So Cal and Star Wars Celebration III, and licensees for European Gen Con
shows. It was founded in May of 2002 by former CEO and founder of Wizards
of the Coast Peter Adkison, who solely owns the company headquartered in Seattle, Washington. The companyıs mission is to create The Best Four Days in Gaming! every year for its customers. For more information visit the website at www.gencon.com.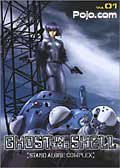 Pick up the first
Ghost in the Shell:
Stand Alone Complex
(Gits: SaC) DVD from Amazon.com.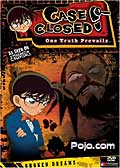 The three newest
episodes of Case Closed
are now available in
Broken Dreams.
Amazon.com

This Space
For Rent