Hello Anime Lovers,
It's been a while. We've been busy in the FUNiNation. Below are a couple of news updates and a ton of trailer links….enjoy!
NEWS
FUNHack
We now have an official representative to answer all your burning questions…meet FUNHack!
E-mail your questions to funhack@funimation.com . Each Friday, check out http://www.funimation.com/f_index.cfm?page=funhack for answers to the week's top questions.
Case Closed Survey
We're preparing to release the 1st 52 episodes of Case Closed within the next year, and we want your feedback.
http://www1.funimation.com/f_index.cfm?page=survey
Trailers
In case you haven't been there yet. FUNimation has a new trailers section, complete with past, current, and future titles. Updated weekly, be sure to check it out often. http://www1.funimation.com/f_index.cfm?page=trailers
CONTEST
Fullmetal Alchemist "Biggest Fan" Contest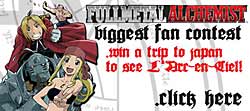 http://www1.fullmetalalchemist.com/contest/
TRAILERS/NEW RELEASES
| | | |
| --- | --- | --- |
| Property | Title | Street Date |
| Tenchi Muyo! Ryo Ohki | Tenchi Muyo! Ryo Ohki - Here Comes the Bride - v.1 | 7-05-2005 |
| Burst Angel | Burst Angel - A New Tokyo - v.2 | 7-12-2005 |
| Gunslinger Girl | Gunslinger Girl - Vita, Passione eナ Pistole: Life, Happiness, and the Gun - v.2 | 7-12-2005 |
| Galaxy Railways | Galaxy Railways - Ahead Full! v.1 | 7-19-2005 |
| Galaxy Railways | Galaxy Railways - SS | 7-19-2005 |
| Wild C.A.T.s | Wild C.A.T.S. - Complete Series Collector's Edition | 7-19-2005 |
| Yu Yu Hakusho | Yu Yu Hakusho - Yusuke Rediscovered - s.4 - t.6 - v.32 | 7-19-2005 |
| Dragon Ball Z | DBZ - Great Saiyaman - Gohan's Secret | 7-26-2005 |
| Fullmetal Alchemist | Fullmetal Alchemist - v.4 - The Fall of Ishbal | 7-26-2005 |
| Kodocha | Kodocha - School Girl Super Star - v.1 | 8-02-2005 |
| Kodocha | Kodocha Starter Set | 8-02-2005 |
| Baki | Baki the Grappler - Grappler vs. Gripper - v.2 | 8-09-2005 |
| Dragon Ball Z | DBZ - Gohan's Trials - saga 1 v.4 | 8-09-2005 |
| Spiral | Spiral -Notes of Truth v.6 | 8-16-2005 |
| Sakura Taisen | Sakura Taisen - Ecole De Paris | 8-23-2005 |
| Samurai 7 | Samurai 7 - v.1 - Limited Edition | 8-23-2005 |
| Samurai 7 | Samurai 7 - v.1 Search for the Seven | 8-23-2005 |
| Lupin | Lupin the Third - Crisis in Tokyo | 8-30-2005 |
Tenchi Muyo! Ryo Ohki – Here comes the bride v.1
Burst Angel – A New
Tokyo v.2
http://media.funimation.com/trailers/burstangel/BA_v2_Small.asx
http://media.funimation.com/trailers/burstangel/BA_v2_Medium.asx
http://media.funimation.com/trailers/burstangel/BA_v2_Large.asx
Gunslinger Girl – v.2
http://media.funimation.com/trailers/gunslinger/GGirl_v2_Small.asx
http://media.funimation.com/trailers/gunslinger/GGirl_v2_Medium.asx
http://media.funimation.com/trailers/gunslinger/GGirl_v2_Large.asx
Galaxy Railways – Ahead Full! V.1
Wild C.A.T.S. – Complete Series Collector's Edition
http://media.funimation.com/trailers/wildcats/wildcats_Small.asx
http://media.funimation.com/trailers/wildcats/wildcats_Medium.asx
http://media.funimation.com/trailers/wildcats/wildcats_Large.asx
Yu Yu Hakusho – Yusuke Rediscovered s.4-t.6-v.32 (the final Yu Yu Hakusho DVD in the series)
http://media.funimation.com/trailers/yuyu/YYH_v32_Small.asx
http://media.funimation.com/trailers/yuyu/YYH_v32_Medium.asx
http://media.funimation.com/trailers/yuyu/YYH_v32_Large.asx
Dragon Ball Z – Great Saiyaman – Gohan's Secret
http://media.funimation.com/trailers/DBZ/dbz_gohanSecret_Small.asx
http://media.funimation.com/trailers/DBZ/dbz_gohanSecret_Medium.asx
http://media.funimation.com/trailers/DBZ/dbz_gohanSecret_Large.asx
Fullmetal Alchemist – The Fall of Ishbal - v.4
http://media.funimation.com/trailers/FMA/FMA_v4_Small.asx
http://media.funimation.com/trailers/FMA/FMA_v4_Medium.asx
http://media.funimation.com/trailers/FMA/FMA_v4_Large.asx
Kodocha – School Girl Super Star – v.1
http://media.funimation.com/trailers/kodocha/kodocha_v1_Small.asx
http://media.funimation.com/trailers/kodocha/kodocha_v1_Medium.asx
http://media.funimation.com/trailers/kodocha/kodocha_v1_Large.asx
Baki the Grappler – Grappler vs. Gripper – v.2
http://media.funimation.com/trailers/Baki/Baki_v2_Small.asx
http://media.funimation.com/trailers/Baki/Baki_v2_Medium.asx
http://media.funimation.com/trailers/Baki/Baki_v2_Large.asx
Dragon Ball Z – Gohan's Trials – Saga 1 – v.4
http://media.funimation.com/trailers/DBZU/DBZU_v4_Small.asx
http://media.funimation.com/trailers/DBZU/DBZU_v4_Medium.asx
http://media.funimation.com/trailers/DBZU/DBZU_v4_Large.asx
Spiral – Notes of Truth – v.6
http://media.funimation.com/trailers/spiral/Spiral_v6_Small.asx
http://media.funimation.com/trailers/spiral/Spiral_v6_Medium.asx
http://media.funimation.com/trailers/spiral/Spiral_v6_Large.asx
Sakura Taisen – Ecole De Paris
Samurai 7 – Search for the Seven – v.1
http://media.funimation.com/trailers/samurai7/sam7_v1_Small.asx
http://media.funimation.com/trailers/samurai7/sam7_v1_Medium.asx
http://media.funimation.com/trailers/samurai7/sam7_v1_Large.asx
Lupin the Third – Crisis in
Tokyo
http://media.funimation.com/trailers/Lupin/LUPIN_CRISIS_Small.asx
http://media.funimation.com/trailers/Lupin/LUPIN_CRISIS_Medium.asx
http://media.funimation.com/trailers/Lupin/LUPIN_CRISIS_Large.asx