WiCkEd's Deck Garage
An Introduction
By: WiCkEd
Hello readers! I'm the new deck mechanic, so I may as well begin by telling you about myself a bit. My name is Josh, I'm 14 (going on 15),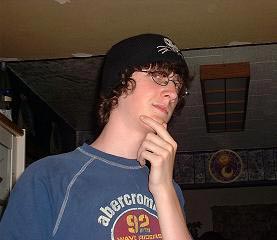 and currently becoming a freshman (so uncool). Next off, I've been playing Yu-Gi-Oh since it first came out in the LOB days. I'm both a TCG and OCG player so I have no problems fixing decks for both formats, although, should I fix an OCG deck, I do expect the owners to know what I meant to be fixed and not wanting me to dig up translations. I also lead a group of online duelists known as he Eclipsed Dreamers (note: please do not IM me asking to join). Currently I'm running 3 decks; a competitive Ben Kai deck, Phoenix Beastdown, and a Burner deck. More so, I play at a place called CJ's Cardshop, which is located "somewhere" in Indiana. So, if you know the place, stop in on Saturdays and I'm likely to be there, I'm not hard to find with my Jack Skellington beanie. Onto what I'll be doing, and some of the things I require for my work to begin.
First off, I want you all to know, I will in no way, shape or form fix a Chaos deck or a Cookie Cutter deck. We all know how they're built, how they work, etc.. I also will not bash a deck no matter what its theme or budget. I encourage all of you readers to send in original decks that you:
A.) Want to be competitive
B.) Think is competitive but needs a quick fix before you take it to a tournament.
C.) Want as a fun deck.
D.) Have a casual deck you think needs minor tweaking/tweaking to be on theme.
So, if your deck fits the criteria send it in. I'm more than happy to look over the deck no matter it be Wind, Water, Skill Drain, or something else. Need be, I'll even do research on the deck before I post fixes; thats how much work I'm willing to do to make a customer happy.
Secondly, this is probably one of the more important areas of discussion in this introduction. With all decks sent in (email will be provided at the end of the article) I need the following things noted.
1.) Decklist
2.) Type of deck
3.) Number of cards in deck, and how many you want.
4.) Basic strategy for the deck.
5.) Format (should ALWAYS be Advanced...although occasionally I will do Traditional)
6.) Your Name
7.) Budget (this is optional, I do not require it for the fact I don't want people based IRL for not having a huge amount of money to play the game).
Outside of my deck fixes (which there should be atleast 2 in an article, and maybe 2 articles a week) I will provide articles on how to build certain types of decks, how certain decks are meant to be run, and how certain decks affect the metagame and your environment around you. These deck articles will not have fixes posted with them, so regretfully, you will have an article but no fix. With that said, I welcome all decks that are sent in. Good luck duelists, hope you enjoy my work.