Transformers TCG Wave 3 Battle Card Set List
"War For Cybertron Siege"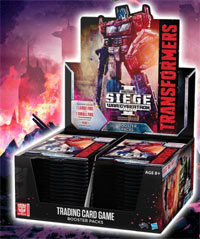 Here is the Transformers Battle Cards Set List, with images, for Wave 3. The first letter of the Card Number indicates the rarity – (Common, Uncommon, Rare). Click on the card name to see the card image.  This set will release on June 28, 2019. This list is currently a Work in Progress.  We will add cards as they are teased around the globe. 
There are 64 Battle Cards in Wave 3.  Click Here to see the Wave 3 Character Card List.  
If you want to contribute anything, or notice errors, feel free to contact us.  Last Update: May 14, 2019.  
Wave 3 Battle Cards
U001/064 
R002/064 
R003/064 
R004/064  Batttering Ram
C005/064  Battlefield Report
U006/064 
R007/064 
C008/064  Brainstorm
C009/064  Calculated Strike
U010/064 
C011/064  Combat Dagger
R012/064
U013/064 
R014/064  Dampening Field
U015/064 
U016/064  Device Virus
R017/064 
R018/064 
R019/064 
R020/064
U021/064  Emp Wave
R022/064  Energy Pack
R023/064  Erratic Energy Grenade
C024/064
C025/064 
C026/064  Force Field
R027/064 
U028/064  Fuel Cache
U029/064  Full Loadout
C030/064 
C031/064
U032/064 
U033/064
C034/064 
R035/064 
C036/064
R037/064  Ultra Magnus Armor 
C038/064  Medic!
C039/064
U040/064 
R041/064  Pep Talk
R042/064 
R043/064 
R044/064  Pop a Wheelie
C045/064  Quartermaster
U046/064 
U047/064 
C048/064  Repurpose
U049/064  Rock Toss
R050/064  RR Disruptor Blade
R051/064
C052/064  Smoke Cloak
C053/064 
C054/064 
U055/064  Special Ops Mission
U056/064 
U057/064 
U058/064  Steady Shot
C059/064 
U060/064 
C061/064 
R062/064 Unconventional Flying Object
R063/064 
R064/064