Transformers TCG Wave 4 Battle Card Set List
"War For Cybertron Siege II"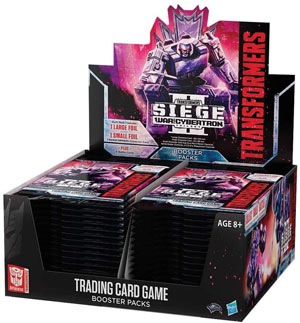 Here is the Transformers Battle Cards Set List, with images, for Wave 4. The first letter of the Card Number indicates the rarity – (Common, Uncommon, Rare). Click on, or hover over, the card name to see the card image.  This set was released in November 2019. Booster Packs include: 1 Large Character Card, 1 Small Character Card, and 6 Battle Cards.  
There are 64 Battle Cards in Wave 4.  Click Here to see the Wave 4 Character Card List.  
If you want to contribute anything, or notice errors, feel free to contact us.  Last Update: November 8, 2019.  
Wave 4 Battle Cards
R 001/064  4-Wheel Drive 
U 002/064  Acute Reflexes
U 003/064  Adaptive Planning
R 004/064  Backfire
R 005/064  Multi-Missile Pod
U 006/064  Battlefield Incursion
U 007/064  Blast Suit
R 008/064  Composite Armor
U 009/064  Contract Contingency
R 010/064  Conversion Engine
R 011/064  Coup
C 012/064  Crowbar
R 013/064  Crude Club
R 014/064  Daring Escape
U 015/064  Decipher
R 016/064  Defensive Configuration
C 017/064  Designated Target
U 018/064  Dual Wield
U 019/064  Energy Transfer
U 020/064  Erratic Cannon
U 021/064  Even the Score
C 022/064  Fight for Position
C 023/064  Guarded Posture
C 024/064  Hazardous Shield 
C 025/064  Head-On Collision
U 026/064  Heroic Resolve
C 027/064  Hidden Fortification
R 028/064  Hijack
U 029/064  Immersed in Shadow
U 030/064  Increased Durability
U 031/064  Indestructible Sword
R 032/064  Involuntary Promotion
R 033/064  Jam Signals
C 034/064  Kinetic Converter
C 035/064  Kinetic Intensifier Whip
R 036/064  Lucky Vest
C 037/064  Medic's Protective Field
C 038/064  Minor Medic Kit
U 039/064  New Orders
R 040/064  Opportune Offensive
R 041/064  Opportune Repairs
R 042/064  Overheat
R 043/064  Overwhelming Advantage
R 044/064  Pincer Movement
U 045/064  Plunder
R 046/064  Pocket Processor
U 047/064  Point Position
R 048/064  Relentless Invasion
C 049/064  Reprocess
U 050/064  Sabotaged Armaments
R 051/064  Shoulder Holster
C 052/064  Showing Off
C 053/064  Soldier's Blaster
C 054/064  Special Delivery
C 055/064  Stable Cover
R 056/064  Step Forward
U 057/064  Sturdy Javelin
U 058/064  Swerve
C 059/064  Terrifying Resilience
R 060/064  Toolbox
C 061/064  Unflinching Courage
R 062/064  Valuable Contract
C 063/064  War of Attrition
C 064/064  Wedge Formation