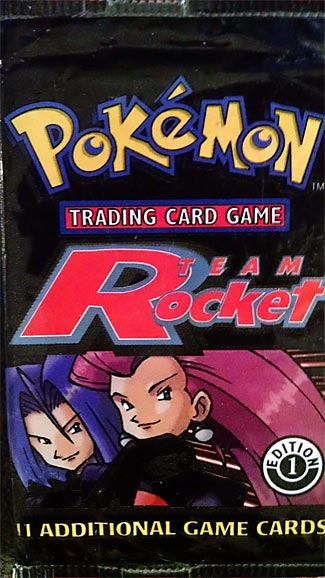 Pokemon Trading Card Game (TCG)
English Set Compositions and Price Guide
c.1999-2021 The PoJo — http://www.pojo.com
U.S. "Team Rocket" Expansion Set 

Revised March 2021
---
Full Card List Notes

"1st Edition" cards are specially marked with the "Edition 1" stamp to signify their limited print run status. These cards were only available in retail outlets for a short time and their prices reflect their relative scarcity. "Unlimited" cards do not have the "Edition 1" stamp,
We are NOT selling cards. These are compiled for clarification of relative values and what you might expect to pay at a game store or collectible dealer for these cards.  At this time, no special pricing is given for unique "error" cards.  
Prices are all based on Near Mint Condition.  PSA Graded Cards are generally more valuable, especially if graded 8 thru 10.  What are graded cards? Click here.  PSA 10 cards are generally worth 3-10 times the values below.
PSA 10 Examples – 1st Edition examples of actual sales on eBay in 2017: Dark Alakazam-$1,000; Dark Blastoise-$5,000; Dark Charizard-$9,000; Dark Dragonite-$2,300; Rainbow Energy-$1,000; Dark Raichu-$5,500.  
| | | | | | |
| --- | --- | --- | --- | --- | --- |
| 1st Ed.  | Unlimited | Card # | Rarity / PSA 10 Value | Color | Card Name |
| $100 | $13 | 1/82 | H / $1,000 | | Dark Alakazam |
| $70 | $5 | 2/82 | H / $700 | | Dark Arbok |
| $350 | $100 | 3/82 | H / $5,000 | | Dark Blastoise |
| $150  | $50  | 4/82 | H / $9,000 | | Dark Charizard |
| $35  | $13 | 5/82 | H / $2,300 | | Dark Dragonite |
| $20 | $6 | 6/82 | H / $250 | | Dark Dugtrio |
| $13 | $3 | 7/82 | H / $500 | | Dark Golbat |
| $13 | $6 | 8/82 | H / $600 | | Dark Gyarados |
| $11  | $8  | 9/82 | H / $600 | | Dark Hypno |
| $18 | $8  | 10/82 | H / $1000 | | Dark Machamp |
| $13 | $4 | 11/82 | H / $500 | | Dark Magneton |
| $20  | $7  | 12/82 | H / $500 | | Dark Slowbro |
| $15  | $5  | 13/82 | H / $700 | | Dark Vileplume |
| $12  | $6 | 14/82 | H / $400 | | Dark Weezing |
| $50  | $6 | 15/82 | H / $300 | T | Here Comes Team Rocket! |
| $9  | $8 | 16/82 | H / $300 | T | Rocket's Sneak Attack |
| $20 | $17  | 17/82 | H / $1000 | E | Rainbow Energy |
| $6  | $4  | 18/82 | R / $100 | | Dark Alakazam |
| $10  | $4  | 19/82 | R /$100 | | Dark Arbok |
| $15 | $5  | 20/82 | R / $750 | | Dark Blastoise |
| $25 | $9  | 21/82 | R / $3000 | | Dark Charizard |
| $8  | $5  | 22/82 | R / $450 | | Dark Dragonite |
| $5 | $2 | 23/82 | R / $100 | | Dark Dugtrio |
| $3 | $2 | 24/82 | R / $100 | | Dark Golbat |
| $7 | $5  | 25/82 | R / $300 | | Dark Gyarados |
| $3  | $2 | 26/82 | R / $100 | | Dark Hypno |
| $4  | $2 | 27/82 | R / $100 | | Dark Machamp |
| $3 | $2 | 28/82 | R / $100 | | Dark Magneton |
| $3 | $2 | 29/82 | R / $100 | | Dark Slowbro |
| $3  | $2  | 30/82 | R / $100 | | Dark Vileplume |
| $3  | $2 | 31/82 | R / $100 | | Dark Weezing |
| $5  | $2 | 32/82 | U / $500 | | Dark Charmeleon |
| $3 | $1  | 33/82 | U /$170 | | Dark Dragonair |
| $1  | $1  | 34/82 | U | | Dark Electrode |
| $5 | $1  | 35/82 | U / $30 | | Dark Flareon |
| $1  | $1  | 36/82 | U | | Dark Gloom |
| $5 | $1  | 37/82 | U /$9 | | Dark Golduck |
| $5 | $1  | 38/82 | U / $30 | | Dark Jolteon |
| $1  | $1  | 39/82 | U | | Dark Kadabra |
| $1  | $1  | 40/82 | U | | Dark Machoke |
| $1  | $1  | 41/82 | U /$13 | | Dark Muk |
| $5 | $1  | 42/82 | U | | Dark Persian |
| $1  | $1  | 43/82 | U | | Dark Primeape |
| $5 | $1  | 44/82 | U | | Dark Rapidash |
| $1  | $1  | 45/82 | U | | Dark Vaporeon |
| $5 | $1  | 46/82 | U / $400 | | Dark Wartortle |
| $1  | $1  | 47/82 | U | | Magikarp |
| $1  | $1  | 48/82 | U /$13 | | Porygon |
| $0.50 | $0.50 | 49/82 | C / $10 | | Abra |
| $0.75 | $0.50 | 50/82 | C / $250 | | Charmander |
| $0.50 | $0.25 | 51/82 | C | | Dark Raticate |
| $0.50 | $0.25 | 52/82 | C | | Diglett |
| $0.50 | $0.25 | 53/82 | C | | Dratini |
| $0.50 | $0.25 | 54/82 | C/$10 | | Drowzee |
| $0.50 | $0.25 | 55/82 | C /$10 | | Eevee |
| $0.50 | $0.25 | 56/82 | C /$10 | | Ekans |
| $0.50 | $0.25 | 57/82 | C | | Grimer |
| $0.50 | $0.25 | 58/82 | C /$10 | | Koffing |
| $0.50 | $0.25 | 59/82 | C /$13 | | Machop |
| $0.50 | $0.25 | 60/82 | C /$10 | | Magnemite |
| $0.50 | $0.25 | 61/82 | C /$10 | | Mankey |
| $0.50 | $0.25 | 62/82 | C /$13 | | Meowth |
| $0.50 | $0.25 | 63/82 | C | | Oddish |
| $0.50 | $0.25 | 64/82 | C /$10 | | Ponyta |
| $0.50 | $0.25 | 65/82 | C /$10 | | Psyduck |
| $0.50 | $0.25 | 66/82 | C /$10 | | Rattata |
| $0.50 | $0.25 | 67/82 | C | | Slowpoke |
| $5 | $2 | 68/82 | C /$275 | | Squirtle |
| $0.50 | $0.25 | 69/82 | C /$10 | | Voltorb |
| $0.50 | $0.25 | 70/82 | C /$14 | | Zubat |
| $8  | $4  | 71/82 | R / $35 | T | Here Comes Team Rocket! |
| $4  | $3  | 72/82 | R / $13 | T | Rocket's Sneak Attack |
| $1  | $1  | 73/82 | U /$10 | T | The Boss's Way |
| $1  | $1  | 74/82 | U | T | Challenge! |
| $1  | $1  | 75/82 | U /$10 | T | Digger |
| $1  | $1  | 76/82 | U /$10 | T | Imposter Oak's Revenge |
| $1  | $1  | 77/82 | U | T | Nightly Garbage Run |
| $0.50 | $0.25 | 78/82 | C / $10 | T | Goop Gas Attack |
| $0.50 | $0.25 | 79/82 | C | T | Sleep! |
| $5  | $3.50 | 80/82 | R / $100 | E | Rainbow Energy |
| $1  | $1  | 81/82 | U /$10 | E | Full Heal Energy |
| $1  | $1  | 82/82 | U | E | Potion Energy |
| $100 | $20  | 83/82 | H / $5500 | | Dark Raichu |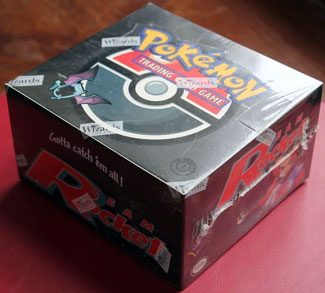 $2,000  Complete 83-Card Set (1st Edition)
$400  Complete 83-Card Set (Unlimited Print)
Team Rocket Booster Box Sealed (36 packs) – 1st Edition: $1,500 
Team Rocket Booster Box Sealed (36 packs) – Unlimited Edition: $800 
---
Release date: April 2000
Distributed by "Wizards of the Coast" (U.S.)