"Neo Revelation" Expansion Set Price Guide
Pokemon Trading Card Game (TCG)
English Set Compositions and Price Guide
c. 2000-2020 – http://www.pojo.com
Revised: August 2020

Card Logo: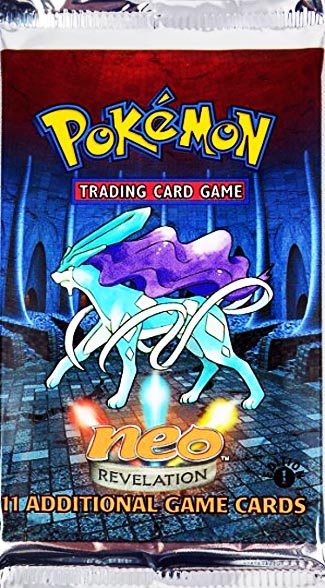 We are NOT selling cards. These are compiled for clarification of relative values and what you might expect to pay at a game store or collectible dealer for these cards.

"1st Edition" cards are specially marked with the "Edition 1" stamp to signify their limited print run status. These cards were only available in retail outlets for a short time and their prices reflect their relative scarcity. "Unlimited" cards do not have the "Edition 1" stamp.
Prices are all based on Near Mint Condition.  PSA (Professional Sports Authenticator) & BGS (Beckett Grading Services) Graded Cards are generally more valuable, especially if graded 8 thru 10. PSA/BGS 10 cards are generally worth 3-10 times more than ungraded versions   What are graded cards? Click here.  
2020 Actual PSA 10 Sales:
Blissey $8999!
Ho-Oh $4500
Entei $775 (PSA 9)
Misdreavus $5000 
Lapras $1500 
Raikou $1336
Suicune $860
Shining Gyarados $2500
Shining Magikarp $2000
Celebi – $1500
Sealed 1st Edition Booster Boxes sell for $8000+
 
1st Ed. 
Unl.
Card #
Rarity 
Color 
PSA
10 
Poke #
Card Name
$120
$7
1/64
H 
$599
#181 
Ampharos
$150
$9
2/64
H 
$599
#242 
Blissey
$150
$19
3/64
H 
 $1500
#251
Celebi
$80
$7
4/64
H 
$200
#169 
Crobat
$60
$7
5/64
H 
$250
#225 
Delibird
$100
$27
6/64
H 
 $775
#244 
Entei
$150
$35
7/64
H 
 $4500
#250 
Ho-oh
$80
$19
8/64
H 
$600
#229 
Houndoom
$50
$7
9/64
H 
 $175
#189 
Jumpluff
$40
$7
10/64 
H 
$175
#082 
Magneton
$150
$7
11/64 
H 
 $5000
#200 
Misdreavus
$40
$8
12/64 
H 
$400
#233 
Porygon2
$150
$28
13/64 
H 
 $1500
#243 
Raikou
$100
$23
14/64 
H 
 $100
#245 
Suicune
$5
$3 
15/64 
R 
$50
#142 
Aerodactyl
$7
$2.50
16/64 
R 
 $40
#251 
Celebi
$7
$2.50
17/64
R
$77
#244 
Entei
$13
$5
18/64 
R 
 $125
#250 
Ho-oh
$5
$2.50
19/64 
R 
 
#230 
Kingdra
$7
$2.50
20/64 
R 
 
#249 
Lugia
$5
$2.50
21/64 
R 
$22
#026 
Raichu
$7
$2.50
22/64 
R 
$61 
#243 
Raikou
$4
$3
23/64 
R 
 
#227 
Skarmory
$5
$2.50
24/64 
R 
 
#215 
Sneasel
$5
$2.50
25/64 
R 
 
#121 
Starmie
$5
$2.50
26/64 
R 
 
#185 
Sudowoodo
$15
$2.50
27/64 
R 
 
#245 
Suicune
$0.75
$0.50
28/64 
U 
 
#180 
Flaaffy
$0.75
$0.50
29/64 
U 
 
#042 
Golbat
$0.75
$0.50
30/64 
U 
 
#075 
Graveler
$0.75
$0.50
31/64 
U 
 
#124 
Jynx
$0.75
$0.50
32/64 
U 
 
#171 
Lanturn
$0.75
$0.50
33/64 
U 
 
#219 
Magcargo
$0.75
$0.50
34/64 
U 
 
#224 
Octillery
$0.75
$0.50
35/64 
U 
 
#047 
Parasect
$0.75
$0.50
36/64 
U 
 
#221 
Piloswine
$0.75
$0.50
37/64 
U 
 
#119 
Seaking
$0.75
$0.50
38/64 
U 
 
#243 
Stantler
$0.75
$0.50
39/64 
U 
 
#201 
Unown B
$0.75
$0.50
40/64 
U 
 
#201 
Unown Y
$0.30 
$0.25
41/64 
C 
 
#190 
Aipom
$0.30
$0.25
42/64 
C 
 
#170 
Chinchou
$0.30
$0.25
43/64 
C 
 
#083 
Farfetch'd
$0.30
$0.25
44/64 
C 
 
#074 
Geodude
$0.30
$0.25
45/64 
C 
 
#118 
Goldeen
$0.30
$0.25
46/64 
C 
 
#198 
Murkrow
$0.30
$0.25
47/64 
C 
 
#046 
Paras
$0.30
$0.25
48/64 
C 
 
#195 
Quagsire
$0.30
$0.25
49/64 
C 
 
#211 
Qwilfish
$0.30
$0.25
50/64 
C 
 
#223 
Remoraid
$0.30
$0.25
51/64 
C 
 
#213 
Shuckle
$0.30
$0.25
52/64
C 
 
#188 
Skiploom
$0.30
$0.25
53/64 
C 
 
#218 
Slugma
$0.30
$0.25
54/64 
C 
 
#238 
Smoochum
$0.30
$0.25
55/64 
C 
 
#209 
Snubbull
$0.30
$0.25
56/64 
C 
 
#120 
Staryu
$0.30
$0.25
57/64 
C 
 
#220 
Swinub
$0.30
$0.25
58/64 
C 
 
#201 
Unown K
$0.30
$0.25
59/64 
C 
 
#041 
Zubat
$0.75
$0.50
60/64 
U 
T
 
— 
Balloon Berry
$0.75
$0.50
61/64 
U 
T
 $6
— 
Healing Field
$0.75
$0.50
62/64 
U 
T
 
— 
Pokemon Breeder Fields
$0.75
$0.50
63/64
U 
T
 
— 
Rocket's Hideout
$0.30
$0.25
64/64 
C 
T
 
— 
Old Rod
$15
$11
65/64 
H
$910
#130 
Shining Gyarados
$15
$11
66/64 
H
$800 
#129 
Shining Magikarp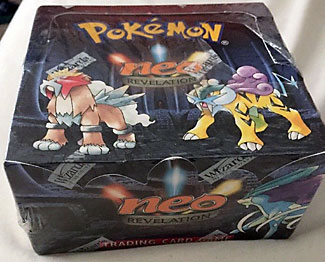 Complete 66-card 1st Ed. Set – $800
Complete 66-card Unlimited Set – $500
Release Date: October, 2001 
Distributed by "Wizards of the Coast" (U.S.)
Available in: "Booster" Packs – Price: $3.29 – 11 random cards : 
1 Rare Card (holo or non-holo)
3 Uncommon Cards
7 Common Cards
Set Size : 66 Total cards – By Rarity:
16 Holographic Rare
13 Rare (non-holo)
17 Uncommon
20 Common