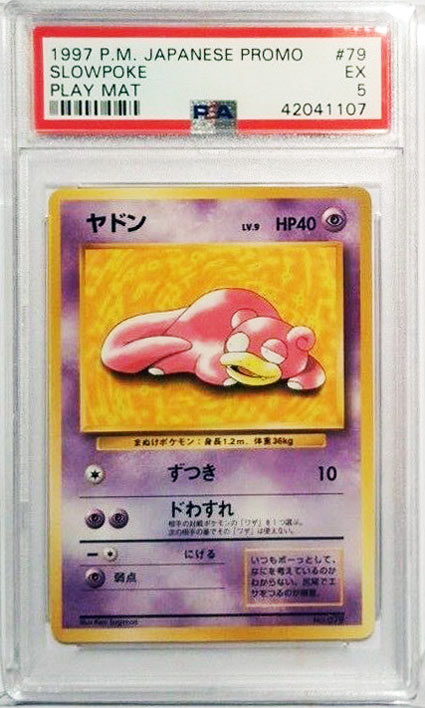 Slowpoke Play Mat Promo 
– Japanese 1997 Pokemon Promo Card
Date Reviewed:   October 22, 2020
---

Bill
I'm going to start every one of my reviews with this caveat – This is just my opinion.  With 1st Edition Base Set Charizards selling for over $100,000, I think it is time to look at some other Pokemon cards where Pokemon collectors might find value.
I'm not the biggest fan of collecting Japanese cards, but some of the older Japanese cards jump right out at me.  I know this article appears to be about a boring old Slowpoke card, but I think this a nice little gem of a Promo card.  
Raw, ungraded copies of this card have recently sold for less than $10 on eBay!  And as I write this article today, there are a few ungraded raws for under $50.
Pokemon Base Set was released in Japan in October 1996, and Pokemon Base Set was not released in the United States until January 1999.  This Slowpoke card was released in Japan in May 1997, so it is almost 2 years older than first edition U.S. Pokemon Cards.  This Slowpoke was also one of the earliest Pokemon Promo Cards ever released.  In 1996, there were only a few Promos released.  And in 1997, there were only about a dozen Pokemon promo cards released.  
In Japan, you would get this with Slowpoke Promo with a Pokemon Play Mat, so it is affectionately known as the Play Mat Slowpoke.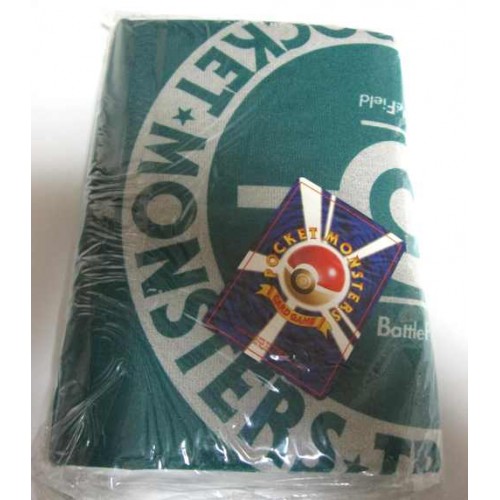 You were able to find these Play Mats in the United States as well, at Japanese merchandise stores, if you were lucky enough to live in a big city.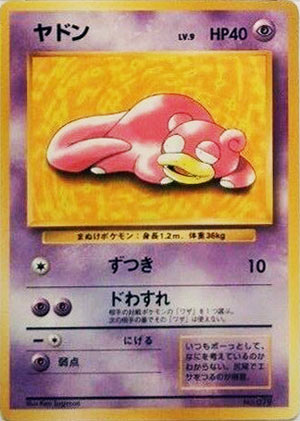 Looking at the Promo Population Report from the PSA Grading Company, there have been only 46 graded Slowpoke Play Mat Cards.  According to the Population for Base Set Charizard, over 19,000 Base Set Charizard cards have been graded!  And over 2,500 of those Charizards are 1st Edition Charizards!
Slowpoke does not have anywhere near the coolness factor of Charizard.  But this particular card is definitely more rare right now.  It's probably time to show this little sleepyhead some love!
Happy Collecting!
Pojo Note: PSA is currently the leader in Pokemon Card Grading.  Beckett, CGC, and other companies also grade Pokemon cards.  A few more graded Slowpoke cards are most likely around.  😉