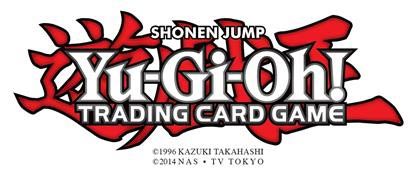 A NEW SEASON OF DUELING IS READY TO RAMPAGE
El Segundo, Calif. – The 2018-2019 Dueling season is drawing to a close as the days tick down to the Yu-Gi-Oh! World Championship 2019 in Berlin, but Duelists across the globe are already looking ahead! Konami Digital Entertainment, Inc. (KONAMI) is excited to kick off the summer with three new products, bringing a close to the current era of tournaments and igniting the fires of creativity and competition for the 2019-2020 season. Dark Neostorm Special Edition offers another opportunity to collect some of the year's hottest cards while giving a glimpse into the not-so-distant future. Battles of Legend: Hero's Revenge brings a wealth of new cards to the Yu-Gi-Oh! TRADING CARD GAME (TCG) plus reprints of top tournament favorites, and Rising Rampage ushers in a new dawn for Duelists worldwide.
Just in time for World Championship Qualifiers, Dark Neostorm Special Edition is your second chance to grab some of the biggest, most competitive cards of 2019! Gnomaterial is an incredible effect monster that cuts off some of Dueling's deadliest strategies before they get started, while Ghost Sister & Spooky Dogwood punishes your opponent by gaining you thousands of Life Points. Dingirsu, the Orcust of the Evening Star, Cherubini, Ebon Angel of the Burning Abyss, Mekk-Knight Crusadia Avramax and Cynet Mining all play starring roles in some of the best Decks today. Now Dark Neostorm returns to shelves and you get another shot at some of the most sought-after cards in the TCG… at a price that can't be beat!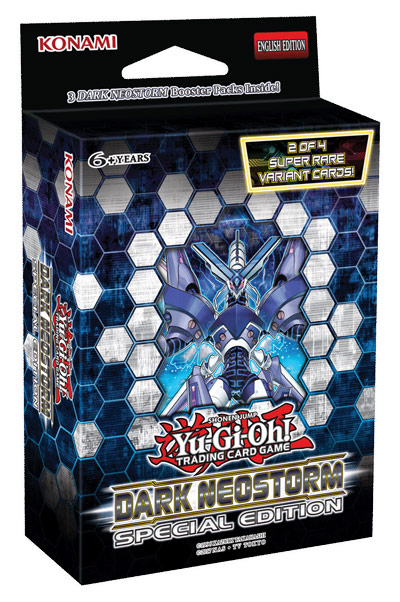 And that's not all. Every Dark Neostorm Special Edition comes with two Super Rare variant cards: either a Super Rare printing of Shooting Riser Dragon or the all-new Magicalized Fusion, plus one of two Super Rare previews from July's Rising Rampage. Beatraptor is a new card for Dinosaurs that negates the effects of monsters in the Extra Monster Zones, while Fury of Fire unleashes up to two Salamangreats with different names from your hand and Graveyard. Both are tournament worthy and each is tournament legal upon their Special Edition release.
Dark Neostorm Special Edition launches June 14 (June 13 at Official Tournament Stores throughout the country, find a store here) with 1 of 2 Super Rare variant cards, 1 of 2 Super Rare variant preview cards, and 3 Dark Neostorm Booster Packs. MSRP: $9.99 per box.
Battles of Legend: Hero's Revenge is the first Summer release and the first new booster set of the 2019-2020 Dueling season: a pure Ultra Rare and Secret Rare celebration mixing never-before-released cards from different eras of the Yu-Gi-Oh! manga and anime series, with never-before-seen Link Monsters and incredible tournament reprints. Fans of the Yu-Gi-Oh! GX manga series will finally get to wield powerful new "Vision HERO" monsters as well as classic "HERO" cards like Vision HERO Vyon. And Duelists who loved Yu-Gi-Oh! ZEXAL will find a treasure trove of "Number" monsters, beginning with the former Championship prize card Number 93: Utopia Kaiser!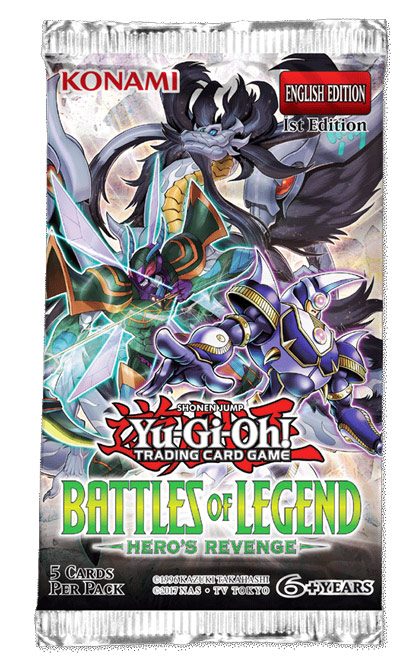 Strategies like Traptrix, PSY-Frames, and Yugi's Black Luster Soldier Ritual Deck all get new Link Monsters. Tournament players will find high-powered picks like Borrelsword Dragon and Sky Striker Mobilize – Engage! reprinted for the first time, as well as awesome foil upgrades of tournament favorites like Dinowrestler Pankratops, Artifact Lancea and Summon Limit. Whether you're looking to get your hands on some of the game's greatest cards for the first time, or you want to upgrade a Deck you've already perfected, Battles of Legend: Hero's Revenge has everything you need.
Battles of Legend: Hero's Revenge is available July 12 (July 11 at Official Tournament Stores throughout the country, find a store here) with 93 cards total: 61 Ultra Rares and 32 Secret Rares. MSRP: $3.99 per 5-card pack.
And then the Rampage begins! The Rising Rampage booster set introduces 100 all-new cards and brings with it two new monster themes: Blue Maiden's Marincess from Yu-Gi-Oh! VRAINS, an explosive Cyberse strategy with incredible Link Summoning power; and the Wyrm-Type Tenyi theme, a group of elite martial artists that work together to power up their key Link Monsters. And remember Dark Simorgh? 'Old-school' Duelists will rejoice with a whopping ten new "Simorgh" cards to revive the avian legacy, similar to the return of the Thunder Dragons in last year's Soul Fusion booster. With new support for Dinowrestlers, Yosenju, Borrels, Charmers and Salamangreats, Rising Rampage is poised to make an instant impact on the fresh competitive season.
Get ready for Apollousa, Bow of the Goddess, an incredible Link-4 that can power up to 3200 ATK, negate up to four monster effects, and fits into any Link Summoning strategy! Spellcaster Decks of all types can unlock the power of Fortune Lady Every, a new Synchro Monster that revives herself every turn and banishes opposing monsters for free! Witchcrafter fans are especially lucky thanks to the arrival of Witchcrafter Golem Aruru, an awesome boss monster that springs from your hand when your opponent targets one of your Spellcasters, then immediately blasts an opposing card off the field OR retrieves a card from your Graveyard!
Rising Rampage
A new DARK Machine builds off the momentum of Savage Strike's Pot of Extravagance: with 2450 ATK, you can Special Summon it from your hand or Graveyard as a Quick Effect by banishing 8 cards from the top of your Deck. From there you can banish cards from your Extra Deck to destroy opposing monsters. A new LIGHT Fairy lets you Tribute to search your Deck for other monsters regardless of their Type, Attribute or Level. And a powerful new Trap Card kicks Special Summoned monsters back to your opponent's Deck two at a time, demolishing your opponent's biggest set-ups! Rising Rampage is packed with theme support for classic Decks and modern strategies alike, but it's also got plenty of new thrills you can play anywhere.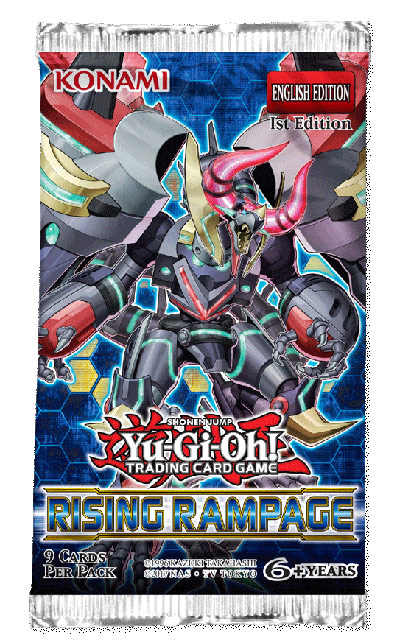 Duelists can get a preview of Rising Rampage at Sneak Peeks scheduled for July 20 and/or July 21 at participating Official Tournament Stores. Duelists can find more information and a list of locations here: http://www.yugioh-card.com/en/events/sneakpeek.html.
Rising Rampage debuts July 26 (July 25 at Official Tournament Stores throughout the country, find a store here) with a total of 100 new cards: 48 Commons, 20 Rares, 14 Super Rares, 10 Ultra Rares, and 8 Secret Rares. MSRP: $3.99 per 9-card Pack.