Rex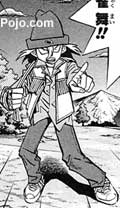 Raptor
6.04.04 Rex Raptor

Rex is 16 years of age and his birthday is December the 29th. His name in the undubbed Japanese anime is 'Dinosaur Ryuzaki' Ryuzaki means 'Exemplary Lizard' a lot of people think he's a real jerk but he is one of the few people in the whole show who doesn't cheat which would make him an honest jerk? We don't see him duel too much in Duellist Kingdom or in Battle city but he really fairs well in the DOOM arc.

In the DOOM arc him and Weevil bump into each other and are confronted by a new kind of rare hunter, not one which works for Marik but rather one that works for a man called 'Dartz' both he and Weevil have to duel against this guy, they lose. Thanks to a card which is known as the 'Orical Curse' both teens lose their souls in the duel. Later it is won back thanks to Yuugi.

Later on Rex and Weevil join up with DOOM, Weevil goes after Yami No Yuugi while Rex goes over Joey. He plays a super charged up deck given to him by the leader of DOOM. He does very well, we even see a little of his and Weevil's past and he manages to redeem himself. But he loses his soul once again, Joey vows to help him get it back.

In DOOM Rex is made more of a jerk then he really is, he grows a very mean streak and becomes somewhat demonic and messed up in the head. He regains his soul once again but wasn't too happy about losing it to Joey in the first place. He then tags along with Weevil through YGO Grand Prix and Pharaohs Memory.

You have to feel sorry for a guy who was beat up, peed on by a dog and lost his soul twice!
- 'Raine'
----

Rex is a duelist that placed second in the duel monsters regional. He is known as the dino duelist because most of his cards in his deck are dinos. While traveling to the duelist kingdom he met Yugi. He also met with Mai and he lost his suite to her in a duel. Angered by this he found Mai in the duelist kingdom later on to duel with Mai. Mai agreed to this only if Rex could beat Joey but he sadly didn't. The two strongest cards in Rex's deck are his Serpent Night Dragon and his Red Eyes Black Dragon. (Rex lost his REBD to Joey because of a bet he made) - Simpsonsboy2000
----------
Rex Raptor
Rex Raptor placed 2nd in the Duel Monsters Regionals Contest. He lost against Weevil the insect duelist. At Duelest Kingdom Rex challenged Joey so he could duel Mai Valentien. Then he betted his Red Eyes Black Dragon for Joey's Time Wizard. Joey of course won. Rex was kicked off the island. After a while Yugi saved Mai's star chips which gained Yugi her respect. Then when Yugi lost to Kaiba Mai let Tea beat her so she could give them to Yugi. Then Kaiba faced Maximillion Pegasus and lost to Pegasus' Toon Monsters Deck.
Kaiba got what he deserved!!!!!! - ZA2EEBON
-----------
Character Bio for Rex Raptor: Rex is mega Dinosaur fan. He loves dinosaur cards. His best include Serpent Night Dragon and Red Eyes Black Dragon. Unfortunately, he lost Red Eyes in a bet with Joey. Rex once placed 2nd in a tournament. He lost to Weevil, the insect duelist. - Caren W.
--------------
Rex Raptor was the Second Place duelist in the regional tournament and got his Serpent Night Dragon for being an "elite finalist", as he says when he first plays the card at Duelist Kingdom in a duel with Joey (FYI, Joey got his rebd from him when Rex lost to him). On the way to Duelist Kingdom, he lost his luxery room to Mai when she beat him in a duel (he must have been stubborn if Mai had to throw him out!). Rex was next seen in Battle City, getting kicked out of the tournament by Esp Roba, and criticized Joey the entire duel when Joey faced Esp. -Puffinater
--------
Rex Raptor

Rex is the "dino. king" or so he thinks! He looses to Joey and that's how Joey got his RED EYES. After that loose you don't really see him until Battle City. He looses to the fake pysacic. I think that's where you stop seeing him. He's not that great of a duleist, but don't underestamate him, he might just beat you! - Wayne