Isis Ishtar
Isis Ishtar: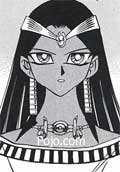 She herself is pretty mysterious, being Egyptian herself, she holds the Millenium Necklace untill episode 97 when she hands it over to Yugi. Isis could use the ability's of being able to read another duelists mind to see their next move. You first meet Isis in the episode with Seto, but then in a few episodes later when Yami and Anzu first go to see the new Egyptian exhibit because of Yami's depression over not knowing who he is, and not having any of his memories.
~Takato
----------
Okay, Isis Isthar is the older sister of Marik Istar (the baddie of the Battle City Saga) as well as the possesor of the Millenium Necklace. Which allows her to see into the past of future. She first meets Kaiba in the Domino museum and reveals to Kaiba his past self as an evil sorceror who is trying to defeat Yami the pharoah in a shadow game. However Kaiba doesn't believe any of it and merely brushes it off as a cheap trick. Then Isis gives Kaiba Obelisk the Tormentor and tells Kaiba to start the Battle City Tornement. She then meets Yami and Tea at the museum and tells Yugi of the upcoming Battle City tornement, and that he must enter it to stop the ultimate evil. Then we don't see Isis again until the Battle City Finals along with Yugi, Joey, Mai, Marik, Bakura, and Odion. She doesn't make her apperience until her duel against Seto. She then duels Seto in a very difficult duel. She then foresees that she will lose to Kaiba using Obelisk, however when Kaiba summons Obelisk he recieves a vision from the Millenium Rod due to the fact that his past self was the original possesor of the item. Then Kaiba sacrifices Obelisk to summon his BEWD and defeats Isis with it. Since the future that she foresaw was changed her Necklace lost its power and then she hands the item over to Yugi. - Austin
-----------
Ichizau Ishtar: 3 words to describe her,cunning ,sneaky , and smart. Mastering the powers of her Millennium Necklace , she started using it more often after her little run in with her brother. In the episode with herself Yami and Anzu, you'd think she'd tell them a little more then she did. But I think (NOTICE I THINK) she's got the hots for Kaiba. Well, hopefully she is explains a little more in the future. HRunGrrl
--------------
Ishizu:She's Marik's(Malik's) sister & keeper of the Millenium Tauk(Necklace) until she hands it over to Yugi feeling that the necklace would be more safe in Yugi's possesion than her's. You first meet her in the Domino talking to Seto Kaiba & once again talking to Yami & Tea. When she meets Kaiba, She tells him this story that Kaiba refers to as "Egyptian History 101" but turns out to be quite intrestring to Yami,since he's searching for answers about his past. Since Kaiba is always looking for rare cards, it's no shock Ishizu would a rare card and lends him her Obelisk the Tormentor card. Ishizu is very mysterious in a way...
--------
Isis Ishtar has the millenium neclace which can see the past and future.she is malik's sister. Their father was very abusive and thats probably why malik wants to take over the world. Isis is trying to stop him by telling seto kaiba to start a tournament to get the god cards back and she tells yugi to defeat him, so malik wont get his puzzle. I think she's a good sister who will always look out for malik, but he's to blind(which is yami malik's fault)to notice. -theacat