Card Game
Card of the Day
TCG Fan Tips
Top 10 Lists
Banned/Restricted List
Yu-Gi-Oh News
Tourney Reports
Duelist Interviews

Featured Writers
Baneful's Column
Anteaus on YGO
General Zorpa
Dark Paladin's Dimension
Retired Writers

Releases + Spoilers
Booster Sets (Original Series)
LOB | MRD | MRL | PSV
LON | LOD | PGD | MFC
DCR | IOC | AST | SOD
RDS | FET
Booster Sets (GX Series)
TLM | CRV | EEN | SOI
EOJ | POTD | CDIP | STON
FOTB | TAEV | GLAS | PTDN
LODT
Booster Sets (5D Series)
TDGS | CSOC | CRMS | RBGT
ANPR | SOVR | ABPF | TSHD
STBL | STOR | EXVC
Booster Sets (Zexal Series)
GENF | PHSW | ORCS | GAOV
REDU | ABYR | CBLZ | LTGY
NUMH | JOTL | SHSP | LVAL
PRIO

Starter Decks
Yugi | Kaiba
Joey | Pegasus
Yugi 2004 | Kaiba 2004
GX: 2006 | Jaden | Syrus
5D: 1 | 2 | Toolbox
Zexal: 2011 | 2012 | 2013
Yugi 2013 | Kaiba 2013

Structure Decks
Dragons Roar &
Zombie Madness
Blaze of Destruction &
Fury from the Deep
Warrior's Triumph
Spellcaster's Judgment
Lord of the Storm
Invincible Fortress
Dinosaurs Rage
Machine Revolt
Rise of Dragon Lords
Dark Emperor
Zombie World
Spellcaster Command
Warrior Strike
Machina Mayhem
Marik
Dragunity Legion
Lost Sanctuary
Underworld Gates
Samurai Warlord
Sea Emperor
Fire Kings
Saga of Blue-Eyes
Cyber Dragon

Promo Cards:
Promos Spoiler
Coll. Tins Spoiler
MP1 Spoiler
EP1 Spoiler

Tournament Packs:
TP1 / TP2 / TP3 / TP4
TP5 / TP6 / TP7 / TP8
Duelist Packs
Jaden | Chazz
Jaden #2 | Zane
Aster | Jaden #3
Jesse | Yusei
Yugi | Yusei #2
Kaiba | Yusei #3
Crow

Reprint Sets
Dark Beginnings
1 | 2
Dark Revelations
1 | 2 | 3 | 4
Gold Series
1 | 2 | 3 | 4 | 5
Dark Legends
DLG1
Retro Pack
1 | 2
Champion Pack
1 | 2 | 3 | 4
5 | 6 | 7 | 8
Turbo Pack
1 | 2 | 3 | 4
5 | 6 | 7

Hidden Arsenal:
1 | 2 | 3 | 4
5 | 6 | 7

Checklists
Brawlermatrix 08
Evan T 08
X-Ref List
X-Ref List w/ Passcodes


Anime
Episode Guide
Character Bios
GX Character Bios
Video Games
Millennium Duels (2014)
Nighmare Troubadour (2005)
Destiny Board Traveler (2004)
Power of Chaos (2004)
Worldwide Edition (2003)
Dungeon Dice Monsters (2003)
Falsebound Kingdom (2003)
Eternal Duelist Soul (2002)
Forbidden Memories (2002)
Dark Duel Stories (2002)
Other
About Yu-Gi-Oh
Yu-Gi-Oh! Timeline
Pojo's YuGiOh Books
Apprentice Stuff
Life Point Calculators
DDM Starter Spoiler
DDM Dragonflame Spoiler
The DungeonMaster
Millennium Board Game
Magic
Yu-Gi-Oh!
DBZ
Pokemon
Yu Yu Hakusho
NeoPets
HeroClix
Harry Potter
Anime
Vs. System
Megaman
This Space
For Rent



Yugioh GX Bios
Camula

The second of the shadow riders,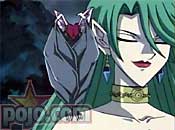 Camula's dueling style is quite different than the other shadow riders. She uses her vampire bats to spy on her adversaries so that she can calibrate her zombie deck to oppose any and all threats that prevent her from obtaining the spirit gate keys. Rumor has it that Camula is supposedly a vampire herself.
----------
Here is a bio for Camula:

Camula was the second Shadow Rider to appear, and was the hardest to beat. She defeated Dr. Crowler and Zane before Jaden finally took her down with his Shining Flare Wingman. She uses a deck of Zombie cards centered around Vampire Lord and Vampire Genesis. She also has a special card called "Phantom Gate" which destroys all monsters on the field and Special Summons one of her opponent's destroyed monsters. However, if she loses the duel, she must give a soul to the Shadow Realm and the Sacred Beasts. She is able to avoid paying with her own soul with her Shadow Charm. She forced Zane into submission by holding Syrus' soul to be offered if he delivered a final blow.

Camula's cards are reflective of herself, as she is an actual vampire. Sometime before or around the middle ages, vampires and humans lived together peacefully until an rash and unexpected war broke out between the two species. To protect herself, Camula hid herself in a coffin to sleep, but was awakened in the future by Kagemaru with a proposition. If she helped him in his quest for the Sacred Beasts, he would give her a soul manipulating Shadow Charm. For every person she beat in a duel, she would capture their soul, and eventually use all of those souls to resurrect her fallen people. Eerily, she traps souls in dolls. Jaden's Shadow Charm was able to contradict Camula's though, and when she lost to him, her soul was taken by Phantom Gate.

Existant cards used by Camula:
Vampire Genesis
Vampire Lord
Vampire Lady
Book of Life

New cards used by Camula:
Phantom Gate
Genesis Crisis
Zombie Werewolf
Vampire Bat
Infernalvania

- KatKafka


Copyrightę 1998-2006 pojo.com
This site is not sponsored, endorsed, or otherwise affiliated with any of the companies or products featured on this site. This is not an Official Site.