Pojo's Unofficial Total Yu-Gi-Oh!
Hey folks, you've seen a ton of unofficial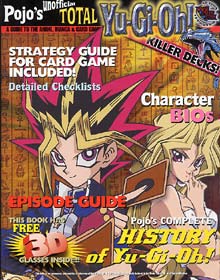 Yu-Gi-Oh magazines on the market. Now it's time for something that actually delivers what you are looking for! Pojo's Unofficial Total Yu-Gi-Oh gives you what you want! You save a couple of bucks by buying it right now from Amazon.com! It's 128 pages, and jam-packed with the goods!
Here's what you'll find inside:
Is anime your thing?
Bios of all the major characters from the manga & anime.
A detailed review of all 30 volumes of the Manga from Japan. These have not been released in the United States. Find out what you are missing! Find out the history of Yugi that you've never known!
Yu-Gi-Oh Season 1 & Season 2 anime reviews. Did you know that the first 27 episodes of Yu-Gi-Oh have never aired in the United States? We tell you exactly what happens in each episode. And there's episode summaries for Season 2 as well.
Want some Top 10 lists?
We have a total of 8 Top Lists with reviews of each card. There's Top 10 lists for creatures & Magic & Trap cards for LOB, Magic Ruler, Metal Raiders, Tournament Packs & Common Cards.
Want some Killer Decks?
Scott Gerhardt, SomeGuy, NickWhiz1, wartortle32 & DeQuan Watson build some Killer Decks for you to try. IQ,NickWhiz1 & Scott Gerhardt also build a couple of Cheap @$$ decks for some of you guys with little funds.
DeQuan Watson has a cool article on protecting your cards with sleeves.
We've printed wartortle32's detailed FAQ's for you, so you can keep them handy away from our website.
Adam Forristral's cool card lists are in here too, in alphabetical order.
Into the Video Games??
NickWhiz1 has a review and walkthrough of Forbidden Memories
and Nick has a review of Dark Duel Stories
And just for the fun of it, we tossed in a handful of 3D images & some free 3D glasses!
Pick one up today at Amazon.com!