Pojo's Yu-Gi-Oh
Labyrinth of Nightmare Guide
Our newest YuGiOh Book is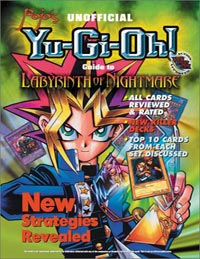 now in stores and you it's less than $10. That's essentially what monthly magazines are charging, and this has no ads! You can order it right now from Amazon.com! It's 96 pages, and jam-packed with the goods!
Here's what you'll find inside:
Reviews of every single card in the LON set. There are over 100 cards, and we review & rate & show you every single one of them! We're not just talking pictures here folks, we're talking ratings & reviews too!
Want some Top 10 Lists?
You'll find Top 10 Lists for every set that has been released in the U.S.
Want some Killer Decks? We have 16 pages of Killer Decks for you to peruse! Here's the Decks you'll find discussed in this book:
Looking for Featured Articles?:
Wartortle & NickWhiz discuss LON's impact on the game. Yonex has a Deck Building Guide. IQ has an article about the skill of card trading. SomeGuy & Wartortle have some Deck Fixes.
Into the Video Games??
NickWhiz1 has a review of EDS - along with some tips
And there's a couple of Life Point Calculator pull out pages you can use too.
Pick one up today at Amazon.com!