Pojo's Unofficial Big Book of Yu-Gi-Oh!
You loved our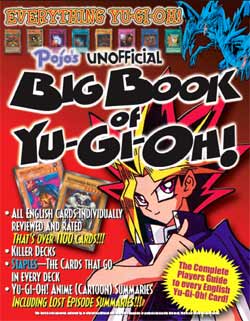 Big Book of Pokemon. So we helped create Pojo's Unofficial Big Book of YuGiOh. This book is 256 pages, and has full cover images, card ratings and reviews of every single card from Legend of Blue Eyes White Dragon through Pharaonic Guardian, including all promo cards! And all your favorite writers are here: Edo, DM7, SomeGuy, NickWhiz, wartortle32, GSAttack, etc., etc. etc. This book can be picked up at Amazon.com for under $14.00
Introduction to Yu-Gi-Oh! - Edo has a brief history of this the phenomenon for you.
The Lost Episodes - The first Series of Yu-Gi-Oh! never aired in the United States. We tell you why, and we tell you what you missed.
Anime Reviews of Yu-Gi-Oh! - Did you miss any episodes of Yu-Gi-Oh!? We have summaries of dozens of episodes for you.

Yu-Gi-Oh! U.S. Game Card Reviews!

Our review crew takes a look at every single U.S. card printed to date - Each card is reviewed and then rated from 1 - 5 stars. Reviewers include: DM7, NickWhiz, wartortle32, SomeGuy, DuelMonster, Umbra, Martin, vodkam, & GSAttack. Sets included in the review are:

Starter Deck YuGi
Starter Deck Kaiba
Starter Deck Joey
Starter Deck Pegasus
Legend of Blue Eyes White Dragon
Metal Raiders
Magic Ruler
Pharaoh's Servant
Labyrinth of Nightmare
Legacy of Darkness
Pharaonic Guardian
Tournament Packs, Season 1
Tournament Packs, Season 2
Tournament Packs, Season 3
McDonalds Promos
Booster Pack Tins
Other Promos

Killer Decks - Our staff has handfuls of different Killer Deck ideas that you can playtest against your friends, in your leagues, or in tournaments

Intro to Magicians Force - Edo cranks out a few pages telling you which cards will changed the metagame.

Staples - Staples are cards that belong in every deck. Edo discusses the staples of Yu-Gi-Oh!.

Dark Crisis - The Dark Crisis expansion hit streets about the same time as our Book. Edo lets you know what cards to look out for.

Pick one up today at Amazon.com!