YU-GI-OH! DUELISTS OF THE ROSES BRINGS MEGA-HIT GAME SERIES TO PLAYSTATION® 2
Strategy/Card Battling Game Delivers Deep Gameplay, Complex Strategies, Sparkling Graphics
Electronic Entertainment Expo -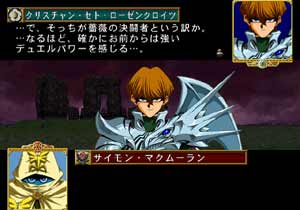 Booth #900 - LOS ANGELES, CA - May 22, 2002 - Konami of America Inc., today announced that Yu-Gi-Oh!, the global videogame/trading card/television phenomenon, will make its next-gen console debut when Yu-Gi-Oh! Duelists of the Roses (working title) lands on the Sony PlayStation® 2 computer entertainment system in 2002. Featuring deeply strategic gameplay, an all new dueling system and beautiful graphics, Duelists of the Roses is primed to propel gamers even further into the rich Yu-Gi-Oh! world. Inspired by the top-selling trading card game and #1 rated animated TV series*, Duelists of the Roses brings the adventures of Yugi to life in stunning 3D.
"Duelists of the Roses takes the Yu-Gi-Oh! sensation to the next level by enriching and enhancing the gameplay experience," said Dennis Lee, Product Manager at Konami of America. "With the power of the PS2, Duelists of the Roses delivers breathtaking graphics, immersive gameplay, and all of the popular Yu-Gi-Oh! characters making Duelists of the Roses the most exciting Yu-Gi-Oh! game ever."
The first Yu-Gi-Oh! game to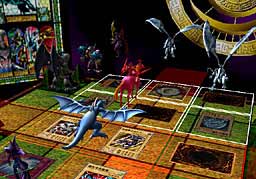 emerge on a next-generation videogame console, Yu-Gi-Oh! Duelists of the Roses, traces the lineage of Yugi and Kaiba - as the two duelists clash yet again. Battling each other, as well as characters from the hit animated TV series, players will attack with a powerful deck, ferocious monsters and mystical traps. The new Card Movement Battle System ensures that players will have to think strategically in order to become the supreme Duelist, while 680 beautifully 3D rendered monsters keep the on-screen action exciting.
Yu-Gi-Oh! Duelists of the Roses comes packaged with three exclusive Trading Card Game cards.