Pojo's Yu-Gi-Oh News <![if !vml]>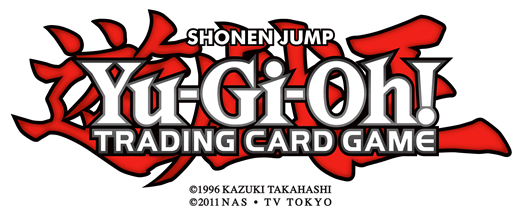 <![endif]>
SPRING INTO THE PAST WITH THREE NEW
Yu-Gi-Oh! TRADING CARD GAME RELEASES
El Segundo, Calif. (March 6, 2017) – Dueling moments frozen in time reach their melting point, as three new releases bring a spring thaw to the Yu-Gi-Oh! TRADING CARD GAME (TCG). Konami Digital Entertainment, Inc. (KONAMI) brings you the latest and greatest with three hot new products this month: Star Pack – Battle Royal, Raging Tempest Special Edition and Duelist Saga.
Players can begin to warm up on March 10 starting with Star Pack – Battle Royal. Star Pack – Battle Royal contains some of the most popular cards from the Yu-Gi-Oh! ARC-V animated TV series, giving Duelists easy access to Fightfur Fusion, Yosenjus' Secret Move, Bloom Diva the Melodious Choir, and more. Each pack contains three randomly distributed cards from a set of 50 cards, 49 of which are available as Commons and 1 Starfoil only card (all 49 Commons are also available as Starfoils). MSRP: $0.99 per pack.
On March 17, the Yu-Gi-Oh! TCG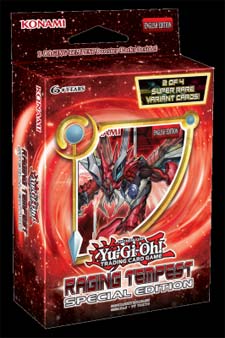 gets even hotter with Raging Tempest Special Edition. Building on its January release of the Raging Tempest booster set, the Special Edition brings Zoodiacs, Shinobirds, and Windwitches back for an encore! Cards like Zoodiac Ratpier, That Grass Looks Greener, and Sea Monster of Theseus reshaped the tournament scene, and the Special Edition offers another chance to add them to your collection with three booster packs of Raging Tempest, one of two Super Rare Cards from the upcoming Maximum Crisis booster set, either Zoodiac Kataroost or Baobaboon, plus one of two variant Super Rare Cards, either Number 22: Zombiestein or Masked HERO Blast – all for less than what it would cost to buy three individual booster packs. MSRP: $9.99 per box.
Secret histories and ancient powers are revealed on March 31 with Duelist Saga. This special set of 100 cards, all using a new, different Ultra Rare technology, features cards from all five incarnations of Yu-Gi-Oh! The 40 new cards in Duelist Saga are a mix of cards from the manga series, the animated series, and cards inspired by some of the coolest monsters and concepts from each series! Bakura's Diabound Kernel is made real, and the Sacred Beasts of the Yu-Gi-Oh! GX animated TV series get new support! Cards used by Mai, Yuya, and Yusei all make appearances as well.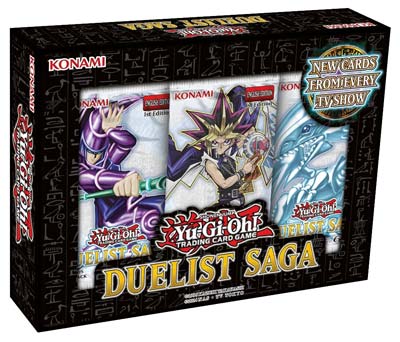 Duelist Saga also has 60 more cards that span the entirety of Yu-Gi-Oh!'s history, featuring memorable cards from the various series. Each box contains three mini-packs of five cards each, for a total of 15 cards per box: nine new cards and six previously-available cards. MSRP: $14.99 per box.