Pojo's Yu-Gi-Oh News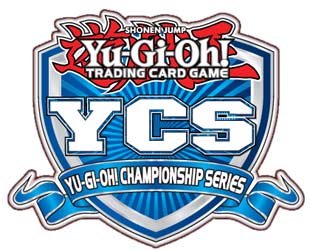 KONAMI DIGITAL ENTERTAINMENT BRINGS POPULAR Yu-Gi-Oh! CHAMPIONSHIP SERIES TO ORIGINS GAME FAIR
Registered Players to Receive an Exclusive YCS Origins
Participation Game Mat
El Segundo, Calif. (June 1, 2016) – Yu-Gi-Oh! TRADING CARD GAME (TCG) Duelists and Origins Game Fair attendees are in for a special treat when show sponsor Konami Digital Entertainment, Inc. (KONAMI) brings the Yu-Gi-Oh! CHAMPIONSHIP SERIES (YCS) to Columbus, Ohio. This premier-level event will be held on June 15-19, with the Main Event scheduled for June 18-19, during the five-day show at the Greater Columbus Convention Center.
At YCS Origins, hundreds of Duelists from across the country will be eager to put their Deck choice and game strategy to the test, hopeful that they have what it takes to win every round, progressing to Sunday's Final Round for the chance to hoist the YCS Champion trophy.
Pre-registration for YCS Origins will run from 3:00 p.m. – 7:00 p.m. on Friday, June 17 and registration will continue promptly at 8:00 a.m. on Saturday, June 18. Upon registering, Duelists will receive five Shining Victories booster packs for participating in KONAMI's YCS Origins and an exclusive YCS Origins Participation Game Mat. Round One will start at 10:00 a.m. and the top-ranked YCS finishers will earn invitations to participate in the 2016 World Championship Qualifier, scheduled to be held in Pittsburgh in July. Players will use their constructed Decks all the way to the Championship. Duelists can find the answers to many of their questions here: http://www.yugioh-card.com/en/events/2016/YCS_Origins.html.
Both seasoned Duelists and those getting into the game have a chance to compete for a variety of exciting prizes at YCS Origins. Among the prizes, the first place winner will receive an Ultra Rare version of the latest, most sought-after prize card: Minerva, the Exalted Lightsworn – one of the rarest Yu-Gi-Oh! TCG cards in existence!
Accompanying the Main Event, KONAMI will also be conducting Dragon Duels (for Duelists born in 2003 or later). The Dragon Duel tournaments on Thursday through Sunday morning will be sealed using Battle Pack: Epic Dawn, where each Duelist is given ten sealed Battle Packs to make a new Deck. The top four finishers in the Dragon Duel events will receive winners' medals, a Regional Deck Box, and a 2016 Regional Game Mat. Top-ranked finishers will also win an invitation to their 2016 Dragon Duel World Championship Qualifier. On Sunday afternoon, the 1st place winners of each of the Dragon Duels from Thursday, Friday, Saturday, and Sunday will compete in a 4-Player Advanced Format- Single-Elimination Tournament, to determine the weekend's overall winner and a chance at the ultimate prize: to hoist the Dragon Duel Champion's trophy and the coveted title of YCS Dragon Duel Champion! The Dragon Duel Champion will also receive a previously issued Super Rare YCS prize card. Entry to the Dragon Duel tournaments is free to qualified players.
Another not-to-be-missed YCS Origins event is meeting two of the most popular actors from the original Yu-Gi-Oh! animated series! Darren Dunstan, the voice actor for Maximillion Pegasus, and Wayne Grayson, the voice actor for Joey Wheeler, will be available at specific times during the weekend to sign autographs so fans should bring their favorite Pegasus & Joey cards and make sure to get their YCS Origins Participation Game Mat autographed! Additionally, the actors will be participating in the Q&A session in the anime track on Saturday evening at 6:00 p.m.
During the five days of the Origins Game Fair, KONAMI will also be hosting a series of Public Events and is pleased to debut a new Public Event at YCS Origins, the Generation Duel, in which players can play a Deck based off of one of the five Yu-Gi-Oh! animated series. Additionally, a full range of Public Events such as 2016 Regional Qualifiers, Ultimate Duelist Series Qualifiers, School Tournament Series, 3 vs. 3 Team Dueling, ATTACK OF THE GIANT CARD!!, Win-A-Mat, Sealed Starter Deck and Structure Deck, Duelist League, Yu-GI-Oh! Day and Battle City Tournaments will be held throughout YCS Origins.
The Main Event winner, the two runners-up and winners of Sunday's two Public Event playoffs will each be awarded a YCS prize card. The Main Event winner will take home an Ultra Rare version of the Minerva, the Exalted Lightsworn prize card, with the other winners bringing home Super Rare versions. The top ranked Duelists will also win a Top Cut Game Mat for this event.
Prizing Information:
<![if !supportLists]> · <![endif]> 1st Place – Ultra Rare Yu-Gi-Oh! Championship Series Prize Card: Minerva, The Exalted Lightsworn; Yu-Gi-Oh! Championship Series Trophy; Paid travel and accommodations to the winner's 2016 World Championship Qualifier; VIP Status at the winner's 2016 World Championship Qualifier; PlayStation®4 system
Invite to the 2016 World Championship Qualifier tournament;
Yu-Gi-Oh! Championship Series Top Cut Game Mat; and 20 Ultimate Duelist Series (UDS) Points
<![if !supportLists]> · <![endif]> 2nd place – Super Rare Yu-Gi-Oh! Championship Series Prize Card: Minerva, The Exalted Lightsworn; 32GB Tablet PC; Invite to the 2016 World Championship Qualifier tournament; Yu-Gi-Oh! Championship Series Top Cut Game Mat; and 10 UDS Points
<![if !supportLists]> · <![endif]> 3rd place – Super Rare Yu-Gi-Oh! Championship Series Prize Card: Minerva, The Exalted Lightsworn; Xbox One console; Invite to the 2016 World Championship Qualifier tournament; Yu-Gi-Oh! Championship Series Top Cut Game Mat; and 10 UDS Points
<![if !supportLists]> · <![endif]> 4th place – Xbox One console; Invite to the 2016 World Championship Qualifier tournament; Yu-Gi-Oh! Championship Series Top Cut Game Mat; and 10 UDS Points
<![if !supportLists]> · <![endif]> 5th – 8th place – Nintendo 3DS XL; Invite to the 2016 World Championship Qualifier tournament; Yu-Gi-Oh! Championship Series Top Cut Game Mat; and 10 UDS Points
<![if !supportLists]> · <![endif]> 9th – 16th place – 24 booster packs of Shining Victories; Invite to the 2016 World Championship Qualifier tournament; Yu-Gi-Oh! Championship Series Top Cut Game Mat; and 10 UDS Points