Pojo's Yu-Gi-Oh News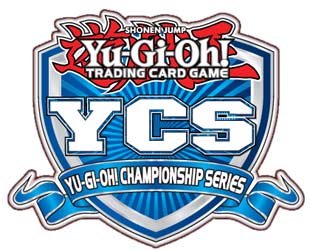 ATLANTA, GEORGIA IS HOME TO FIRST Yu-Gi-Oh! CHAMPIONSHIP SERIES EVENT OF 2016
Includes Dragon Duel Tournament for Younger Players
El Segundo, Calif. (January 14, 2016) – Since the last North American Yu-Gi-Oh! CHAMPIONSHIP SERIES (YCS) in November 2015, hundreds of Yu-Gi-Oh! TRADING CARD GAME (TCG) Duelists have been waiting and preparing for the next chance to show off their skills and strategies and compete with their peers. On February 6 and 7, their wait will be over as Konami Digital Entertainment, Inc. (KONAMI) presents YCS Atlanta, the first North American premier-level event of 2016 at the Georgia International Convention Center.
YCS Atlanta gives veteran Duelists and those just getting into the game a chance to compete for a variety of exciting prizes. The first place winner will receive an Ultra Rare version of the latest, most sought-after prize card: Minerva, the Exalted Lightsworn – one of the rarest Yu-Gi-Oh! TCG cards in existence!
The Georgia International Convention Center will host hundreds of hopeful Duelists during the weekend, each one confident that they have the right mix of cards and strategy to win round after round and advance to Sunday's Final Round and the opportunity to Duel for the title of YCS Champion.
Pre-registration for YCS Atlanta will run from 3:00 p.m. – 7:00 p.m. on Friday, February 5 and registration will continue promptly at 8:00 a.m. on Saturday, February 6. Upon registering, Duelists will receive five Breakers of Shadow booster packs for participating in KONAMI's YCS Atlanta. Round One will start at 10:00 a.m. and the top ranked YCS finishers will earn invitations to participate in the 2016 World Championship Qualifier. Players will use their constructed Decks all the way to the Championship. Duelists can find the answers to many of their questions here:
http://www.yugioh-card.com/en/events/2016/YCS_Atlanta.html
Event Address:
Georgia International Convention Center
Hall D
2000 Convention Center Concourse
College Park, GA 30337
http://www.gicc.com/
Accompanying the Main Event, KONAMI will also be conducting Dragon Duels (for Duelists born in 2003 or later). The Dragon Duel tournaments on both Saturday and Sunday will be sealed; using Battle Pack: Epic Dawn, where each Duelist is given ten sealed Battle Packs to make a new Deck. The top four finishers in the Dragon Duel events will receive winners' medals, a Regional Deck Box, and a 2016 Regional Game Mat. Top-ranked finishers will also win an invitation to their 2016 Dragon Duel World Championship Qualifier. The two victors from the Saturday and Sunday tournaments will face off in a best 2-out-of-3 match using their own pre-constructed Decks in the Advanced Constructed format, to determine the weekend's overall winner and a chance at the ultimate prize: to hoist the Dragon Duel Champion's trophy and the coveted title of YCS Dragon Duel Champion! In addition, the Dragon Duel Champion will also receive a previously issued Super Rare YCS prize card. Entry to the Dragon Duel tournaments is free to qualified players.
Additionally, a full range of Public Events such as 2016 Regional Qualifiers, Ultimate Duelist Series Qualifiers, 3 vs. 3 Team Dueling, ATTACK OF THE GIANT CARD!!, Win-A-Mat, Sealed Starter Deck and Structure Deck, Duelist League, Yu-Gi-Oh! Day and Battle City Tournaments will be held through the weekend.
The Main Event winner, the two runners-up and winners of Sunday's two Public Event playoffs will each be awarded a YCS prize card. The Main Event winner will take home an Ultra Rare version of the Minerva, the Exalted Lightsworn prize card, with the other winners bringing home Super Rare versions. Additionally, the top ranked Duelists will win a Top Cut Game Mat for this event.
Prizing Information:
• 1st place – Ultra Rare Minerva, the Exalted Lightsworn YCS Prize Card; Trophy; Paid travel to their World Championship Qualifier (if underage, then winner and guardian); YCS Top Cut Game Mat; PlayStation«4 computer entertainment system; and an invite to their 2016 World Championship Qualifier tournament
• 2nd place – Super Rare Minerva, the Exalted Lightsworn YCS Prize Card; 32 GB Tablet PC; YCS Top Cut Game Mat; and an invite to their 2016 World Championship Qualifier
• 3rd place – Super Rare Minerva, the Exalted Lightsworn YCS Prize Card; Xbox One, the all-in-one games and entertainment system from Microsoft; YCS Top Cut Game Mat; and an invite to their 2016 World Championship Qualifier
• 4th place – Xbox One system; YCS Top Cut Game Mat; and an invite to their 2016 World Championship Qualifier
• 5th – 8th place – Nintendo 3DS XL system; YCS Top Cut Game Mat and an invite to their 2016 World Championship Qualifier
• 9th – 16th place – 24 booster packs of Breakers of Shadow; YCS Top Cut Game Mat; and an invite to their 2016 World Championship Qualifier