Pojo's Yu-Gi-Oh News
Yu-Gi-Oh! TRADING CARD GAME DUELISTS CAN PACK POWER INTO THEIR DECKS WITH NEW
CROSSED SOULS ADVANCE EDITION PACKS
El Segundo, Calif. (June 22, 2015) – Just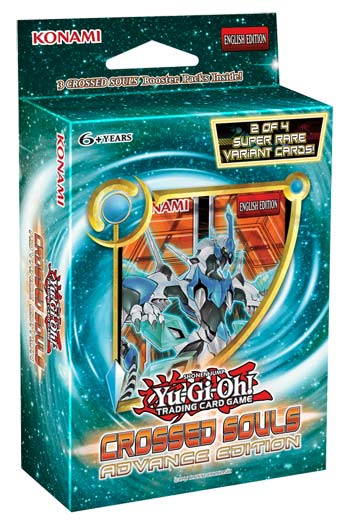 in time for the summer tournament season, Konami Digital Entertainment, Inc. (KONAMI), a leader in the trading card game category, delivers a big boost to Crossed Souls with the release of Crossed Souls Advance Edition on July 3. Fans of the Yu-Gi-Oh! TRADING CARD GAME (TCG) will be happy to have additional cards to strengthen their Decks with as they Duel their tournament competitors or friends.
In this powerful Advance Edition, players will not only get three Crossed Souls booster packs, they will also receive one of two Super Rare cards of Common and/or Rare cards from Crossed Souls. As a bonus for Duelists, KONAMI has included one of two foil version preview cards of non-foil cards from the next booster set, Clash of Rebellions!
Building on the bounty in Crossed Souls, Crossed Souls Advance Edition continues to offer Duelists greater Deck-building opportunities than ever before with the new Zefra monster theme that crosses over five different Deck types. Duelists with Shaddoll, 'tellarknight, Yang Zing, Nekroz, or Ritual Beast Decks can add their new Zefra monsters to upgrade their Deck, or just power up their Decks with the addition of Zefra monsters. Crossed Souls also arms Duelists with new non-Zefra cards for their Burning Abyss, Madolche, Infernoid, U.A., Yosenju, and other Decks. Crossed Souls Advance Edition will be in stores nationwide for an MSRP of $9.99 per box.
For Duelists looking to gain an edge on the competition, the Yu-Gi-Oh! TCG Strategy Site features articles and tips for players of all levels! A fantastic source of official news and information, new articles are featured almost daily, so you can read the latest tips, watch card strategy videos from the experts, and get news on upcoming cards https://yugiohblog.konami.com/articles/.