Pojo's Yu-Gi-Oh News <![if !vml]>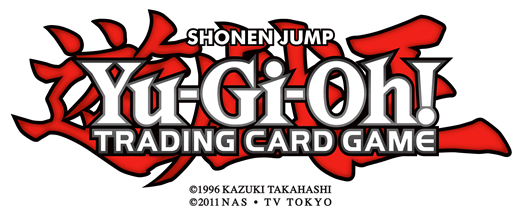 <![endif]>
KONAMI DIGITAL ENTERTAINMENT TO SHOWCASE Yu-Gi-Oh! TRADING CARD GAME PORTFOLIO AT GAMA TRADE SHOW
El Segundo, Calif. (March 12, 2015) – Konami Digital Entertainment, Inc. (KONAMI), a leader in the trading card game category, will be exhibiting its 2015 Yu-Gi-Oh! TRADING CARD GAME (TCG) portfolio at the Game Manufacturers Association (GAMA) annual trade show March 16-20. KONAMI, a returning sponsor, will display products scheduled to be released later this year at booth #206 and conduct two seminars during the show, held annually at Bally's Event Center in Las Vegas.
"GAMA provides us with a great setting to interact with our core hobby customers, discuss our year-round product release schedule and exchange ideas for the upcoming year," said Yumi Hoashi, Vice President, Card Business for Konami Digital Entertainment, Inc. "This year we also plan to unveil some new and exciting programs for our Official Tournament Stores, including new Organized Play events that will satisfy the needs of new players and competitive Duelists."
KONAMI will host seminars on March 17 and March 18. During the first seminar, the company will outline their 2015 plans for Official Tournament Stores (OTS), with a focus on the benefits of becoming an OTS and in-store Organized Play programs. The ins and outs of hosting successful tournaments and reporting will be the focus of the second seminar. For more information on KONAMI's extensive Organized Play programs, including opportunities for young kids to learn how-to-play the game, go to
www.yugioh-card.com/en/events/organizedplay.html.
KONAMI is set to help retailers have a golden Easter selling season when Premium Gold: Return of the Bling lands in stores nationwide on March 20. This new set delivers updates and upgrades to dozens of cards from the early days of Yu-Gi-Oh! up to the present day. Players will be eager to get 22 previously released Gold Rare cards with the new-and-improved advanced Gold Rare technology that was introduced last year; 48 top cards now released with Gold Rare technology for the first time ever and 21 brand new cards, all in Gold Secret technology, including cards for Blackwing, HERO, and Number Decks. Each five-card Premium Gold: Return of the Bling mini-pack contains two Gold Secrets, each a brand new, never-before-released card, and three standard Gold Rares. Every $14.99 MSRP box contains three mini-packs.
Especially appealing to collectors is the Yu-Gi-Oh! TCG World Superstars booster! This all-foil set gathers 50 cards, previously available only in Japan and Korea, available for the first time all over the world. With dozens of new cards from the Yu-Gi-Oh! ZEXAL era, Duelists can boost the power of their Xyz Monsters like never before, with new Chronomaly, Star Seraph, Heroic Challenger, Gagaga, and Galaxy cards. As a special treat for collectors, included in this set are reprints of the two very rare prize cards from the 2012 Yu-Gi-Oh! World Championship in Tokyo, Legendary Dragon of White and Legendary Magician of Dark! MSRP: $3.99 per pack.
The latest booster set for the Yu-Gi-Oh! TCG, Crossed Souls, releases on May 15. In this powerful booster set, five warring tribes of Monsters put aside their differences and gain the power to Pendulum Summon! Crossed Souls unlocks new Deck-building opportunities like never before for the Yu-Gi-Oh! TCG. This 100-card set introduces the Zefra monsters, a new monster omni-theme that crosses over five different Deck types! Zefra monsters open up unprecedented crossover Deck-building avenues, but Crossed Souls also arms Duelists with new non-Zefra cards for their Burning Abyss, Madolche, Infernoid, U.A., Yosenju, and other Decks. MSRP: $3.99 per pack.
The newest generation of the Yu-Gi-Oh! anime and TV series – Yu-Gi-Oh! ARC-V – is supported with the Yu-Gi-Oh! TCG Saber Force and Dark Legion Starter Decks! Designed to teach new Duelists how to Duel with one of two 41-card pre-built Decks, each version of the Starter Deck comes in a LIGHT or DARK theme and is based on the two main characters seen in the series, Yuya and Declan. Slated for a May 29 release, each Deck has an MSRP of $9.99 per box.
Crossed Souls Advance Edition, touting a new product configuration, explodes onto the scene July 3. In addition to the three booster packs of Crossed Souls, Duelists will also receive one of two Super Rare cards of Common and/or Rare cards from Crossed Souls, plus one of two foil version preview cards of non-foil cards from the next booster set, Clash of Rebellions, providing the ultimate value for Duelists! MSRP: $9.99 per box.