Pojo's Yu-Gi-Oh News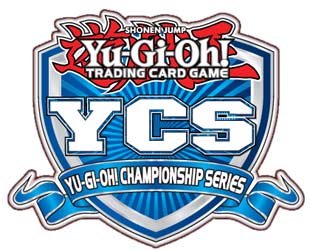 TERRANCE JOSEPH KINSLEY CAPS HISTORIC WEEKEND AND WINS THE 150TH Yu-Gi-Oh! CHAMPIONSHIP SERIES HELD IN COLUMBUS
Every Participating Duelist Received a Commemorative Yu-Gi-Oh! Championship Series Game Mat
El Segundo, Calif. (May 27, 2015) – Large numbers of Duelists from across North America took planes, trains, automobiles or used sneaker power to arrive in Columbus, Ohio this past weekend to wage card battles at the 150th Yu-Gi-Oh! CHAMPIONSHIP SERIES (YCS) event. Duelists of every age and playing ability participated in the premier-level Yu-Gi-Oh! TRADING CARD GAME (TCG) event, presented by Konami Digital Entertainment, Inc. (KONAMI), and showed off their impressive Dueling skills for the chance to be seen holding the YCS Champion's hardware.
Raising his hand in victory after a long day of Dueling, was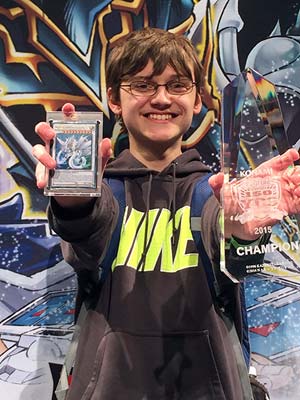 Terrance Joseph Kinsley from Wallkill, N.Y. who outpaced the field to claim the coveted title and bragging rights of YCS Champion and Nathanael Ross Patton from Hickory, N.C. who took home the Dragon Duel Champion's title.
YCS events are amazing platforms for Yu-Gi-Oh! Duelists wanting to assess the latest big-match strategies and card combinations against their opponents. Throughout the weekend, many in the field of players showed refined skills and a splash of luck, but it was the elite players that emerged to win top honors.
Kinsley triumphantly battled his way into Sunday's Single Elimination with his own first-rate Nekroz Deck. Then, after five rounds of Single Elimination, it came down to an exciting playoff with Christopher Michael Pobee-Mensah from Raleigh, NC and his Nekroz Deck. Kinsley's combination of precise play and smart risk-taking helped earn him the title of YCS Columbus Champion.
In addition to the title of YCS Champion, Kinsley returned home with a stellar set of prizes that included a 150th YCS Championship Trophy, an Ultra Rare YCS Ascension Sky Dragon Prize Card, an exclusive 150th YCS Top Cut Game Mat, a PlayStation«4 computer entertainment system, and an invitation and paid travel to their 2015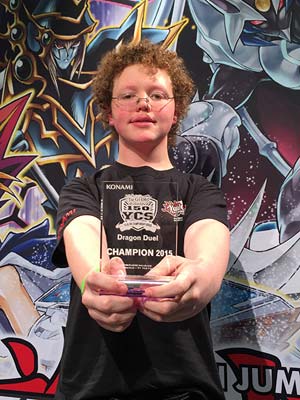 World Championship Qualifier (WCQ) tournament!
In the Dragon Duel Championship, an event for Duelists born in 2002 or later, Patton used his Sealed Deck then switched to his own Deck in the final matchup to beat Jackson Charles Sayre, from Lindenhurst, Ill., in a head-to-head playoff. Patton picked up some great prizes too, including a 2015 Regional Game Mat, a Dragon Duel Medal, a Dragon Duel T-Shirt, a Dragon Duel Championship trophy, and an invitation to the 2015 Dragon Duel World Championship Qualifier tournament to be held during their WCQ.