Pojo's Yu-Gi-Oh News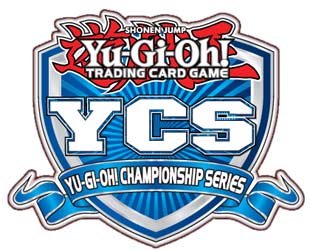 Yu-Gi-Oh! CHAMPIONSHIP SERIES LANDS IN SAN JOSE, CALIFORNIA NOVEMBER 7 & 8
Premier-Level Tournament Expects Players from Across North America
El Segundo, Calif. (October 26, 2015) – More than one thousand Yu-Gi-Oh! TRADING CARD GAME (TCG) Duelists attended the Yu-Gi-Oh! CHAMPIONSHIP SERIES (YCS) in Dallas last month and many are now headed to San Jose, CA for the last North American YCS of 2015. Konami Digital Entertainment, Inc. (KONAMI) presents this premier-level event for the massively popular Yu-Gi-Oh! TRADING CARD GAME (TCG) November 7-8 giving players an additional opportunity to vie for the coveted title of Champion before year's end.
YCS San Jose gives Duelists of all ages, novices and veterans alike, a chance to compete for a bounty of exciting prizes. The first place winner will receive an Ultra Rare version of the latest most sought-after prize card: Minerva, the Exalted Lightsworn – one of the rarest Yu-Gi-Oh! TCG cards in existence!
Hopeful Duelists will enter downtown's Parkside Hall on Saturday morning self-assured that they have the right combination of cards and strategy to win round after round and advance to the Final Round on Sunday and the opportunity to Duel for the title of YCS Champion.
With the newest products, the High-Speed Riders and Dimension of Chaos booster sets adding suspense to the Duels, YCS San Jose will be an excellent environment for live game-testing as Duelists unveil brand-new strategies and Decks. Duelists will need to devote extra attention to see how the inclusion of the new cards from these products impacts the YCS standings!
Pre-registration for YCS San Jose will run from 3:00 p.m. – 7:00 p.m. on Friday, November 6 and registration will continue promptly at 8:00 a.m. on Saturday, November 7. Upon registering, Duelists will receive five Dimension of Chaos booster packs for participating in KONAMI's YCS San Jose. Round One will start at 10:00 a.m. and the top ranked YCS finishers will earn invitations to participate in the 2016 World Championship Qualifier. Players will use their constructed Decks all the way to the Championship. Duelists can find the answers to many of their questions here:
http://www.yugioh-card.com/en/events/2015/YCS_SanJose.html.
Event Address:
Parkside Hall
Exhibit Hall A & B
180 Park Avenue
San Jose, CA 95113
http://www.sanjose.org/plan-a-meeting-event/venues/parkside-hall
Accompanying the Main Event, KONAMI will also be conducting Dragon Duels (for Duelists born in 2003 or later). The Dragon Duel tournaments on both Saturday and Sunday will be sealed, using Battle Pack: Epic Dawn, where each Duelist is given ten sealed Battle Packs to make a new Deck. The top four finishers in the Dragon Duel events will receive winners' medals, a Regional Deck Box, and a 2016 Regional Game Mat. Top-ranked finishers will also win an invitation to their 2016 Dragon Duel World Championship Qualifier. The two victors from the Saturday and Sunday tournaments will face off in a best 2-out-of-3 match using their own pre-constructed Decks in the Advanced Constructed format, to determine the weekend's overall winner and a chance at the ultimate prize: to hoist the Dragon Duel Champion's trophy and the coveted title of YCS Dragon Duel Champion! In addition, the Dragon Duel Champion will also receive a previously issued Super Rare YCS prize card. Entry to the Dragon Duel tournaments is free to qualified players.
Additionally, a full range of Public Events such as 2016 Regional Qualifiers, Ultimate Duelist Series Qualifiers, 3 vs. 3 Team Dueling, ATTACK OF THE GIANT CARD!!, Win-A-Mat, Beta Format Win-A-Mat, Sealed Starter Deck and Structure Deck, Duelist League, Tag Dueling, Yu-Gi-Oh! Day and Battle City Tournaments will be held through the weekend.
The Main Event winner, the two runners-up and winners of Sunday's two Public Event playoffs will each be awarded a YCS prize card. The Main Event winner will take home an Ultra Rare version of the Minerva, the Exalted Lightsworn prize card, with the other winners bringing home Super Rare versions. Additionally, the top ranked Duelists will win a Top Cut Game Mat for this event.
Prizing Information:
• 1st place – Ultra Rare Minerva, the Exalted Lightsworn YCS Prize Card; Trophy; Paid travel to their World Championship Qualifier (if underage, then winner and guardian); YCS Top Cut Game Mat; PlayStation«4 computer entertainment system; and an invite to their 2016 World Championship Qualifier tournament
• 2nd place – Super Rare Minerva, the Exalted Lightsworn YCS Prize Card; 32 GB Tablet PC; YCS Top Cut Game Mat; and an invite to their 2016 World Championship Qualifier
• 3rd place – Super Rare Minerva, the Exalted Lightsworn YCS Prize Card; Xbox One, the all-in-one games and entertainment system from Microsoft; YCS Top Cut Game Mat; and an invite to their 2016 World Championship Qualifier
• 4th place – Xbox One system; YCS Top Cut Game Mat; and an invite to their 2016 World Championship Qualifier
• 5th – 8th place – Nintendo 3DS XL system; YCS Top Cut Game Mat and an invite to their 2016 World Championship Qualifier
• 9th – 16th place – 24 booster packs of Dimension of Chaos; YCS Top Cut Game Mat; and an invite to their 2016 World Championship Qualifier