Pojo's Yu-Gi-Oh News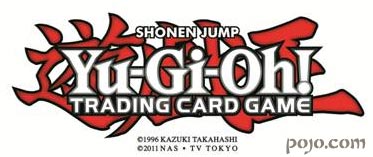 Yu-Gi-Oh! TRADING CARD GAME GETS SUPERSIZED WITH NEW 2014 MEGA-TINS
El Segundo, CA (August 20, 2014) – Konami Digital Entertainment, Inc. (KONAMI) amps up its Collectible Tin series with the introduction of the Yu-Gi-Oh! TRADING CARD GAME 2014 Mega-Tins on August 29th. Bigger and better than ever, these tins will be the only ones released this year so Duelists will want to get them before they are sold out!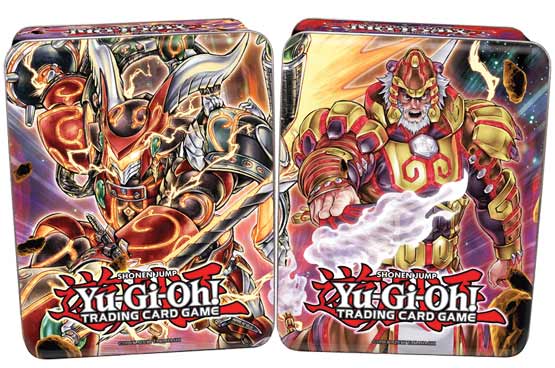 The 2014 Mega-Tins take supersizing to a whole new level as each tin is 15% larger than previous Collectible Tins adding much needed storage capacity for Duelists with ever-growing card collections. Each tin will feature the stunning artwork of one of two of the more powerful tournament Deck themes from the Yu-Gi-Oh! TCG competitive scene, Bujins and Fire Fists. These two Mega-Tins when placed side by side construct a dazzling mural of Yu-Gi-Oh! monsters!
For the first time ever, each Mega-Tin will include three 16-card Mega-Packs with the best cards taken from a year's worth of core booster sets, including Lord of the Tachyon Galaxy, Judgment of the Light, Shadow Specters, and Legacy of the Valiant. Each Mega-Pack contains twelve Common cards, one Rare card, one Super Rare card, one Ultra Rare card, and one Secret Rare card. Three variant cards supporting each Mega-Tin's theme are also included: two Super Rare cards and one never-before-seen rarity - a Platinum Secret Rare version of the Mega-Tin cover monster! Plus, with a guaranteed 12 foil cards per tin, the 2014 Mega-Tin contains the most foil cards ever assembled in a single tin! Each 2014 Mega-Tin will sell for MSRP $19.99.