Pojo's Yu-Gi-Oh News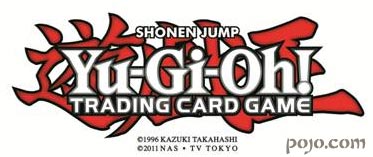 Yu-Gi-Oh! TRADING CARD GAME BATTLE PACK 3: MONSTER LEAGUE KICKS-OFF NEW DRAFT SEASON
El Segundo, CA (July 31, 2014) – As the summer tournament season slips into high gear, Konami Digital Entertainment, Inc. (KONAMI) unleashes its latest
Yu-Gi-Oh! TRADING CARD GAME (TCG) booster in the Battle Pack Series, the all-new Battle Pack 3: Monster League. KONAMI has corralled a slew of monsters into one powerful booster – this massive 237-card Yu-Gi-Oh! TRADING CARD GAME (TCG) set releases in stores nationwide on August 1st.

Monster League brings together a ton of surprising Monsters, Spells, and Traps to challenge a player's drafting ability, Deck-building skills, and Dueling savviness. KONAMI has specifically designed Battle Pack 3: Monster League for sealed pack play between two or more friends or for booster draft play.
To support this, Monster League includes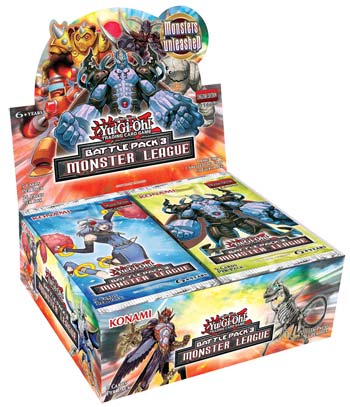 ten new battle-oriented cards (two new Monsters, two new Spells, and six new Traps) designed for sealed and draft play and it has a Special Tournament Rule – all Monsters are all Types. Whether in a player's Deck, extra Deck, hand, Graveyard, field, or banished, all Monsters are treated as every Monster type. The Monsters have put aside their differences, and united in one big Monster League! So, Duelists can expect to see combinations and strategies that wouldn't work otherwise, and get to play with many cards not normally seen.
Special cards have been a mainstay of the Battle Pack Series as Battle Pack: Epic Dawn included Starfoil Cards and Battle Pack 2: War of the Giants had Mosaic Rares. Not to be outdone, Battle Pack 3: Monster League has cool Shatterfoils! These shattered-glass style cards use the same technology first seen in later Duel Terminal sets. All 237 cards in the set can be had as Shatterfoils. Each five-card pack (MSRP $1.99) contains three Common, one Rare, and one Shatterfoil card.
The entire 237-card Battle Pack 3: Monster League set contains:
55 Rare Cards
165 Common Cards
17 cards only available as Shatterfoils (all cards in the set are also available as Shatterfoils)