Pojo's Yu-Gi-Oh News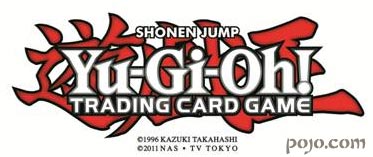 KONAMI DIGITAL ENTERTAINMENT HAS PLENTY TO OFFER FANS AT SAN DIEGO COMIC-CON
Attendees Can Get into Character with Personalized
Yu-Gi-Oh! TRADING CARD GAME Token Cards, Duel a Master and Purchase an Exclusive Game Mat
El Segundo, CA (July 21, 2014) – San Diego Comic-Con International 2014 attendees will want to dash on over to the Konami Digital Entertainment, Inc. (KONAMI) booth #3713 as the company shows off its global pop-culture sensation, the Yu-Gi-Oh! TRADING CARD GAME (TCG). KONAMI will be showcasing the world's best-selling Yu-Gi-Oh! TCG and providing attendees loads of entertaining and engaging activities to experience at San Diego Comic-Con International from July 23rd – July 27th.
The world famous four-day show continues to draw more than 100,000 pop-culture fanatics every year. 2014 is expected to be bigger and better than ever and KONAMI is in the heart of the action. Fans will want to grab a spot in line to create their own exclusive one-of-a-kind Yu-Gi-Oh! Token Card. They can choose from six different card backgrounds, including favorites like Yusei, Jaden, Yugi, Astral, Yuma, and the World Championship Qualifier logo – suitable for use during Duels! Plus, in a new twist this year, Token Cards can be uploaded to the Yu-Gi-Oh! TCG Facebook page!
Fans will be treated to a new experience at Yu-Gi-Oh! events with Yu-Gi-Oh! Duel Dash, an interactive mini-game based on the TCG featuring Kuribohs! It's a race to the Finish Line as Duelists compete against each other while negotiating obstacles and acquiring cards to slow down their opponent or to give themselves a boost!
Comic-Con attendees looking for that all-important Con Exclusive can get a Yu-Gi-Oh! TCG game mat! Available for just $30, this collectible game mat featuring Kaiba and his monster Obelisk the Tormenter is one of three "Summer Exclusive" Game Mats being produced by KONAMI this year. Fans can also purchase new and popular Yu-Gi-Oh! TCG products every day of the show while supplies last, including the recently released Super Starter: Space-Time Showdown and Realm of Light Structure Deck!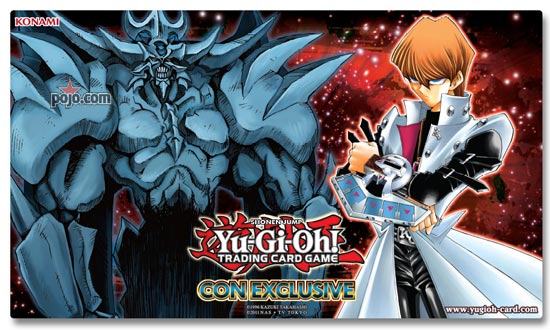 With Token Card in hand, attendees will want to make their way to a game table and get a Yu-Gi-Oh! TCG demonstration from the experts. KONAMI will also be instructing players on how to utilize the new Pendulum Summon game mechanic during demos. Those completing a demo will receive a show exclusive coupon good for $5 off the purchase of either a Starter Deck: Dawn of the Xyz or Super Starter: V for Victory or $3 off the purchase of Super Starter: Space-Time Showdown (redeemable only at KONAMI's booth during Comic-Con). Additionally, players feeling confident that their game is in top form can Duel the Master as he sits on his royal throne.
For the avid Duelist or players looking for more opportunities to Duel, KONAMI will host a variety of Yu-Gi-Oh! TCG events in Ballroom 15A on the mezzanine floor from Thursday through Sunday including Duel the KONAMI Judge, Duelist League (geared toward new players), Battle Pack Sealed Deck Tournaments and Win-A Mat.
San Diego Comic Con hours:
Wednesday, July 23: 6:00 p.m. – 9:00 p.m. (Preview Night; some activities not available)
Thursday, July 24: 9:30 a.m. – 7:00 p.m.
Friday, July 25: 9:30 a.m. – 7:00 p.m.
Saturday, July 26: 9:30 a.m. – 7:00 p.m.
Sunday, July 27: 9:30 a.m. – 5:00 p.m.