Pojo's Yu-Gi-Oh News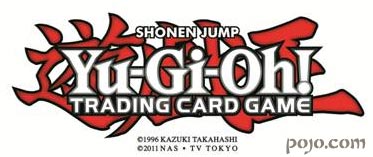 DUELISTS CAN RANK UP AND WIN NEXT MONTH WITH THE PRIMAL ORIGIN BOOSTER SET

Sneak Peek To Be Held May 10th and 11th

El Segundo, CA (April 23, 2014) – Konami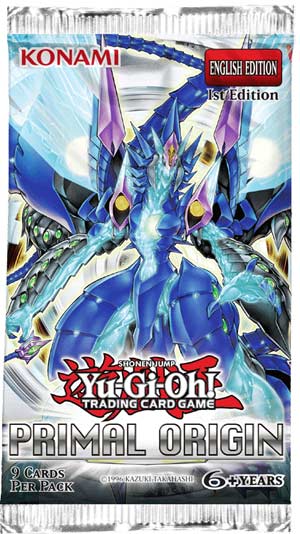 Digital Entertainment, Inc. (KONAMI) is speaking to the masses with the introduction of the Yu-Gi-Oh! TRADING CARD GAME (TCG) Primal Origin booster set on May 16th. Primal Origin provides a bounty of cards that support more than 20 different Decks and includes a new Spell Card that every Duelist will want to have in their Deck.
TCG Duelists will be psyched to see cards from recent themes like Noble Knights, Bujins, and Sylvans. Additionally, cards for tournament staples like Monarchs, Gladiator Beasts, and Dark World will be coveted for every level of tournament play. Primal Origin also arms Duelists with new Chaos Xyz Monsters and the most powerful Rank-Up-Magic Spell card to date, Rank-Up-Magic - The Seventh One, a 'must-have' card for summoning Xyz Monsters right out of a Duelist's Deck. In addition, KONAMI delivers a special treat for Duelists as Primal Origin debuts a brand new theme, Artifact monsters, which cripple an opponent if they dare destroy them.
For fans of the animated series, Primal Origin depicts the epic conclusion to the Barian War from Yu-Gi-Oh! ZEXAL and features many of the cards seen in the ZEXAL animated series, including those used by the Seven Barian Emperors!
Duelists anxious to get their hands on Primal Origin and start playing this awesome set right away can attend a Sneak Peek event at an Official Tournament Store (OTS). The Primal Origin Sneak Peek will be held on Saturday and/or Sunday, May 10th-11th. A list of locations can be found online at http://www.yugioh-card.com/en/events/sneakpeek/sneakpeek_current-locations.html. Please contact the OTS for exact dates and times for their Sneak Peek. Upon registering ($20.00 US, $25.00 CND or the equivalent of five Booster Packs), players will receive five Primal Origin Booster Packs, one limited edition, Ultra Rare Artifact Scythe card, and a Primal Origin mini-poster while supplies last. Additionally, participating stores will be randomly handing out exclusive Primal Origin Game Mats at the Sneak Peek; some stores may even be holding tournaments, so Duelists are encouraged to check with their participating store for details.
Lastly, for fans young and old eager to learn how to play the Yu-Gi-Oh! TCG GAME, participating stores will also be hosting a Yu-Gi-Oh! Demo Day on May 10th. New players will have the opportunity to win an exclusive Yu-Gi-Oh! Demo Day game mat. For a list of participating stores can be found online at http://www.yugioh-card.com/en/events/specialevents.html.
Each nine-card pack will be available at an MSRP of $3.99. The Primal Origin set contains 100 cards:
48 Common Cards
20 Rare Cards
14 Super Rare Cards
10 Ultra Rare Cards
8 Secret Rare Cards
Ultimate Rare versions of 5 cards
Ghost Rare version of 1 card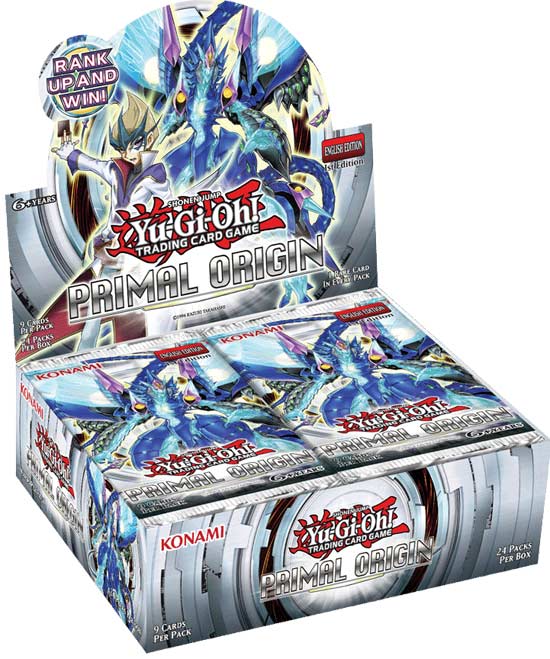 Duelists can tune in every Saturday morning for the all-new Yu-Gi-Oh! ZEXAL animated series and classic Yu-Gi-Oh! episodes on Vortexx on The CW in the United States. In addition, Yu-Gi-Oh! ZEXAL airs twice on Sundays on Nicktoons. In Canada, Duelists can watch episodes of Yu-Gi-Oh! ZEXAL every Friday and Saturday on YTV! For more information on KONAMI or the Yu-Gi-Oh! TRADING CARD GAME, please visit www.yugioh-card.com or call 310-220-8630 to speak directly with a Yu-Gi-Oh! customer support team member.