Pojo's Yu-Gi-Oh News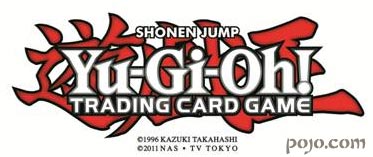 THE KING OF BLING IS IN THE HOUSE WITH Yu-Gi-Oh! TRADING CARD GAME PREMIUM GOLD
El Segundo, CA (March 5, 2014) – The Yu-Gi-Oh! TRADING CARD GAME (TCG) is dripping with riches when Yu-Gi-Oh! Premium Gold lands on store shelves March 28th. The latest product from TCG powerhouse Konami Digital Entertainment, Inc. (Konami) will have players clamoring to add some extra 'shine' to their card cache.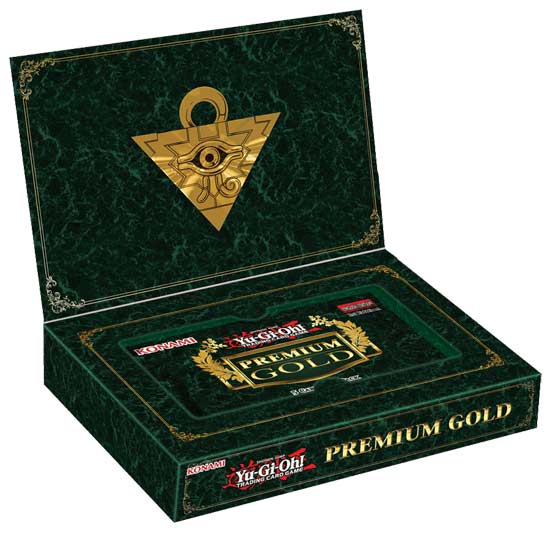 The Premium Gold set is a treasure trove of awesome cards and introduces a new Gold Secret card rarity, with a ton of new, never-released cards. In addition, it takes the best of past Gold Series sets, with Gold Rare cards that have been previously available only through limited channels; now they will be available to all Duelists at hobby stores and retailers nationwide!
Duelists will create a modern-day 'Gold Rush' in their hurry to unwrap the Gold Rares that are enshrined with gold – Gold color, Gold card frames, Gold art box frames, Gold text box frames, Gold card names, and even Gold level stars for Monsters. The new Gold Secrets will be hunted and then treasured as they take all the bling of a Gold Rare and add a Secret Rare Card's textured foil pattern. Each five-card Premium Gold mini-pack contains two Gold Secrets – each card is either a brand new, never-before-seen card, or one of three Legendary God Cards from the original Yu-Gi-Oh! series, such as Obelisk the Tormenter, Slifer the Sky Dragon, and The Winged Dragon of Ra. Additionally, each mini-pack also has three standard Gold Rares – one card never released as a Gold Rare before, plus two of the greatest hits from a past Gold Series set, all for an MSRP of $14.99 per box.