Pojo's Yu-Gi-Oh News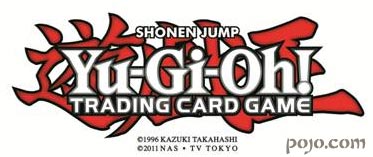 KONAMI DIGITAL ENTERTAINMENT PRESENTS Yu-Gi-Oh! TRADING CARD GAME PRODUCTS AT AMERICAN INTERNATIONAL TOY FAIR
El Segundo, CA (February 13, 2014) – Konami Digital Entertainment, Inc. (Konami) is set to showcase its expansive portfolio of Yu-Gi-Oh! TRADING CARD GAME (TCG) products at next week's American International Toy Fair at the Jacob K. Javits Convention Center in New York City from February 16h-19th. Products scheduled for release through July 2014 will be on display in the Konami booth #4834.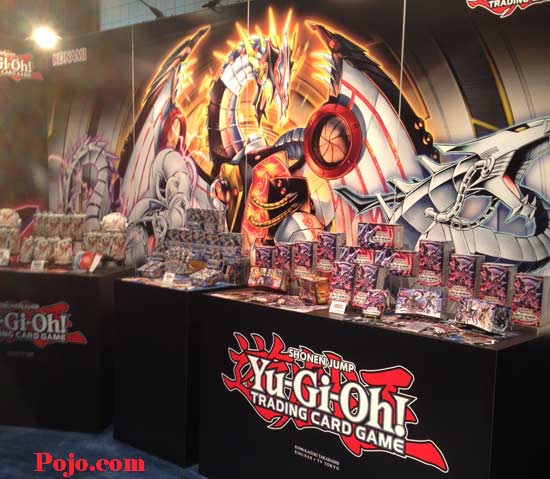 "For us, Toy Fair is always the perfect environment to showcase our Yu-Gi-Oh! TRADING CARD GAME products for the first half of each year. Our 2014 portfolio really stands out as we are introducing some brand new product formats that will, of course, exceed the needs and wants of our seasoned Duelists but also includes exciting products that will attract new players," said Yumi Hoashi, Vice President of Card Business for Konami Digital Entertainment, Inc. "Not only does Toy Fair lend itself to some productive meetings but the hands-on experience really allows our customers to engage with the game."
Hitting shelves last week, Cyber Dragon Revolution is the first Structure Deck release of 2014. Following the successful journey back to the origins of the Yu-Gi-Oh! TRADING CARD GAME with Saga of Blue-Eyes White Dragon Structure Deck, Cyber Dragon Revolution revisits the Yu-Gi-Oh! GX era and features the formidable Cyber Dragon. Giving Duelists a ready-to-play 40-card Deck which they can play right out of the box, or the option to use the cards to create and customize Decks on their own, this Structure Deck also includes an additional two-card Extra Deck which contains Zane Truesdale's Fusion Monster, Cyber Twin Dragon, and a brand new Xyz Monster based on the Cyber Dragon theme. In addition, there are two more new Effect Monsters, a new Spell Card, and a new Trap Card, for a total of five brand new cards. Many of these cards also work well with all four of 2013's booster releases: Cosmo Blazer, Lord of Tachyon Galaxy, Judgment of the Light, and Shadow Specters. The Cyber Dragon Revolution Structure Deck is available for MSRP of $9.99 per Deck.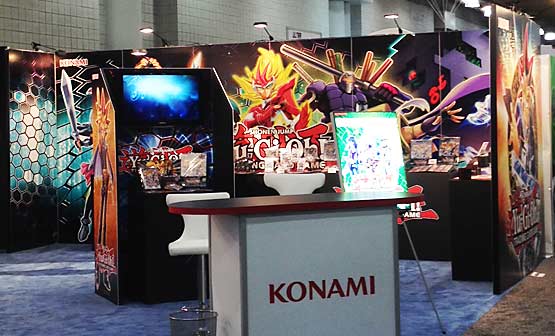 Debuting at the end of this month, Konami is excited to introduce the Star Pack 2014 booster set – the most accessible pack at an MSRP of $0.99. Available February 21st, each pack contains three randomly distributed cards featuring tons of cards from Yu-Gi-Oh! 5D's and Yu-Gi-Oh! Zexal, with one guaranteed Starfoil card. The cards are taken from a set of 50 cards that are all available as Commons and as Starfoils. This means players get a chance to get a whole bunch of cards never seen before as Starfoils at a great value.

The heroics continue when Legacy of the Valiant: Deluxe Edition storms into stores March 7th. This Deluxe Edition gives Duelists a second chance to get their hands on the year's first set, Legacy of the Valiant, with powerful support cards for Chronomaly, Bujin, Monarch, Ghostrick, and Gravekeeper Decks. Each Legacy of the Valiant: Deluxe Edition contains nine booster packs, plus foil versions of Common and/or Rare cards from Legacy of the Valiant, one pack of 50 promotional sleeves, and best of all one of two foil version preview cards from the upcoming Yu-Gi-Oh! TCG booster Primal Origin, either Sylvan Cherubsprout or Bujintervention, both legal to play on its release. Each Deluxe Edition comes in one of two storage boxes, one featuring Evilswarms and the other, Bujins. MSRP: $29.99 per box.




The Gold Series gets a high-sheen polish when Yu-Gi-Oh! Premium Gold lands on store shelves March 28th. Yu-Gi-Oh! Premium Gold takes the best of past Gold Series sets, adds a ton of new cards, and introduces the new Gold Secret card rarity. Gold Rare cards have been previously available only through limited channels; now, it's all things gold as Gold Rares enshrine the cards with gold in color, card frames, art box frames, text box frames, card names, and even gold level stars for Monsters. Every Premium Gold box includes three five-card Premium Gold mini-packs each containing two Gold Secrets and three standard Gold Rares at an MSRP of $14.99 per box.

.

Cards drawn from all four Yu-Gi-Oh! television series are the stars in the Dragons of Legend booster packs. Some of the most popular and fan-requested television cards make their long-awaited debut on April 25th. The Yu-Gi-Oh! TCG Dragons of Legend includes dozens of brand new cards from the original Yu-Gi-Oh! TV series, Yu-Gi-Oh! GX, Yu-Gi-Oh! 5D's, and Yu-Gi-Oh! Zexal. At an MSRP of $3.99, each five-card pack is guaranteed to contain four powerful Super Rare cards along with one Secret Rare – the perfect power-up for any Duelist's collection!

To help Duelists show off and protect all these new cards, Konami is offering three ideal accessories to help do just that. With a new side-loading design both the 4-pocket (holds 160 cards) and the 9-pocket (holds 180 cards) Duelist Portfolios are perfect tools to help keep cards organized. The 4-pocket portfolio is already available and the 9-pocket portfolio will be available April 25th. Next, Yu-Gi-Oh! Legendary Sleeves feature favorite images from the classic Yu-Gi-Oh! animated series and at an MSRP of $4.99, these 70-card sleeves per pack make it an easy and affordable way to keep cherished cards safe and secure. Yu-Gi-Oh! Legendary Sleeves are available May 16th.

Also available May 16th is the Primal Origin booster pack. The final booster set before the premier of the new Yu-Gi-Oh! ARC-V series, Primal Origin contains cards that support almost 20 different Decks along with amazing cards that can be incorporated in any Deck. Each nine-card pack will be available at an MSRP of $3.99.

To kick off the summer, Konami is set to release two products in June. Duelists will want to get their hands on Primal Origin: Deluxe Edition on June 13th. Powered by nine Primal Origin booster packs, plus two foil versions of common and/or cards found in Primal Origin, this Deluxe Edition is overflowing with fantastic elements. Add one pack of 50-promotional sleeves, one of two foil versions of preview cards from the upcoming August booster release and a Beginner's Guide, makes this one product that should be in any Duelists Deck box. Best of all, each Deluxe Edition comes in one of two storage boxes to keep all your new cards safe and ready to play! This Deluxe Edition sells for MSRP of $29.99.




A brand new Structure Deck is planned for release June 27th at an MSRP of $9.99. Duelists can expect a complete Deck ready-to-play right out of the box, designed to bring new life to an old championship-level tournament Deck from the GX era!

Just in time for the tournament and convention season, which provides so many opportunities to Duel, players will want to go to their local store to pick up some extra Dueling power found in Battle Pack 3*. On sale July 11th, Battle Pack 3 is designed specifically for booster draft play – but with a new twist from Battle Pack 2: War of the Giants. Stay tuned for more information on what exciting new strategies will be revealed in the coming weeks. The best about this product is being able to build Decks with just the cards you get from these packs! Open the packs, make brand new Decks from those cards, and start Dueling! Battle Pack 3 will be available for an MSRP of $1.99 per pack.