Pojo's Yu-Gi-Oh News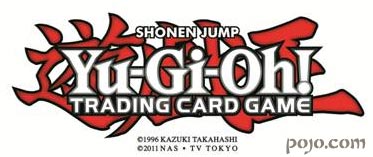 THE NEW CHALLENGERS BOOSTER SET OFFERS DUELISTS NEW MONSTER THEME THAT HARNESSES THE
POWER OF PENDULUM SUMMONING
Sneak Peek on November 1st and/or 2nd
El Segundo, CA (October 31, 2014) – Konami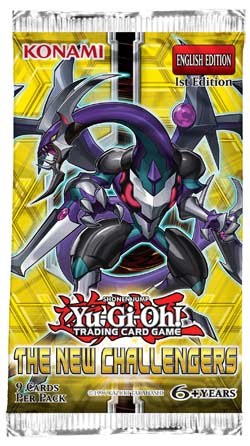 Digital Entertainment, Inc. (KONAMI) continues to amp up the Yu-Gi-Oh! TRADING CARD GAME (TCG), this time with a bevy of big-time, game-changing Monsters, with the November 7th release of The New Challengers booster set. The New Challengers booster set (MSRP $3.99 per nine-card pack) also contains some of the most powerful Pendulum Monsters that no Duelist should be without!
With the recent debut of Pendulum Summoning to the Yu-Gi-Oh! TCG, only a handful of Monsters have been made available to Duelists so far that utilize this exciting game mechanic. Starting with The New Challengers booster set, Duelists will be introduced to the Qliphort, a new Monster theme that harnesses the power of Pendulum Summoning like nothing else currently available. With an impressive number of Monster and Spell cards, such as Qliphort Scout and Qlimate Change that search other Qliphort cards to Special Summon or add to a Duelist's hand, Qliphorts are a force to be reckoned with.
In addition to the Qliphort, The New Challengers includes an exciting array of cards for Duelists to strengthen their Decks. Scorch opponents with cards for the Burning Abyss Deck theme, with four new Monster cards including a brand new Synchro Monster: Virgil, Rock Star of the Burning Abyss. New support cards for Deck themes like Naturia, Heralds, and Machina are also included, as well as popular Xyz Monsters from the Yu-Gi-Oh! ZEXAL TV series arc, such as Number 99: Utopic Dragon, CXyz Barian Hope, and Number 39: Utopia Beyond.
KONAMI is once again partnering with Official Tournament Stores to hold a Sneak Peek on Saturday and/or Sunday, November 1st - 2nd. Visit this link to see if an Official Tournament Store in your area is hosting a Sneak Peek for The New Challengers Booster Set: http://www.yugioh-card.com/en/events/sneakpeek/sneakpeek_current-locations.html
Each The New Challengers booster set contains 100 cards:
48 Common Cards
20 Rare Cards
14 Super Rare Cards
10 Ultra Rare Cards
8 Secret Rare Cards