Pojo's Yu-Gi-Oh News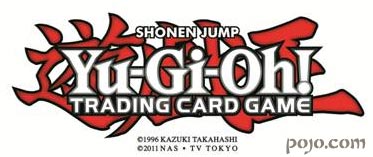 PATRICK HOBAN EDGES OUT MORE THAN A THOUSAND DUELISTS AT Yu-Gi-Oh! CHAMPIONSHIP SERIES ANAHEIM
FOR THE TITLE OF CHAMPION
El Segundo, CA (November 24, 2014) – Duelists descended upon Anaheim for this past weekend's Yu-Gi-Oh! CHAMPIONSHIP SERIES (YCS) event. Duelists young and old participated in the premier-level Yu-Gi-Oh! TRADING CARD GAME (TCG) event, presented by Konami Digital Entertainment, Inc. (KONAMI), ready to show off their impressive Dueling skills for the chance to be crowned the YCS Championship winner. But, it was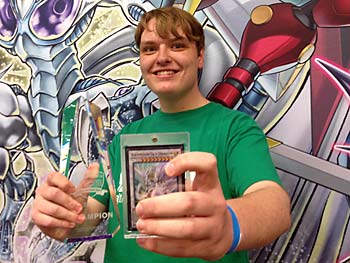 Patrick Hoban from Covington, GA who outplayed the field to claim the coveted title of YCS Champion and Kenneth Bevens from Camarillo, CA, who took home the Dragon Duel title.
YCS Anaheim hosted 1,681 enthusiastic Yu-Gi-Oh! players from across the country, wanting to try the latest strategies and combos with cards from the newly released The New Challengers booster set. Round after round, with refined skills and a bit of luck, elite players emerged above the competition in a weekend full of exhilarating Dueling.
Hoban went into Sunday's Top 16 Draft confidently with his first-rate Burning Abyss Deck. After 3 Rounds of Single Elimination with their newly-drafted Decks from Battle Pack 3: Monster League, it came down to an exciting playoff with Barrett Key from North Hollywood, CA. In the end, the combination of precise play and smart risk-taking helped Hoban earn the title of YCS Anaheim Champion.
In addition to the title of YCS Champion, Hoban returned home with a stellar set of prizes that included an Ultra Rare YCS Ascension Sky Dragon Prize Card, an exclusive YCS Top Cut Game Mat, an invitation to the 2015 World Championship Qualifier tournament and much more!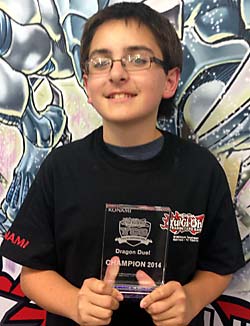 In the Dragon Duel, an event for Duelists born in 2002 or later, Bevens used his Sealed Deck and his knowledge of the game to beat Trevor Grant, from Fullerton, CA, in a head-to-head playoff to win a mass of prizes, including a trip to Japan to attend the 2014 Jump Festa event and the coveted title of YCS Anaheim Dragon Duel Champion!
Duelists can watch all-new Yu-Gi-Oh! ZEXAL episodes every Tuesday as well as all of classic Yu-Gi-Oh!, Yu-Gi-Oh! GX, and Yu-Gi-Oh! 5D's on www.yugioh.com in the United States. In addition, Yu-Gi-Oh! ZEXAL airs twice on Sundays on Nicktoons. In Canada, Duelists can watch episodes of Yu-Gi-Oh! ZEXAL every Friday and Saturday on Teletoon! For more information on KONAMI the Yu-Gi-Oh! CHAMPIONSHIP SERIES or the Yu-Gi-Oh! TRADING CARD GAME, please visit www.yugioh-card.com or call 310-220-8630 to speak directly with a Yu-Gi-Oh! customer support team member.