Pojo's Yu-Gi-Oh News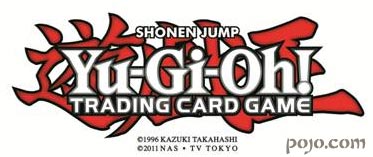 'TIS THE SEASON TO BE JOLLY WITH A BOUNTY OF
Yu-Gi-Oh! TRADING CARD GAME PRODUCTS
El Segundo, CA (November 17, 2014) – Konami Digital Entertainment, Inc. (KONAMI) makes it easy for gift givers this year with a large assortment of new and exciting Yu-Gi-Oh! TRADING CARD GAME (TCG) products for beginning players or veterans. Shelves at hobby and retail stores nationwide will be stocked and ready for all of those on the 'Nice' list this holiday season.
First, for the Yu-Gi-Oh! fanatic, featuring more than 250 of the most famous cards of the 5D's era, Legendary Collection 5D's gives Duelists an opportunity to shift their Dueling into high gear with the inclusion of five Mega-Packs! Totaling nine cards per pack, each Mega Pack delivers an abundance of cards, including one Secret Rare, one Ultra Rare, one Super Rare, one Rare, and five Common cards – that's three foil cards per pack, with five packs per box. Additionally, each Legendary Collection 5D's includes three brand new Ultra Rare cards previously seen only in the animated series, including Yusei's dynamic Stardust Flash Trap Card and Ultra Rare reprints of the two highest-demand Dragons of the 5D's era: Shooting Quasar Dragon and Black Rose Dragon. To complete this awesome collection, each box includes a double-sided, foldable hard-back Game Board with artwork highlighting the modern heroes on one side and fearsome monsters on the other. Legendary Collection 5D's is available now for an MSRP of $29.99 each.
A pack or two from The New Challengers booster set is the perfect solution for the enthusiastic Yu-Gi-Oh! TCG fan. Just now hitting store shelves as the first snowflakes start to fall, it contains a host of daring cards that no Duelist should be without, including some of the most powerful Pendulum Monsters to date! With The New Challengers booster set, Duelists are introduced to the Qliphort, a new Monster theme that harnesses the power of Pendulum Summoning like nothing else. In addition to the Qliphort, The New Challengers includes an exciting array of cards for Duelists to strengthen their Decks. Scorch opponents with cards for the Burning Abyss Deck theme, with four new Monster cards including a brand new Synchro Monster: Virgil, Rock Star of the Burning Abyss! New support cards for popular Deck themes like Naturia, Heralds, and Machina are also included, as well as popular Xyz Monsters from the Yu-Gi-Oh! ZEXAL TV series arc. Finally, Duelists can Summon new cards for recently-introduced Deck themes like Superheavy Samurai, Stellarknight, Yang Zing, and Shaddoll, The New Challengers is available now for an MSRP of $3.99 per pack.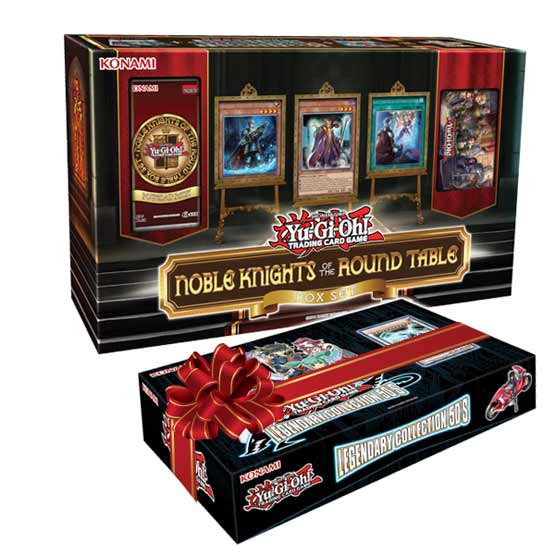 Don't be a Grinch! For that hard-to-buy-for Duelist, the Noble Knights of the Round Table Box Set is guaranteed to be a hit. This set prepares the Noble Knights for challenging tournament play by adding key cards to this already popular Deck theme. Noble Knights have grown steadily stronger since their debut, but have lacked the guiding focus of Merlin until now. Additionally, this boxed set's pre-constructed all-foil deck of Platinum Rares – a brand new rarity – includes a new Noble Knight monster and a new Spell Card, Last Chapter of the Noble Knights.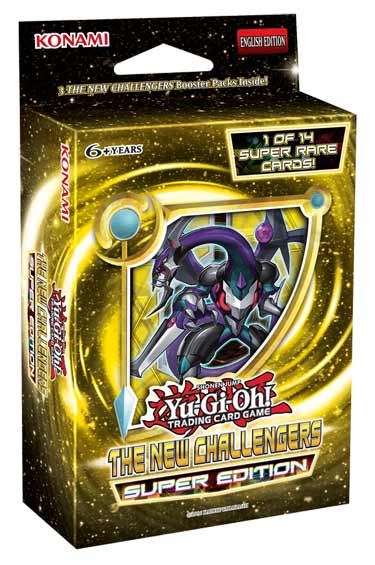 Also included is an all-foil Power-Up Pack with three cards, a high quality, full-size rubber game mat, 70 new Round Table card sleeves, and a storage box to keep all the cards organized. This grand set will be available November 21st for an MSRP of $49.99 each box.

Have a Yu-Gi-Oh! TCG player that can't have too many The New Challengers booster packs? Then The New Challengers Super Edition fits the bill and is a great way for Duelists to power up current Decks, or build a whole new Deck. Plus it is a terrific value as each box comes with three booster packs of The New Challengers, plus one of 14 Super Rare cards all for an MSRP of $9.99 per box. The New Challengers Super Edition will be available December 5th.




Go to http://www.yugioh-card.com/en/holidaygifts/ for additional gift ideas for every Yu-Gi-Oh! TCG fan.