Pojo's Yu-Gi-Oh News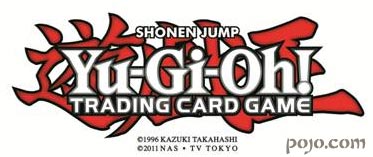 Yu-Gi-Oh! TRADING CARD GAME CYBER DRAGON REVOLUTION STRUCTURE DECK TAKES DUELISTS BACK IN TIME TO THE Yu-Gi-Oh! GX ERA
El Segundo, CA (January 30, 2014) –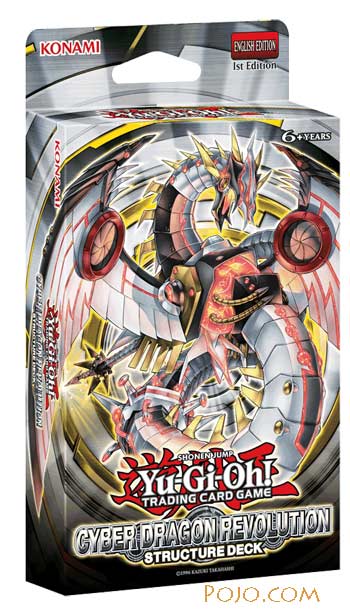 Fresh from 2013's successful journey back-in-time to the Classic Yu-Gi-Oh! era with the Saga of Blue-Eyes White Dragon Structure Deck, Konami Digital Entertainment, Inc. (Konami) is pleased to continue the trip with Cyber Dragon Revolution Structure Deck for the Yu-Gi-Oh! TRADING CARD GAME (TCG).
Cyber Dragon Revolution revisits the heyday of Yu-Gi-Oh! GX's first year, and the dominance of the Cyber Dragon monsters during that memorable time. This brand new structure deck includes a 40-card Main Deck and 2 cards for the Extra Deck - 42 cards in total, including 2 Super Rare and 2 Ultra Rare foil cards.
The new Rank 5 Cyber Dragon Nova Xyz Monster can use other Cyber Dragons to double its Attack Points. Plus, if Cyber Dragon Nova should ever be destroyed, it morphs into any Machine-Type Fusion Monster from the Duelist's Extra Deck. (Cyber Dragon Revolution comes with one such Fusion Monster to get you started: Cyber Twin Dragon. But many other Machine-Type Fusion Monsters can be found in other sets and products!) Other new cards include Cyber Dragon Core, providing a network backbone to the rest of the Deck by giving easy access to the Deck's Cyber Dragon cards, and the Cyber Repair Plant Spell Card to reuse and recycle the Deck's many mechanical marvels!
Many of these cards also work well with all four of 2013's booster releases: Cosmo Blazer, Lord of Tachyon Galaxy, Judgment of the Light, and Shadow Specters. The Cyber Dragon Revolution Structure Deck will be available on February 7th with an MSRP of $9.99 per Deck.
Duelists can tune in every Saturday morning for the all-new Yu-Gi-Oh! ZEXAL animated series and classic Yu-Gi-Oh! episodes on Vortexx on The CW in the United States. In addition, Yu-Gi-Oh! ZEXAL airs twice on Sundays on Nicktoons. In Canada, Duelists can watch episodes of Yu-Gi-Oh! ZEXAL every Friday and Saturday on YTV!