Pojo's Yu-Gi-Oh News
<![if !vml]>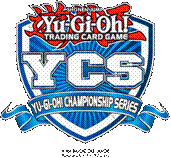 <![endif]>
Yu-Gi-Oh! CHAMPIONSHIP SERIES BLOWS INTO CHICAGOLAND MARCH 22ND
Draft Format for Top 16
Duelists Can Pre-register March 21st
El Segundo, CA (March 13, 2014) – Expecting to draw hundreds of Yu-Gi-Oh! TRADING CARD GAME (TCG) Duelists from across the greater Mid-West, the Yu-Gi-Oh! CHAMPIONSHIP SERIES (YCS) travels to Chicago March 22nd – 23rd. Presented by Konami Digital Entertainment, Inc. (Konami), YCS Chicago gives Duelists the opportunity to win the company's premier competitive series.

All vying for the title of Champion during this two-day event, Yu-Gi-Oh! TCG Duelists will test their Decks, skills and strategies as they compete head-to-head against some of the best players in the country. From the First Round of the Main Event on Saturday morning to the Final Round on Sunday, every Duelist will be looking to best their opponents and hoping that their effort takes them to the YCS Champion's podium.
Duelists should make sure to pre-register for the YCS Chicago Main Event from 3:00 p.m. – 7:00 p.m. on Friday, March 21st as those players that pre-register and submit a Deck list will receive an exclusive YCS Token Card! Registration will begin again promptly at 8:00 a.m. on Saturday, March 22nd. Upon registering, Duelists will receive five Legacy of the Valiant booster packs for participating in Konami's YCS Chicago. The First Round will start at 10:00 a.m. and the Top 16 or 32 YCS finishers (depending on attendance) will earn invitations to participate in the 2014 World Championship Qualifier and other great prizes.
Konami continues the new format for the Top 16 Duelists at YCS Chicago in which the YCS Top 16 will construct their Decks by drafting War of the Giants – Round 2. This exciting draft format will draw on Duelists' keen abilities and test a completely different skill set from that of playing with a standard Constructed Deck and the possible outcome is anybody's guess and any Duelist's game to win.
Konami will once again hold Dragon Duels for the younger players (for Duelists born in 2001 or later) on Saturday and Sunday. A new format is now in effect in which the winner of Saturday will play against the winner of Sunday to determine the YCS Dragon Duel Champion. The top four players in each of the Dragon Duel events will receive a special Dragon Duel Winner's Medal, a Regional Game Mat, a Dragon Duel t-shirt and an invitation to their 2014 Dragon Duel World Championship Qualifier. Those who attend the Qualifier have the chance to earn an invitation to the 2014 Dragon Duel World Championship.
Duelists and spectators taking a break from the competition can participate in a wide variety of challenging and fun Public Events to push their Dueling skills to the limit! Konami will be conducting a host of events such as Regional Qualifiers, 3 vs. 3 Team Dueling, ATTACK OF THE GIANT CARD!!, Win-A-Mats, Yugi & Kaiba Reloaded Starter Deck Tournaments, Cyber Dragon Revolution Structure Deck Tournaments and Sealed Pack Tournaments for War of the Giants – Round 2, featuring exclusive Starfoil prize cards only available at premier events.
The Main Event winner, the two runners-up and winners of Sunday's two Public Event playoffs will each be awarded a YCS prize card. The Main Event winner will take home an Ultra Rare version of the Number 106: Giant Hand prize card, with the other winners bringing home Super Rare versions.
Event Address:
Donald E. Stephens Convention Center
Conference Center Level 2
555 N. River Road
Rosemont, IL 60018
www.rosemont.com/donald_e_stephens_convention_center
Prizing Information:
1st place – Ultra Rare Number 106: Giant Hand YCS Prize Card; Trophy; Paid travel to their World Championship Qualifier (if underage, then winner and guardian) or a local-market YCS (flight and accommodations) if the Duelist has already won an earlier YCS in the current year; YCS Top Cut Game Mat; 8GB gaming system and an invite to their 2014 World Championship Qualifier tournament
2nd place –Super Rare Number 106: Giant Hand YCS Prize Card; 32GB Tablet PC; YCS Top Cut Game Mat; and an invite to their 2014 World Championship Qualifier
3rd place – Super Rare Number 106: Giant Hand YCS Prize Card; the recently released all-in-one gaming and entertainment system; YCS Top Cut Game Mat; and an invite to their 2014 World Championship Qualifier
4th place – the recently released all-in-one gaming and entertainment system; YCS Top Cut Game Mat; and an invite to their 2014 World Championship Qualifier
5th – 8th place – 12GB video game console with YCS Top Cut Game Mat and an invite to their 2014 World Championship Qualifier
9th – 16th place – 24 booster packs of Legacy of the Valiant; YCS Top Cut Game Mat; and an invite to their 2014 World Championship Qualifier
If attendance exceeds 513 Duelists:
17th – 32nd place – YCS Top Cut Game Mat and an invite to their 2014 World Championship Qualifier