Pojo's Yu-Gi-Oh News
<![if !vml]>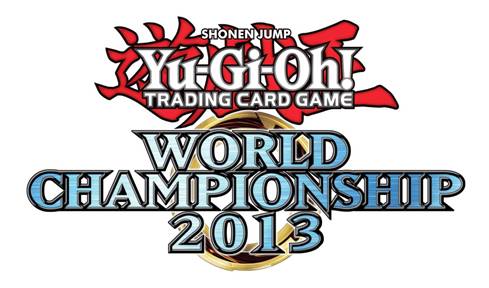 <![endif]>
THE WORLD'S TOP Yu-Gi-Oh! TRADING CARD GAME PLAYERS TO MEET IN LAS VEGAS, NEVADA FOR DUEL OF A LIFETIME AT WORLD CHAMPIONSHIP
El Segundo, CA (July 31, 2013) –The best Duelists from all over the world will assemble in Las Vegas, Nevada on August 10th-11th for the well-deserved opportunity to play for the coveted title of Yu-Gi-Oh! TRADING CARD GAME (TCG) World Champion or Yu-Gi-Oh! TRADING CARD GAME Dragon Duel World Champion, for those born 2000 or later, at the preeminent Yu-Gi-Oh! TRADING CARD GAME World Championship.
26 expert Duelists in the Main Event will vie for the chance to hold the Champion's trophy high above his head. Six players from North America, two players from Latin America, five players from Japan, six from Europe and Oceania, and seven from other Asian countries have their sights set on winning the title. These elite players competed at their National or Continental Qualifiers and have earned the right to represent their region in Las Vegas. Each one believes that they have the unbeatable combination of cards and strategy to beat their opponents for the long sought after World Champion title.

Patrick Hoban, the North American Champion, and David Keener III, Stephen Silverman, Norbeto Leon, Robert Boyajian II and Aaron Riker hope that this year the Americans reign supreme. Having never brought home the World Champion trophy, these players are poised to wreck havoc on the competition, all six ready with their best Deck, tried and true strategy and unweathering determination.

Additionally, 12 top Dragon Duelists will face their peers as they compete to earn the highly respected title of 2013 Yu-Gi-Oh! TCG Dragon Duel World Champion. Two North American Dragon Duelists Ben Leverett and Oliver Tomajko and two Latin American Dragon Duelists will join 8 others from across the globe in this intense competition.

The 2013 Yu-Gi-Oh! TCG World Championship will be held at Bally's Las Vegas (www.ballyslasvegas.com). Yu-Gi-Oh! TCG fans and families and friends of participating Duelists are encouraged to come cheer on the players. Throughout the weekend, spectators and players alike can enjoy a host of challenging, fun and free Public Events and carnival-type games such as a basketball challenge, beanbag toss, bingo and a Giant Mat Challenge.

Plus Dan Green the voice of Yugi and Erica Schroeder, the voice of Mai and Akiza from the popular Yu-Gi-Oh! animated television series will be on hand during the weekend as Master of Ceremonies.
Attendees will also want to make time to create their own exclusive one-of-a-kind Yu-Gi-Oh! Token Card. They can choose from five different card backgrounds with characters, including many fan favorites, to create their own personalized Token Card – suitable for use during Duels!
2013 Yu-Gi-Oh! TCG World Championship Location
Bally's Las Vegas
3645 S. Las Vegas Boulevard
Las Vegas, NV 89109
Bally's Event Center, Bronze & Silver Ball rooms, Sky View 5 & 6
2013 Yu-Gi-Oh! TCG World Championship Schedule (approximate times)
Saturday, August 10th
9:30 a.m.: Opening Ceremonies
10:00 a.m.: Round One begins
10:00 a.m. – 4:00 p.m.: Public Events
Sunday, August 11th
10:00 a.m.: Round One begins
10:00 a.m. – 2:00 p.m.: Public Events
2:15 p.m.: Dragon Duel Final Round begins
3:30 p.m.: Final Round begins
4:40 p.m.: Awards Ceremony
For the first time, Sunday's Duels will be streamed live online. And, all weekend, Duelists unable to attend the World Championship can check out live online coverage of the event provided by Konami staff at www.yugioh-card.com/en/events.