Pojo's Yu-Gi-Oh News
<![if !vml]>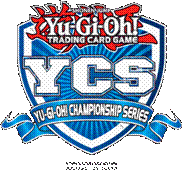 <![endif]>
JORGE LUIS CAMPOS VALVERDE TRUMPS COMPETITORS AT Yu-Gi-Oh! CHAMPIONSHIP SERIES IN SAN JOS╔, COSTA RICA
El Segundo, CA (April 23, 2013) – Hundreds of Yu-Gi-Oh TRADING CARD GAME (TCG) players from across the globe spent this past weekend Dueling their peers hoping to earn the envious title of Champion at the Yu-Gi-Oh! CHAMPIONSHIP SERIES (YCS), a premier-level Yu-Gi-Oh! TCG event from Konami Digital Entertainment, Inc. (Konami). But at the end of the exciting weekend of play only one was crowned YCS Champion – Jorge Luis Campos Valverde!
The head-to-head battles started early Saturday as the First Round of the competition got underway.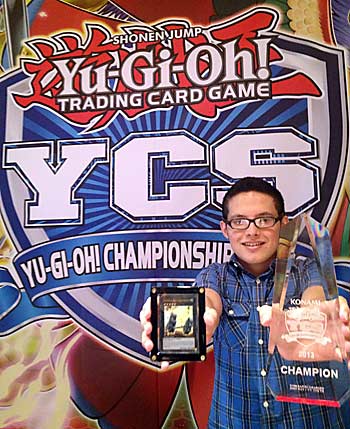 Playing hard all weekend, Duelists kept their eyes on the prize – a seat at Sunday's Final Round table. As the competition got more heated, Duelist after Duelist were ousted. With only two remaining, Campos Valverde took his place across from Paul Cooper at the coveted table.
The two top Yu-Gi-Oh! TCG Duelists did not disappoint the large crowd as Duel after Duel proved that the two were indeed a perfect match for each other. A cool-headed 21-year-old Campos Valverde was optimistic that his HERO Deck would give him the edge, while Cooper was feeling that his Hieratic Deck would be unbeatable. Both players displayed some unique strategies and showcased the depth of the Yu-Gi-Oh! TCG but when the Final Round finished, it was Campos Valverde that emerged victorious as the new YCS Champion!
In addition to the title of Champion, the winners also earned an amazing set of prizes that included an Ultra Rare Digvorzhak, King of Heavy Industry YCS Prize Card, an exclusive YCS Top Cut Mat, an invitation to the 2013 World Championship Qualifier – Continental of their region and much more!
On Saturday, Jonathan Duran (for Duelists born 2000 or later) expertly out-played his Yu-Gi-Oh! TCG peers to earn a special Dragon Duel Champion's Medal, a 2013 Regional Game Mat, a Regional Deck Box and an invitation to his region's 2013 Dragon Duel World Championship Qualifier – Continental. There, he can earn an invitation to the Dragon Duel World Championship to be played at the Yu-Gi-Oh! World Championship August 10-11 in Las Vegas, Nevada. On Sunday, Sebastian Rios bested a commendable line-up of competitors to earn the same high honors.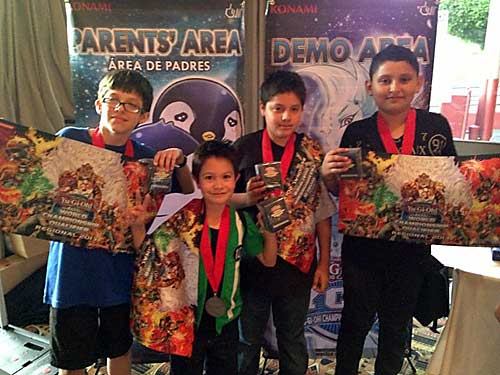 Saturday Dragon Duel: Jonathan Duran (winner, far left, From San Jose Costa Rica, Avalon Game Arena, he is 12 years old).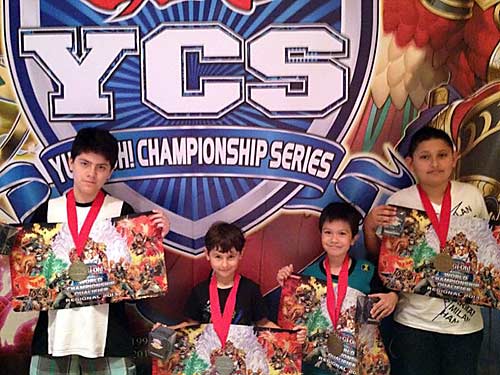 Sunday Dragon Dueler: Winner - Sebastian Rios, 11 years old from Lima, Peru (far left). Runner-up was Marco Ruiz from Heredia, Costa Rica. 12 years old.