Pojo's Yu-Gi-Oh News
<![if !vml]>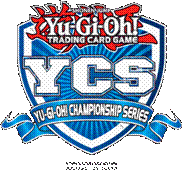 <![endif]>

JOSE RAUL VELARDE GALLEGOS CAPTURES PRESTIGIOUS Yu-Gi-Oh! CHAMPIONSHIP

TITLE IN SANTIAGO, CHILE

El Segundo, CA (February 27, 2013) – Hundreds of Duelists from Chile and surrounding Latin American countries descended upon Santiago this past weekend to participate in the first Latin American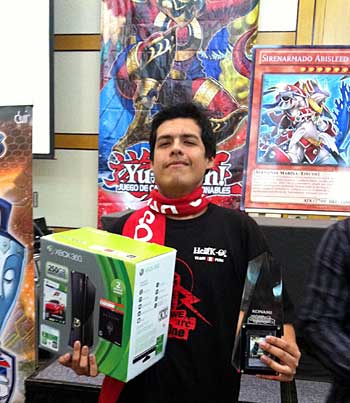 Yu-Gi-Oh! CHAMPIONSHIP SERIES (YCS) of 2013, the premier-level Yu-Gi-Oh! TRADING CARD GAME (TCG) event from Konami Digital Entertainment, Inc. (Konami).
The Hotel Intercontinental was ringing with screams of joy and groans of defeat as round after round came to a finish and only two Duelists remained standing Sunday afternoon but it was Jose Raul Velarde Gallegos from Lima, Peru that ultimately raised the Champion's trophy.

Sitting across the table from some of the world's best Yu-Gi-Oh! TCG Duelists, Gallegos kept his calm and stayed true to his game strategy as he bested player after player during the two-day tournament. At the Final Round table, Gallegos found himself face-to-face with Cali, Colombia's very skilled Randy Sebastian Barona Rubiano who was also excited at the prospect of yet another victory to cap-off two days of hard Dueling.
26-year-old Gallegos hoped that his Macro-Rabbit Deck would carry him to the biggest victory of the weekend. But faced with Rubiano's Chaos Dragon Deck, he wasn't so sure that he could beat the 21-year-old. Both players performed a masterful combination of both obvious moves and surprising strategic choices. Well into the Final Round, a few stellar plays by Gallegos brought the match to a swift conclusion and the naming of a new YCS Champion – Gallegos!
In addition to the title of Champion, the winners also earned an amazing set of prizes that included an Ultra Rare Digvorzhak, King of Heavy Industry YCS Prize Card, an exclusive YCS Top Cut Mat, an invitation to their 2013 World Championship Qualifier tournament and much more!
|

Additionally, on Saturday, during the Dragon Duel (for Duelists born 2000 or later) Sebastian Marcelo Rios Saenz from Lima, Peru expertly out-played his Yu-Gi-Oh! TCG peers to earn a special Dragon Duel Champion's Medal, a 2013 Regional Game Mat, a Regional Deck Box and an invitation to his region's 2013 Dragon Duel World Championship Qualifier – Continental, where he can earn an invitation to the Dragon Duel World Championship to be played at the Yu-Gi-Oh! World Championship August 10-11 in Las Vegas, Nevada (USA). On Sunday, Mirko Castro from Santiago, Chile earned the same high honors by adroitly beating his worthy opponents during a high-energy, well-fought showdown.