Pojo's Yu-Gi-Oh News
<![if !vml]>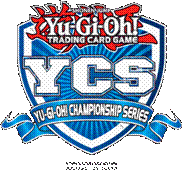 <![endif]>
MERLIN SCHUMACHER & NOLAN GALVAO CRUSH THE COMPETITION TO CAPTURE THE
Yu-Gi-Oh! CHAMPIONSHIP SERIES & DRAGON DUEL CHAMPIONSHIP TITLES IN SAN MATEO
El Segundo, CA (October 10, 2013) – Besting more than 1200 Yu-Gi-Oh! TRADING CARD GAME (TCG) players in highly competitive and, at times, nerve-wracking play, Merlin Schumacher from Munich, Germany achieved the top prize of being crowned the Yu-Gi-Oh! Championship Series (YCS) winner, this past weekend in San Mateo, CA.
Additionally, Nolan Galvao from San Lorenzo,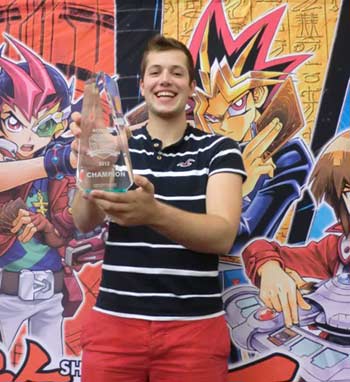 CA displayed his dominance, by claiming the title of YCS San Mateo Dragon Duel Champion! Duelists, born in 2001 or later, traveled from across California and the Southwestern United States to this premier-level event hosted by Konami Digital Entertainment, Inc. (Konami). The Dragon Duel winners from Saturday and Sunday, Nolan Galvao and Kozavid Duncan, respectively, squared off to find out who was going home with the trophy and the big time reputation. As the final cards were flipped over and played, it was Galvao who edged Duncan.

The San Mateo County Event Center was humming with anticipation and energy as Yu-Gi-Oh! TCG Duelists prepared to take on their peers during the two-day event.
As Sunday's Final Round neared, the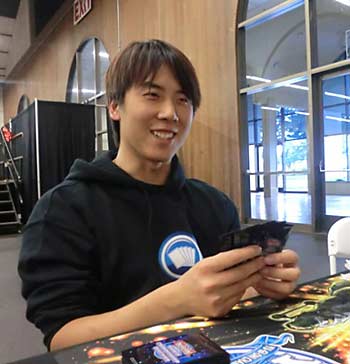 players were pulling out all stops but only two advanced to the Champion's table where Merlin Schumacher and Xue Hao Hu prepared to battle for the ultimate title of YCS Champion. The two top Yu-Gi-Oh! TCG Duelists did not disappoint the crowd as Duel after Duel proved that the duo was indeed the best representation of the weekend's other impressive participants.

Schumacher was confident that his Dragon Ruler Deck would take him to the Champion's circle, while Hu was feeling just as assured with his own Dragon Ruler Deck. Both players displayed some unique strategies and showcased the depth of the Yu-Gi-Oh! TCG. But when the Final Round concluded, it was Schumacher that emerged victorious as the new YCS Champion!

In addition to the title of Champion, the winners also earned an amazing set of prizes that included an Ultra Rare Number 106: Giant Hand YCS Prize Card, an exclusive YCS Top Cut Mat, an invitation to the 2014 World Championship Qualifier tournament and much more!