Pojo's Yu-Gi-Oh News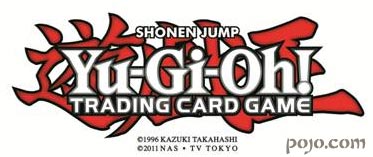 DRAGONS RULE WITH THE Yu-Gi-Oh! TRADING CARD GAME COLLECTIBLE TINS THIS FALL
First two of four for 2013
El Segundo, CA (September 4, 2013) – Each year, Konami Digital Entertainment, Inc. (Konami), the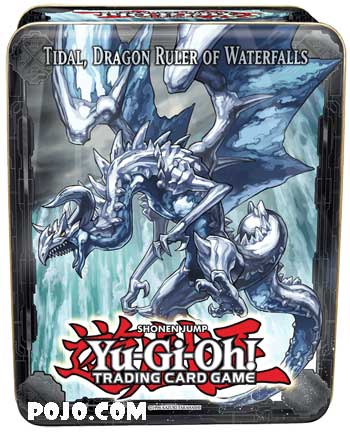 maker of the global sensation, the Yu-Gi-Oh! TRADING CARD GAME (TCG), delivers a highly anticipated product. And this year is no different as they released the first wave of the 2013 Yu-Gi-Oh! TRADING CARD GAME Collectible Tins to the cheers of Duelists nationwide. The first two tins, the Blaster, Dragon Ruler of Infernos Collectible Tin and Tidal, Dragon Ruler of the Waterfalls Collectible Tin are now available at retailers nationwide. Offering five booster packs, plus five foil variant cards, these tins are a terrific value and are perfect for new players or for the seasoned veteran looking to fill out their collection.
With Blaster, Dragon Ruler of the Infernos, players will be psyched to get their hands on the tin's namesake, a Secret Rare Blaster, Dragon of the Infernos card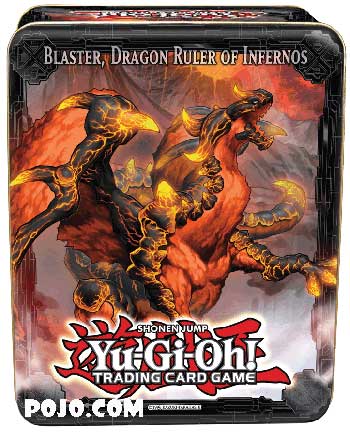 and the Super Rare Karakuri Shogun mdl 00 "Burei". In addition, previously only available as a promo card, the inclusion of Number 40: Gimmick Puppet of Strings will be coveted by every Duelist.
Tidal, Dragon Ruler of Waterfalls is the second of this year's Collectible Tins. Anchored by Black Luster Soldier - Envoy of the Beginning and Ally of Justice Catastor cards and combined with Superdreadnought Rail Cannon Gustav Max, formally only a promo card, this tin packs a knockout punch!
Usable in any Deck type, players will be pleased to get a Super Rare Brotherhood of the Fire Fist - Bear in either tin version. Each tin contains two Abyss Rising booster packs, two Lord of the Tachyon Galaxy booster packs, one booster pack from the Hidden Arsenal series, plus four Super Rare Cards and one Secret Rare Card, all for an MSRP of only $19.99 each.