Pojo's Yu-Gi-Oh News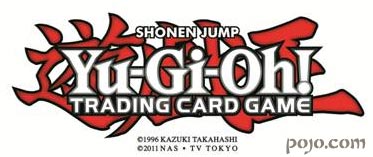 JOURNEY TO THE PAST WITH
LEGENDARY COLLECTION 4: JOEY'S WORLD
El Segundo, CA (September 25, 2013) – The latest evolution in the hugely popular Legendary Collection series is like a walk down Yu-Gi-Oh! memory lane. Soon Duelists nationwide can take that retro journey themselves, when on October 11th Konami Digital Entertainment, Inc. (Konami) releases Legendary Collection 4: Joey's World for the Yu-Gi-Oh! TRADING CARD GAME (TCG).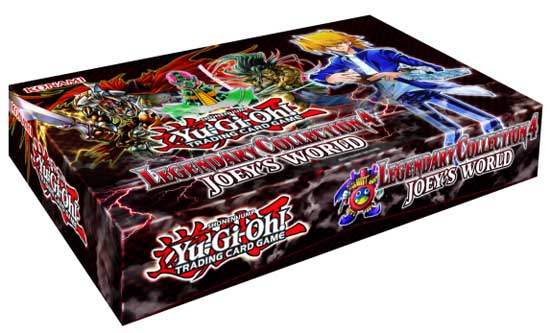 Delving into the classic Yu-Gi-Oh! anime series, the Orichalcos Saga continues with Legendary Collection 4: Joey's World which contains nearly 300 cards drawn from the Duelist Kingdom, Battle City and Waking the Dragons storylines. Duelists will relish building their Decks with Joey's own treasured Blue Flame Swordsman, Mai Valentine's Harpie Lady Phoenix Formation and Marik Ishtar's insanely powerful Card of Last Will*, which are included in each box.
Filled with five Mega-Packs, Legendary Collection 4: Joey's World showcases cards from the classic era used by Joey, Mai, Marik and Rex Raptor such as Harpie's Pet Dragon, Lava Golem and Jinzo. The Mega-Packs each contain nine cards, offering a special feature as each pack contains one Secret Rare, one Ultra Rare, one Super Rare, one Rare, and five Common cards! And as if that isn't enough to satisfy every Duelist's appetite for cards, Legendary Collection 4: Joey's World also includes, for the first time, six Token cards in their foil versions. Joey's beloved Sheep Tokens receive the foil treatment while Lamb Tokens make their TCG debut.
To round out this release, Legendary Collection 4: Joey's World includes a double-sided Gameboard. The collapsible Gameboard folds into fourths for easy carrying and features select artwork of the adventurous teen Joey on one side and a captivating Phoenix Formation image on the other. Legendary Collection 4: Joey's World will be available in hobby and retail stores at an MSRP of $29.99.
* Card of Last Will is not allowed in tournament play due to the card's insane power level.