Pojo's Yu-Gi-Oh News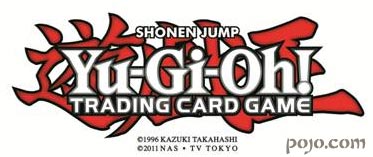 CHECK OUT WHAT KONAMI DIGITAL ENTERTAINMENT HAS TO OFFER AT SAN DIEGO COMIC-CON
Attendees Can Get into Character with Personalized
Yu-Gi-Oh! TRADING CARD GAME Token Cards and Purchase an Exclusive Game Mat
El Segundo, CA (July 11, 2013) – San Diego Comic-Con International 2013 attendees will not want to miss what Konami Digital Entertainment, Inc. (Konami), the makers of the global pop-culture sensation, the Yu-Gi-Oh! TRADING CARD GAME (TCG), has to offer at this year's show. Konami will be featuring the world's best-selling Yu-Gi-Oh! TCG at booth #3713 and providing plenty of entertaining and engaging activities for attendees to experience at San Diego Comic-Con International from July 18th – July 21st.
Year after year, tens of thousands of pop-culture buffs of all ages descend upon Comic-Con for this world-renowned four-day show. This year they will want to make the Konami booth their first stop because, for the very first time, Konami will be selling a must-get for Comic-Con attendees, an exclusive Yu-Gi-Oh! TCG double game mat! A limited quantity will be available for $30 during the show. Also fans will want to create their own exclusive one-of-a-kind Yu-Gi-Oh! Token Card. They can choose from five different card backgrounds with characters, including favorites like Yusei, Jaden, Yugi and Yuma – suitable for use during Duels! Duelists can also create their own COSSY ID card.
Fans can also get a first look and purchase Yu-Gi-Oh! TCG products at Comic-Con, including the recently released Battle Pack 2: War of the Giants and Number Hunters! As a bonus, for Comic-Con attendees who purchase a minimum $10 worth of product, Konami is offering a free Yu-Gi-Oh! TCG Score pad.
With Token Card in hand, attendees will want to make their way to a game table and get a Yu-Gi-Oh! TCG demonstration from the experts. Those completing a demo will receive a show exclusive coupon good for 50% off the purchase of either a Starter Deck: Xyz Symphony or a Starter Deck: Dawn of the Xyz or they can use a $3 off coupon for Super Starter: V for Victory (redeemable only at Konami's booth during Comic-Con). Additionally, they can snap a photo with the oversized Utopia statue as a show keepsake!
For the avid Duelist or players looking for a more formal gameplay experience, Konami will host a variety of Yu-Gi-Oh! TCG events in Ballroom 16 A throughout the entire convention including Duel the Master, Duelist League geared toward new players, Battle Pack Sealed Deck Tournaments and Win-A Mat.
San Diego Comic Con hours:
Wednesday, July 17: 6:00 p.m. – 9:00 p.m. (Preview Night; some activities not available)
Thursday, July 18: 9:30 a.m. – 7:00 p.m.
Friday, July 19: 9:30 a.m. – 7:00 p.m.
Saturday, July 20: 9:30 a.m. – 7:00 p.m.
Sunday, July 21: 9:30 a.m. – 5:00 p.m.