Pojo's Yu-Gi-Oh News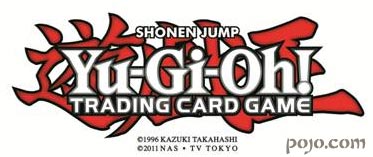 MASSIVE MONSTERS CLASH IN NEW Yu-Gi-Oh!
TRADING CARD GAME BATTLE PACK 2: WAR OF THE GIANTS
El Segundo, CA (June 4, 2013) – High-level monsters have always been the biggest, most famous and perennial fan favorite in the Yu-Gi-Oh! animated series. Now, Konami Digital Entertainment, Inc. (Konami) has harnessed those monsters into one powerful, custom-built booster, Battle Pack 2: War of the Giants. This mighty 215-card Yu-Gi-Oh! TRADING CARD GAME (TCG) set releases in stores nationwide on June 28th.
Once again the Konami development team has specifically designed Battle Pack 2: War of the Giants for sealed pack play between two or more friends. For sealed pack gaming, Duelists divide up an even number of packs between each participant and play with just the cards found in those packs! Sealed pack games test each player's ability to create bold new strategies on the fly no matter what hand they're dealt!
Dueling with massive monsters has always been risky but War of the Giants brings these titans front and center, including the baddest monsters of them all − the three Legendary God Cards! Special Summon lower-Level monsters to help Tribute Summon High-Level monsters and use Spells and Traps as secret weapons to tilt the battle in your favor.
Each card in War of the Giants has been carefully selected, and weighed against other cards in the set. The outcome of a Duel will depend on strategy and tactics. Get ready to test and improve your skills, in the ultimate Dueling challenge!
The 215 card Battle Pack 2: War of the Giants set contains:
50 Rare Cards
162 Common Cards
3 cards only available as Mosaic Rares (all cards in the set are available as Mosaic Rares)
Each 5-card pack (MSRP $1.99) comes with one Rare card (with glossy black Card name), one Mosaic Rare card and three common cards.