Pojo's Yu-Gi-Oh News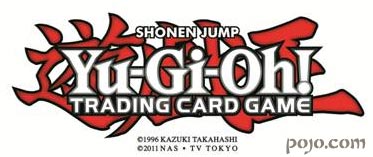 Yu-Gi-Oh! TRADING CARD GAME COSMO BLAZER SPECIAL EDITION TURNS THE UNIVERSE UPSIDE DOWN
El Segundo, CA (March 26, 2013) – Konami Digital Entertainment, Inc. (Konami) is giving Duelists a second chance to grab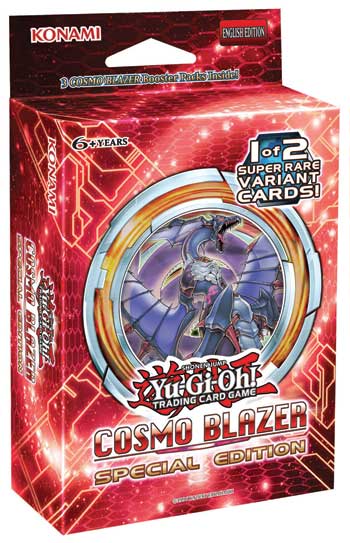 great cards to enhance their Decks with the release of Cosmo Blazer Special Edition. This latest Yu-Gi-Oh! TRADING CARD GAME (TCG) booster set continues to introduce new themes and tons of support cards for popular Yu-Gi-Oh! TCG releases, such as Return of the Duelist and Abyss Rising, as well as Realm of the Sea Emperor and Onslaught of the Fire Kings.
This blistering hot 100-card core booster set is aflame with fiery versions of mythical creatures. The Ultra Rare Tiger King and Artorigus King of the Noble Knights cards are sure to bring an opponent to their knees. Additionally, new FIRE-based themes will reduce a Duelist's opponent to ashes. In particular, the new Brotherhood of the Fire Fist Deck is currently lighting the tournament scene on fire and is easy to play and has an assortment of powerful support cards.
"Special Editions, such as Cosmo Blazer SE, give Duelists a great value, combining three packs of the latest Yu‐Gi‐Oh! TRADING CARD GAME booster release with one of two variant cards," noted Yumi Hoashi, vice president of Card Business for Konami Digital Entertainment, Inc. "In addition to three packs of Cosmo Blazer, each Special Edition box contains special championship‐level foil cards like Wind-Up Shark or Blade Armor Ninja that are sure to make a lucky Duelist's day."
To keep the fires burning, potent cards from Cosmo Blazer will help fans revive older Deck themes or support current Decks such as Mermail, Beast Warrior and Gladiator Beast Decks. Cosmo Blazer Special Edition will be available at hobby stores and retailers nationwide for MSRP: $9.99 per pack.